How I spent under $15 for my bday cake, plates, forks, candles, and more ( Dollar Tree Gourmet!)
A Simple Birthday Cake Recipe!
In a few days, I will be the big 34, and I Heart Recipes will be 9! Last month I decided to celebrate early ( because I wanted cake.. anything for cake!),  and made a semi-homemade birthday cake. I wanted something chocolatey – but not too sweet, and colorful! I headed to my local Dollar Tree to see what I could find, and guess what? They had EVERYTHING that I needed!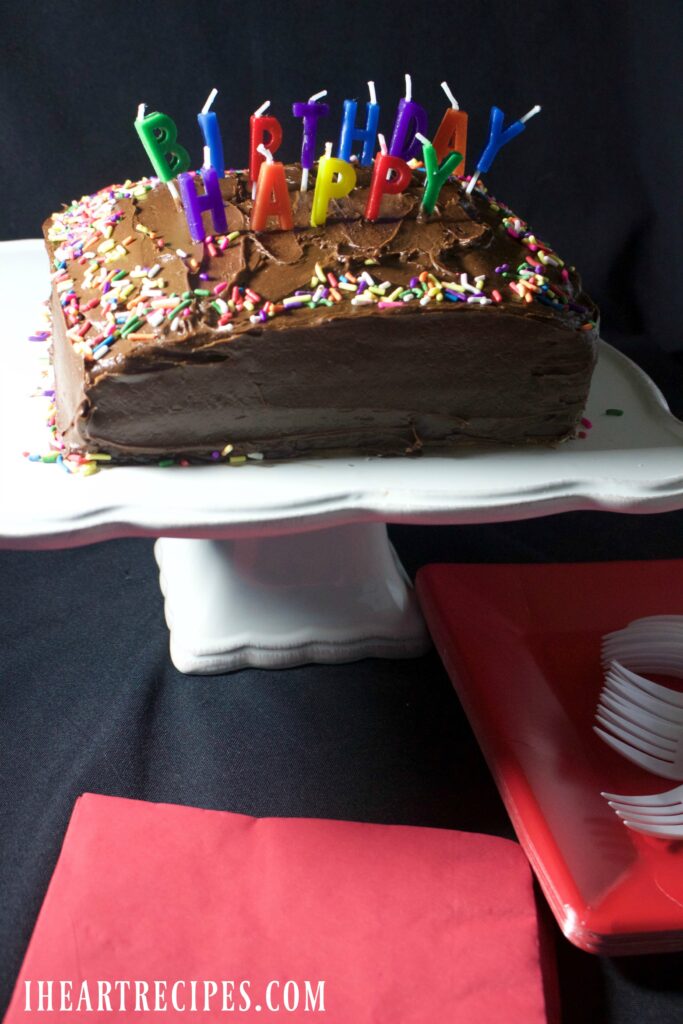 I picked up a boxed of Pillsbury traditional yellow cake ( yup, they sale Pillsbury at the Dollar Tree!), some chocolate fudge frosting – also by Pillsbury, and rainbow sprinkles.
I already had the eggs, and vegetable oil needed for the birthday cake, but I also picked up some plastic forks, napkins, candles, and paper plates..
I simply followed the directions on the back of the cake box, and added some colorful sprinkles in the batter. I baked the cakes, let them cool, frosted them.. and CHILE, let me tell you.. The cake was SO DARN GOOD! Like seriously. It was cheap to make, and super delicious.
While you're here, check out some of my other cake recipes!
OLD FASHIONED HUMMINGBIRD SHEET CAKE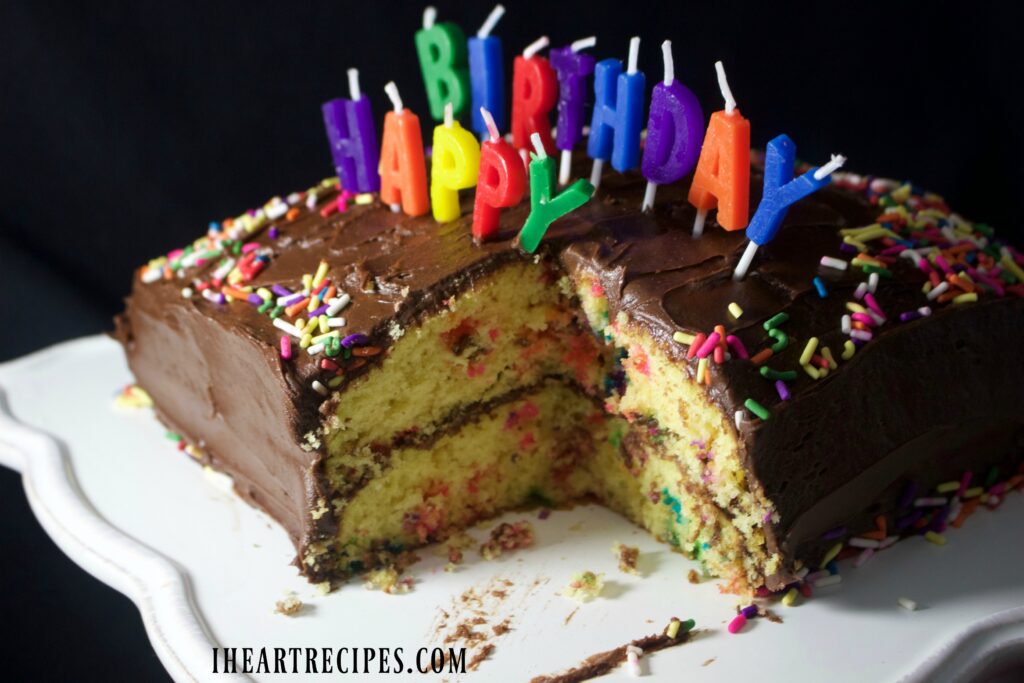 Parents & everyone else – take notes.. No need to buy your child ( or yourself, or someone else) an expensive birthday cake. Make it yourself, and save your money for a gift, or something else.
If you want to make this cake to appear more "mature", omit the sprinkles, and use plain white candles.
Print the recipe below, and subscribe to my mailing list for more recipes! Follow me on Facebook, Instagram, Pinterest and YouTube!
Watch me make this simple Birthday Cake
Simple Birthday Cake Recipe
A delicious birthday cake made with Dollar Store cake mix! Budget friendly and party ready!
Ingredients
15.25

oz

box of yellow cake mix

plus ingredients listed on the back of the box

1

ADDITIONAL egg

to make it taste like it's made from scratch, optional

1

tbsp

rainbow sprinkles

plus more for decorating

16

oz

of chocolate frosting

I had two 10 oz jars in the video
Instructions
Preheat the oven to 350 F.

Pour the cake mix into a medium sized bowl, then whisk out the lumps.

Next add in the ingredients listed on the back of the cake box.

Mix the cake batter until it's smooth & lump free, then add in the sprinkles.

Fold the sprinkles into the batter.

Lightly oil& flour a 8 inch cake pan, and pour in half of the batter ( to make two layers, OR you can make a sheet cake.)

Bake the cakes for about 30 minutes.

Remove from the oven, and let the cakes cool.

Once the cakes are cool, frost them, and sprinkle in the rainbow sprinkles.

Let the cake sit for at least 20 minutes, then add the candles.

Enjoy!
Video