Homemade Pizza That Will Rival Any Fast Food Joint!
A few months ago, my hubby and I were reminiscing about the good old days. We spent at least 1 good hour talking about childhood memories. One memory that we were both had was the TGIF line up. Who remembers that?! Family Matters, Step By Step, The Dinosaurs, and more. I remember when I was younger, every other Friday my mom would order a pizza or buy a frozen one. We would eat pizza, camp around the TV and watch "Urkel"… Man Ol' man, those were the days. Unfortunately, there isn't a whole lot of family friendly television shows these days. It's unfortunate that our kids won't be able to experience the same tv shows that we did; HOWEVER, we can still create some pretty awesome family nights. That's what my hubby and I have decided to do. We have officially turned Fridays into our family nights.
Our family nights consist of movies, pizza, and videos games… Oh and did I mention Pizza?! 🙂 . For the longest, we had been going to Papa Johns (which we love), but recently I have been making homemade pizzas. I'm not talking about buying premade crust/ dough, sauce, and then putting it all together. I'm talking about making my own dough & sauce! Why make my own pizza instead of buying it? BECAUSE IT'S CHEAPER, and I have TOTAL control of what goes on & in my family's pizza…I can control the sodium, sugar, etc. when I make my homemade pizzas. Also, making pizza is actually fun! My son loves to make pizza. Most of the time I simply make the dough & sauce, and HE builds the pizzas!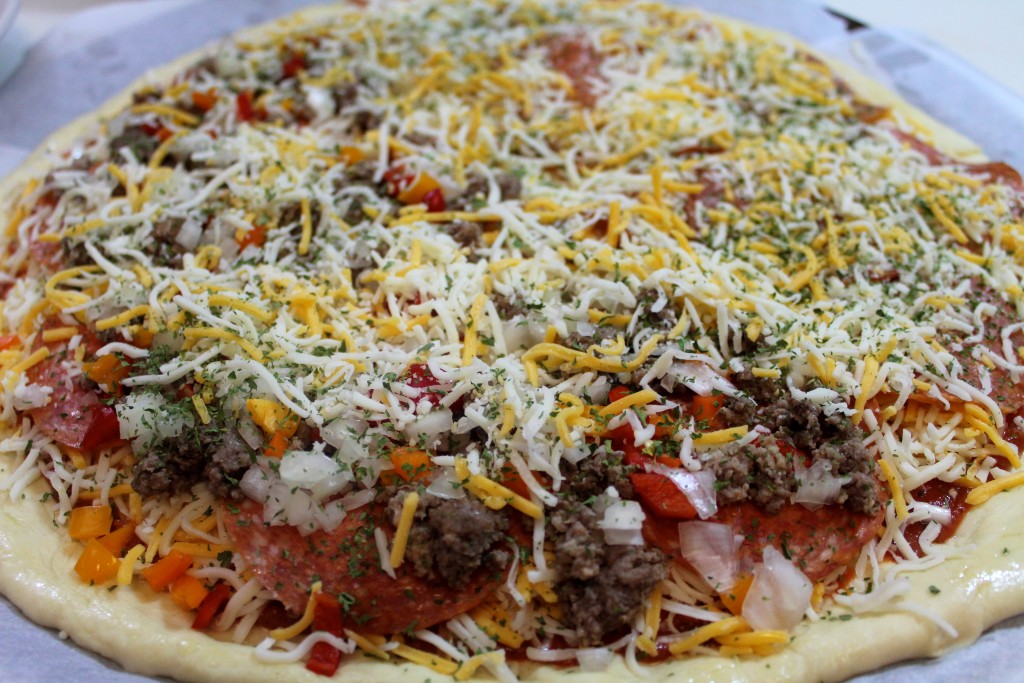 In the video & recipe below, I'm going to show you how I make MY Homemade Pizza. You can get as crazy as you want with the toppings! Here are some suggestions:
Cheese (of course!)
Pepperoni
Italian Sausage
Ground Beef
Chicken
Sweet Peppers
Mushrooms
Sun Dried Tomatoes
Olives
Canadian Bacon/ Ham
Pineapples
Onions
Anchovies
Okay, so those are just a few of many toppings that you can use. Later down the road, I will share more gourmet style pizza recipes, but first let's learn the basics.
Check out the video!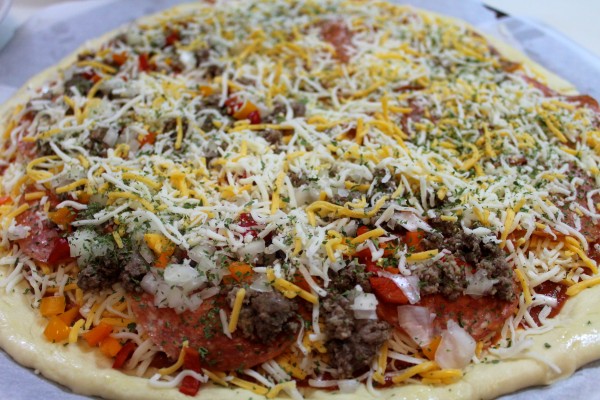 Homemade Pizza: No more Takeout!
Try this Homemade Pizza recipe for your next family night. Building your own pizza is so much fun and less expensive than fast food!
Watch Video
Print Recipe
Pin Recipe
Instructions
Crust:
Pour 1/2 cup of warm water into your stand mixer/ mixing bowl, then sprinkle in the active dry yeast, and 1 tbsp of granulated sugar.

Whisk the ingredients together, then let it sit for about 5 – 7 minutes, or until the yeast foams.

Next pour in the rest of the warm water, and add in 3/4 tsp salt, 2 tbsp of olive oil, and the bread flour.

Mix the ingredients until it forms into dough, and knead the dough for about 10 minutes.

Lightly oil a large mixing bowl, then place the dough in the bowl.

rubs a small amount of oil onto the dough, then cover the bowl, and let the dough rest ( in a warm area) for 1 & 1/2 hours.

Once the dough has rested, punch it in the middle to remove the excess air.

Sprinkle your pizza pan with 1 tbsp of cornmeal, then place the dough on top of the cornmeal.

Use your fingers to press & flatten the dough into your desire shape & size.
Sauce:
Add the tomato paste and water into a medium sized pan, and whisk together.

Place the pan over medium heat, then pour in 1 tbsp of olive oil.

toss in all of the seasonings, sugar, and grated parmesan. Mix until well combined, and let it cook for about 10 minutes.

Remove the pan from the heat, and let the sauce cool down before using.
Video
If you loved this recipe,
leave me a review below
. This helps future recipe makers and ensures continued high-quality recipes for years to come!
© 2023 I Heart Recipes
Don't forget to tag and follow me on Facebook, Instagram, and Pinterest, subscribe to I Heart Recipes on YouTube, and check out all my cookbooks! I just released a brand new cookbook, Super Soul Food with Cousin Rosie, with many recipes you can't find anywhere else.
If you enjoyed this homemade pizza, check out these other restaurant-quality recipes!
HOW TO MAKE SWEET AND SOUR CHICKEN
BETTER THAN RED LOBSTER'S SHRIMP SCAMPI RECIPE