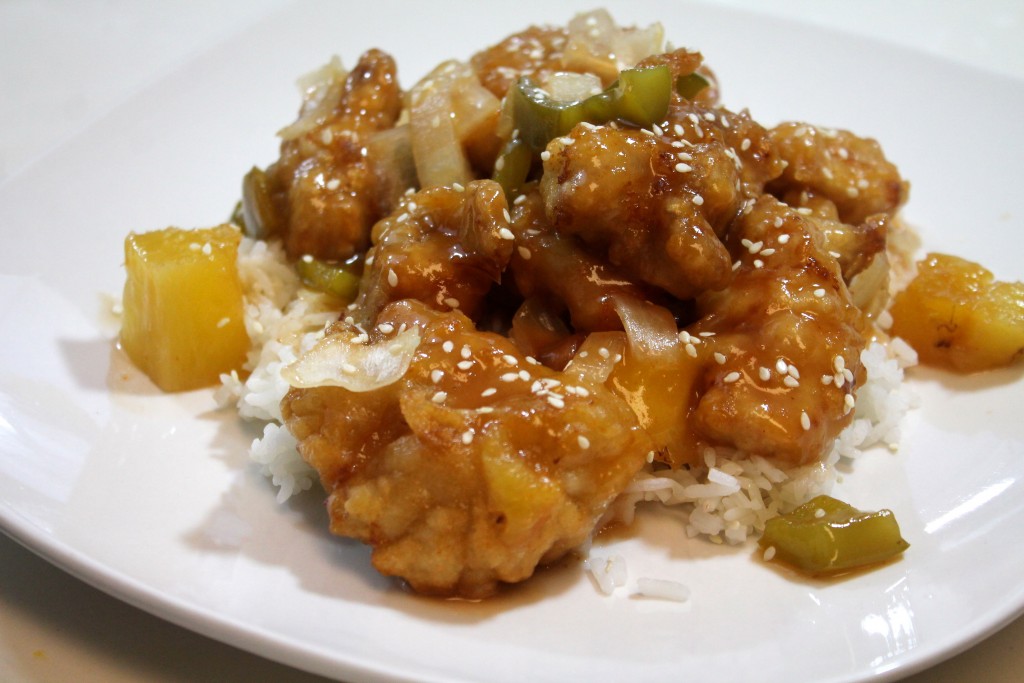 Wanna know the secret to restaurant quality Sweet and Sour Chicken? In this post I am going to share the BEST and EASIEST way on how to make sweet and sour chicken. I kid you not when I tell you that this is the BEST recipe for sweet and sour chicken.
The secret to my sweet and sour chicken is the crisp of the chicken. Unlike a lot of restaurants, this chicken is ALWAYS crispy, and the chicken is always moist. Some restaurants have beautifully made chicken, but when you bite into it, it's soggy (even before you add the sauce). Also, a lot of restaurants use chicken breast, and they sometimes over cook it, which is a HUGE no no. Who wants dry a$$ chicken? Not me! I use boneless chicken thighs. Therefore the chicken is always moist! My chicken is battered twice, therefore it has a nice thick and crunchy batter. Even after you add the sweet and sour sauce to my chicken, it still holds a nice crunch. Let's get to the recipe!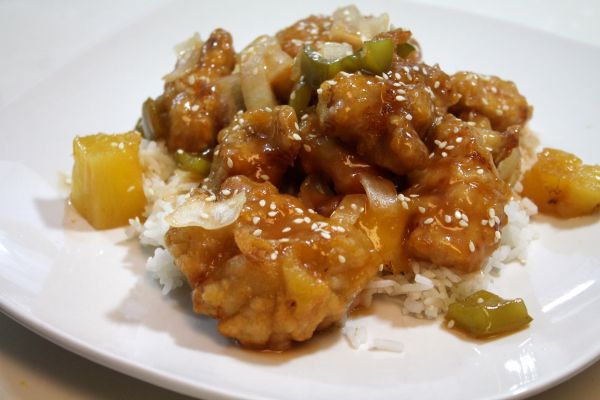 Homemade Sweet and Sour Chicken
Next time you want to order out for Chinese take-out, try this recipe instead! Restaurant quality in your own home.
Watch Video
Print Recipe
Pin Recipe
Ingredients
2

 tsp salt

1

 tsp ground white pepper

or ground black pepper if you don't mind the color

2

cups

beer or plain sparkling water

4

cups plus 3 tbsp of all purpose flour

1

cup

of water

1/3

cup

ketchup

2

tbsp

apple cider vinegar

3/4

cup

sugar

2/3

cup

pineapple juice

1

cup

pineapple chunks

1/2

cup

chopped onion

1/2

cup

chopped green bell pepper
Instructions
Make sure that the chicken is clean, and all excess fat is removed. Next cut the chicken into cubes or strips.

In a large bowl, add two cups of all purpose flour and make sure that it's well sifted. Next, pour in two cups of beer. Mix until you have a nice and smooth batter, then place the chicken into the batter.

In a separate bowl add in two cups of all-purpose flour, 2 tsp of salt, and one tsp of ground white pepper. Whisk in the seasonings, and make sure everything is well incorporated.

Place the seasoned flour on a flat surface (OR keep it in the bowl), and coat the chicken with it.

Repeat the beer batter, and seasoned flour steps twice, then place the chicken on a flat surface.

Combine one cup of water and 3 tbsp of flour. Mix well.

In a medium-sized pot add in 1/3 cup of ketchup, 3/4 cup sugar, 2 tbsp apple cider vinegar, and 2/3 cup pineapple juice. Mix until well combined, then place the pot over medium-high heat.

Once the sauce starts to bubble, pour in the flour and water mixture, and whisk it in.

Reduce the heat from medium-high to medium, and add in the pineapples, onions, and bell peppers.

Pour 2 cups of vegetable oil into a large pan, and place it over medium heat.

Once the oil is nice and hot, add in the chicken. Be sure to not over-crowd the pan, otherwise the temperature will drop, and the chicken will NOT cook evenly.

Cook each batch of chicken for about 5 - 7 minutes, and until it's nice and golden brown. Once the chicken is done, remove it from the pan, and place it on a paper towel lined plate.

You can serve the chicken as is, and with the sauce on the side, OR you can coat the chicken with the sauce (watch the video).

ENJOY!
Video
If you loved this recipe,
leave me a review below
. This helps future recipe makers and ensures continued high-quality recipes for years to come!
© 2023 I Heart Recipes