A Simple Recipe for Sweet and Sour Pork!
It's that time of the year again! Our babies are going back to school, which means our schedules are even more busy and our time is limited! Over the next couple of months I will be sharing plenty of Crockpot and quick and easy dinner recipes, like this Sweet and Sour Pork. I hope to give you all plenty of dinner ideas, that will help you spend less time in the kitchen during the busy school week.
When my son first started school it was pure torture on me and my family. We were so unorganized and dinner was usually fast food and takeout for my husband and son. Why? Because, at the time, I had been working 12 hour shifts, and since my dear hubby can't cook a lick, that was the best option for them. I know, I know- Shame on me, but I didn't know what to do, I had a lot of things going on. About 1 month into the school year, I realized just how much money was being spent on eating out. I knew there had to be a solid way to feed my family and save money on my work days.
I decided to go to my garage and dust off my Crockpot (which I should have done prior to my baby starting school). I remember hearing about "freezer meals", and I decided to look into it. I was pleasantly surprised on what I found, and I couldn't believe how easy and affordable these meals were! I decided to start making my very own freezer meals. Once I made my freezer meals, I labeled them and included simple instructions for my husband to follow (usually "just put this in the Crock Pot for 6 hours"…LOL). Making these meals have saved us a lot of money and time.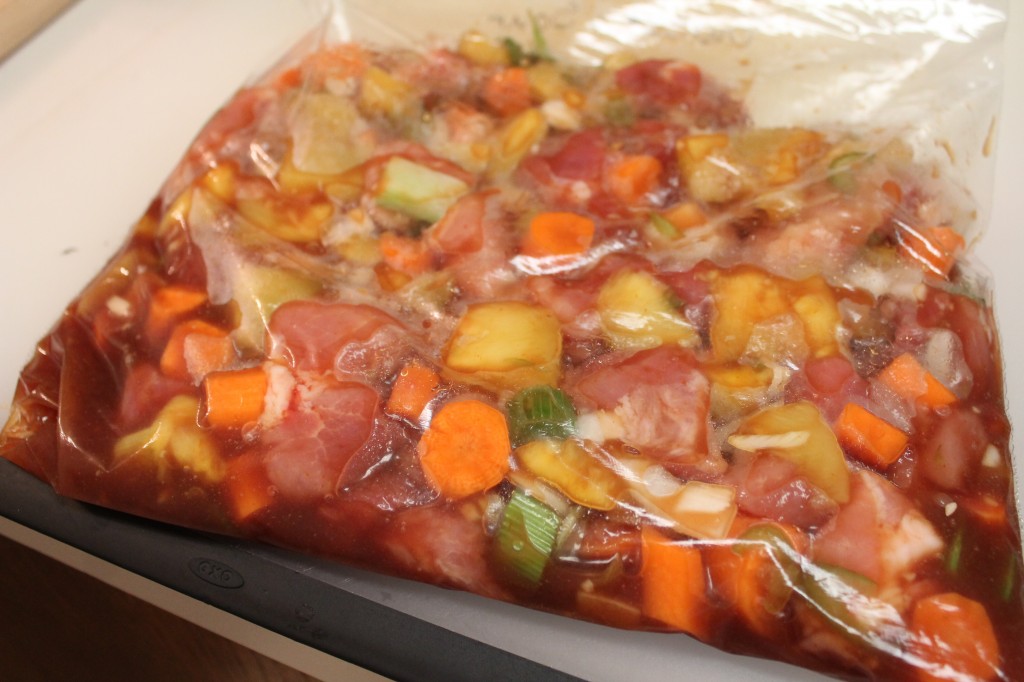 Sweet and Sour Pork is one of my favorite Crockpot and Freezer Meals. It's super cheap to make, and the prep time is under 10 minutes. My family enjoys this meal over a bed of rice. I never have to worry about any additions to this meal because it has carbs, vegetables and protein!
Recipe Suggestions
For the pork you can use:
Pork Chops
Pork Roast
Pork Loin
If you don't eat pork you can use:
Boneless and Skinless Chicken Breast
Boneless and Skinless Chicken Thigh
This meal can be made right after preparation or frozen for a week or two before placing it into the Crockpot. Give this meal a try and tell me what you think. Be sure to watch my video for visual directions!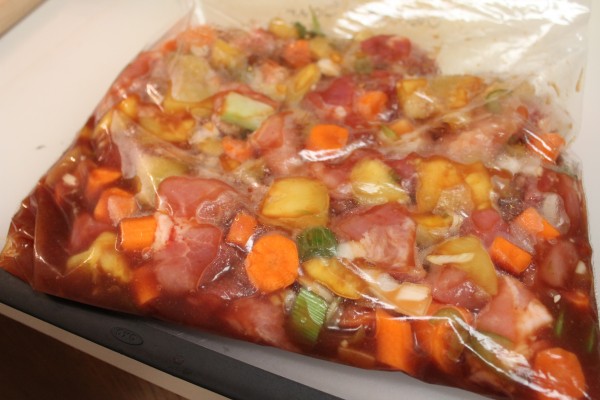 Crockpot Sweet and Sour Pork
This freezer-friendly meal can be made ahead of time for a quick weeknight dinner. Tons of delicious veggies, flavorful pork and a sweet sauce make this dish even better than take-out!
Watch Video
Print Recipe
Pin Recipe
Instructions
Pour the ketchup into a large mixing bowl, then add the brown sugar, and mix the ingredients.

Now add in the Garlic, onions, carrots, celery, and pineapple. Fold the ingredients.

Last but not least, add in the pork, and fold in with the other ingredients.

Place in a freezer, and save it for another day or go to the next step

Place the contents into a slow cooker, and set the slow cooker for 6 hours.

After the sweet and sour pork has been cooking for 4 hours, add in one tbsp of cornstarch, and stir.

After the 6 hours is up, serve the Sweet and Sour Pork over a bed of rice, and enjoy!
Video
If you loved this recipe,
leave me a review below
. This helps future recipe makers and ensures continued high-quality recipes for years to come!
© 2023 I Heart Recipes
If you enjoyed my Sweet and Sour Pork, check out these other slow cooker recipes!
Best Slow Cooker Macaroni and Cheese Recipe
Slow Cooker Southern Candied Yams
Don't forget to tag and follow me on Facebook, Instagram, and Pinterest, subscribe to I Heart Recipes on YouTube, and check out all my cookbooks! I just released a brand new cookbook, Super Soul Food with Cousin Rosie, with many recipes you can't find anywhere else.