This Dulce De Leche Cheesecake is like a smooth and creamy hug in a cake, with a soft and thick middle that goes just right with the crispy cookie bottom. Every piece is like a small party you eat, with the sweet ribbons of caramel-flavored dulce de leche mixing in with a hint of vanilla. It's a real treat that makes your heart and your taste buds happy.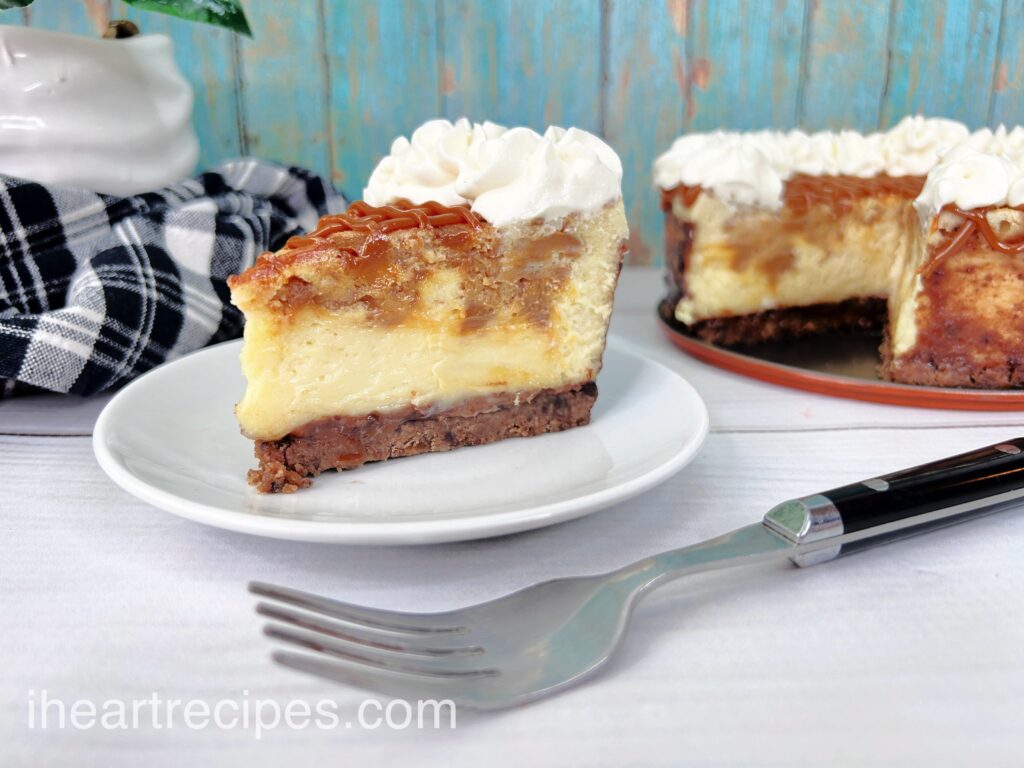 Let's talk about this cozy, creamy treat that'll make your heart sing: our Dulce De Leche Cheesecake. This isn't just your everyday dessert; it's like a hug from your sweetest memory, with a crust made of chocolate chip cookies – oh yes, the very same kind that might've had you sneaking into the kitchen as a kid. That crust is just the start; it cradles the smoothest, creamiest cheesecake you could dream up, with a caramel twist that'll make you close your eyes and smile.
Making this cheesecake feels like putting together a puzzle of deliciousness. The cream cheese doesn't just dance with sugar and eggs; it swirls together with the rich, buttery dulce de leche in a way that'll make your taste buds do a little jig of joy. The crunch from the crust is a sweet little surprise at the end of every bite, holding everything up like a best friend on a tough day.
Now, this isn't just any dessert. It's the kind you make when you want to wrap your family or friends in a big, sweet embrace. It's for those moments when you're gathered around the table, sharing stories, or celebrating the little things. This Dulce De Leche Cheesecake is like the friend who's always there for you, ready to make a regular day feel a little bit more special. So come on, Cousin, let's bake up some love and memories with this little slice of heaven.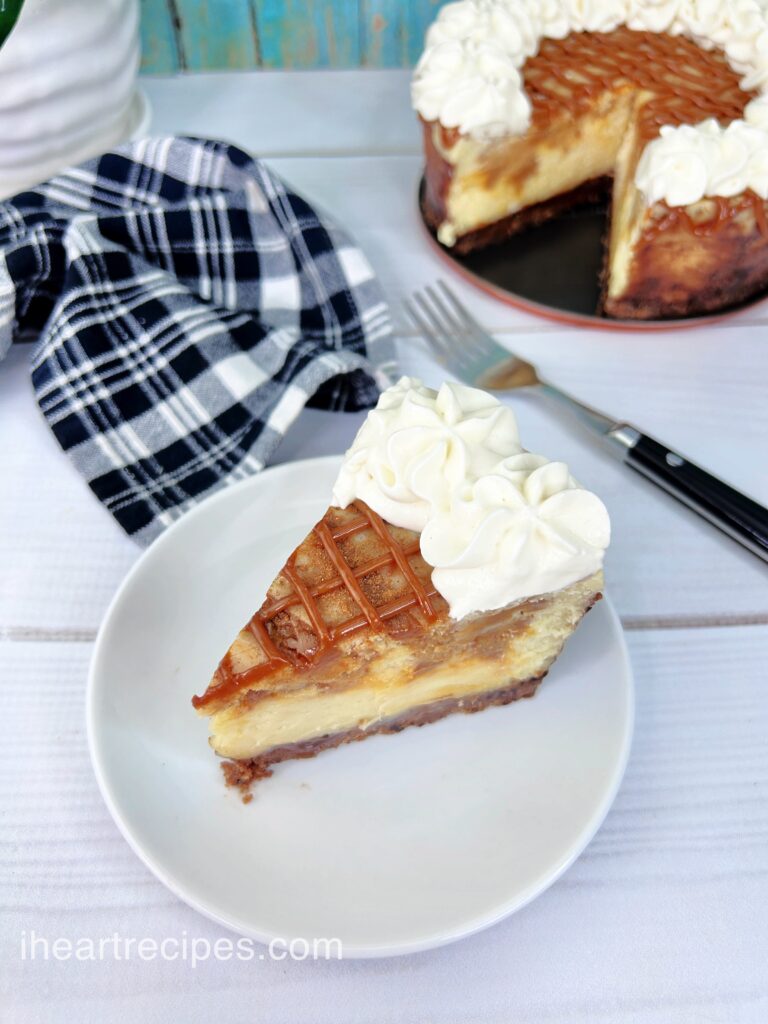 Shopping List:
Chocolate Chip Cookies (3 cups crushed) – This is our base, folks. These cookies are going to give us that sweet, crunchy foundation that holds up all the creamy goodness on top.
Unsalted Sweet Cream Butter (½ cup, melted) – Butter is the glue that's gonna bind our cookie crumbs into a crust that's both tender and firm. It's also going to add a nice, rich flavor to the mix.
Sugar (4 tablespoons + ⅔ cup) – Sugar is doing double duty here. In the crust, it's a sweet little sparkle, and in the filling, it's what helps create that smooth and irresistible sweetness that balances the tang of the cream cheese.
Cream Cheese (16 ounces, softened) – The star of the cheesecake, cream cheese gives us that creamy, tangy layer that's just so satisfying. It's got to be soft to blend into that smooth, silky filling we're after.
Pure Vanilla Extract (2 teaspoons) – Vanilla is like the best supporting actor. It's going to enhance all the other flavors in our cheesecake without stealing the show. It adds depth and warmth to every bite.
Large Eggs (2) – Eggs are the binders. They hold all our filling ingredients together and give the cheesecake its structure once baked.
Dulce De Leche (1 can, 8 ounces) – Ah, the dulce de leche. This sweet, caramel-like treat is going to swirl into our cheesecake, giving it those beautiful caramel streaks and a rich flavor that's just divine.
Heavy Cream – You'll be using this decadent ingredient in both the filling and the topping of your Dulce De Leche Cheesecake. In the filling, the heavy cream adds a luxurious density and helps smooth out the batter, giving it a rich and creamy texture that's just divine. For the whipped cream topping, it's the star of the show, whipped into soft, billowy peaks that melt in your mouth, adding a light and airy contrast to the dense cheesecake. It's the kind of ingredient that takes your dessert from delightful to downright heavenly.
Disposable Piping Bags (2) – These aren't just for decoration, Cousin. We're using piping bags to layer in that dulce de leche perfectly. Think of them as your precision tools for that swirl that'll make your guests say, "Ooh!"
How to make this cheesecake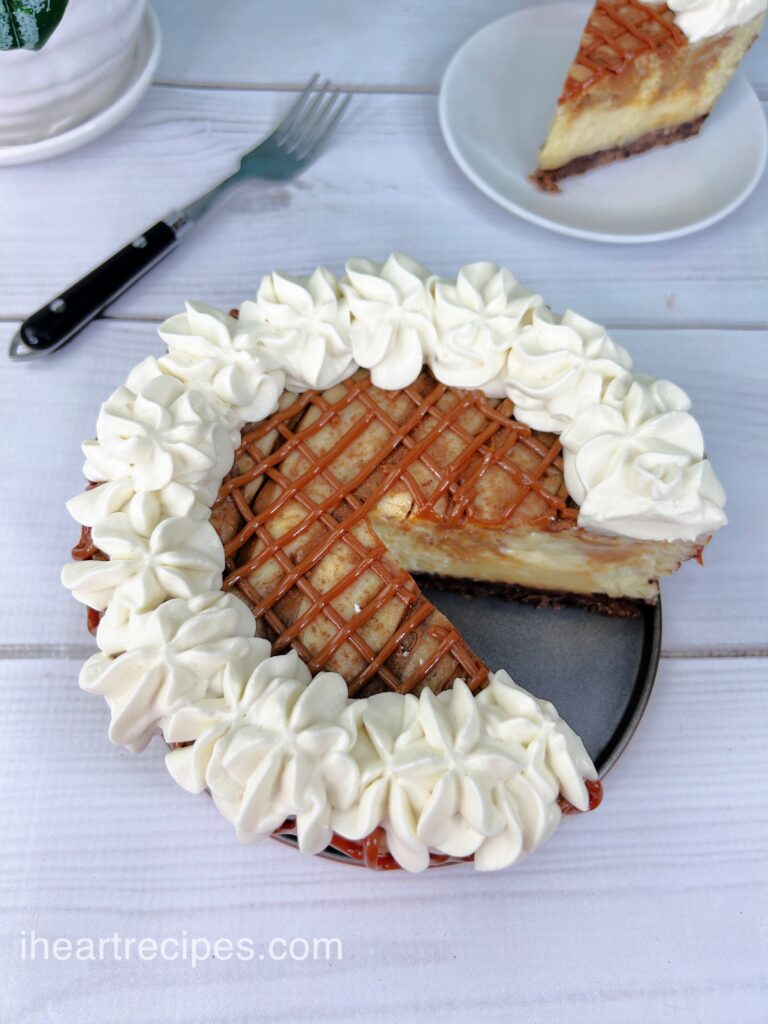 For the Crust:
Get your oven warmed up to 325°F (that's 163°C for our metric-loving friends).
Give your 8-inch springform pan a little love with some baking spray and line the bottom with parchment paper. This is going to make sure your cheesecake comes out clean, no sticking.
In a big bowl, mix up those chocolate chip cookie crumbs, melted butter, and sugar until it looks like wet sand.
Press half of this crumbly goodness into the bottom of your pan, pressing down firmly. Then take the rest and press it up the sides. A glass with a flat bottom can help you get that nice, even layer.
Pop that crust into the oven and give it a quick 10-minute bake. Then take it out and let it cool off while you deal with the filling.
For the Filling:
In another large bowl, beat your cream cheese with the sugar and vanilla until it's smooth as silk.
Crack those eggs in one at a time, mixing well after each one.
Take your dulce de leche and divide it between two piping bags.
Assembling the Cheesecake:
Pour half your cheesecake batter into the pan over your crust.
Snip the end off one piping bag and drizzle that golden dulce de leche over the batter. Then take a knife and gently swirl it around.
Pour the rest of the batter on top and repeat with the dulce de leche drizzle and swirling action.
Baking the Cheesecake:
Fill a deep baking dish with warm water and place it on the bottom oven rack. This is going to give the oven a nice steamy environment.
Set your cheesecake on the top rack and let it bake for 50-60 minutes. You're looking for a golden edge and a center that still has a little wiggle to it.
Turn off the oven, crack the door open, and let the cheesecake hang out there for about an hour to cool down gently.
Cooling and Chilling:
Take your cheesecake out of the oven and let it sit on the counter for about 30 more minutes. It's all about the slow cooling to avoid cracks.
Then tuck it into the fridge and let it chill overnight.
For the Whipped Cream Topping:
Pop a mixing bowl in the freezer for about 10 minutes to get it nice and cold.
Whip out that bowl, pour in your heavy cream, powdered sugar, and vanilla, and beat it with a hand mixer until it's fluffy with stiff peaks, about 10 minutes.
Scoop that whipped cream into a piping bag with a star tip.
Finishing Touches:
Warm up the second bag of dulce de leche in the microwave for about 45 seconds so it's nice and runny.
Pipe a criss-cross of dulce de leche over the top of your cheesecake, then pipe beautiful whipped cream dollops around the edge to make it pretty.
Tips and tricks for this cheesecake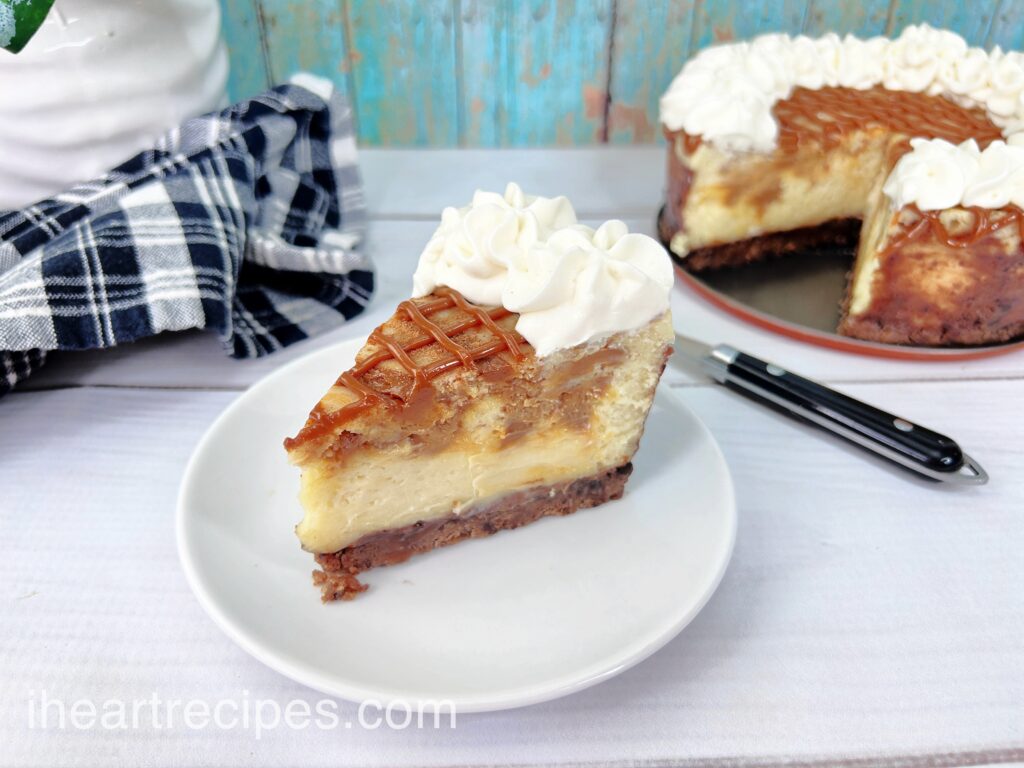 Room Temperature Ingredients: Make sure that cream cheese and those eggs are room temperature. This is the secret handshake to a smooth, lump-free batter. Nobody's got time for a chunky cheesecake!
Crumb Texture: When you're crushing those chocolate chip cookies for the crust, think sandy beaches, not pebble rocks. You want fine crumbs that'll stick together better than family.
Slow and Steady Mixing: When you're beating that cream cheese and sugar, keep it on a low to medium speed. Going too fast will whip air into the batter, and too much air means cracks when you're baking. We want sleek, not split!
Water Bath Wonders: If you're up for it, bake your cheesecake in a water bath. Wrap the outside of your springform pan in foil and place it in a larger pan filled with hot water. This spa treatment keeps the oven moisture high and the heat gentle, helping prevent cracks and giving you that creamy consistency.
Cooling Patience: Once that oven timer dings, turn off the heat, crack the oven door, and let your cheesecake cool in there for an hour. This gradual cool-down helps avoid sudden temperature changes that can lead to a cheesecake Grand Canyon.
The Chill Factor: Cheesecake's like that friend who loves a good chill session. Give it time in the fridge, at least 4 hours, but overnight is even better. This patience pays off with the perfect slice.
Saving the Leftovers:
Fridge Freshness: Got leftovers? Wrap them up tight in plastic wrap or foil and pop them in the fridge. This keeps the air out and the moisture in. Your cheesecake will stay fresh for a few days, ready for your next sweet craving.
Freezer Friends: If you've got more than a couple of days' worth of cheesecake on your hands, slice it up, wrap each piece individually, and freeze them. Frozen cheesecake is a treat on its own, and it thaws beautifully for that just-baked taste. Just move a slice from freezer to fridge a few hours before you want to indulge.
Slice and Save: If you're serving and want to keep the rest untouched, slice what you need and immediately store the unsliced portion. It keeps the edges from drying out and ensures that every piece is as moist as the first.
Remember, Cousin, baking is like jazz—it's all about improvisation and feeling the groove. Use these tips as your base notes and riff off them to make your own culinary melody. Enjoy every step, from mixing to munching, and here's to a cheesecake that's as smooth as our moves on the dance floor!
More Cheesecake Recipes To Try
Save this recipe for later, and don't forget to share it with your family and friends.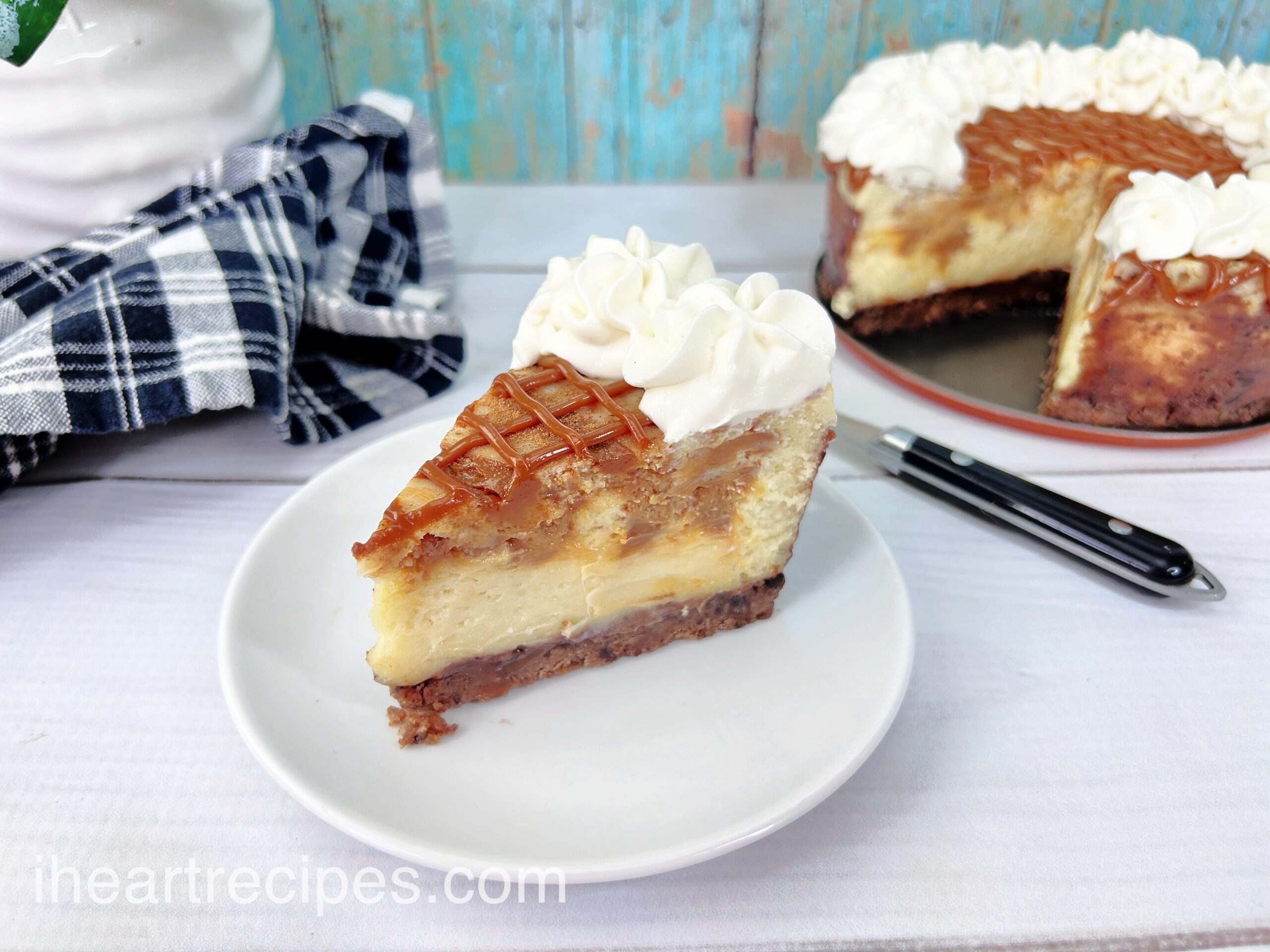 Creamy Dulce De Leche Cheesecake
This Dulce De Leche Cheesecake is a creamy embrace in dessert form, with its rich and velvety filling perfectly complemented by a crunchy chocolate chip crust. Each slice is a little celebration on a plate, where the sweet swirls of dulce de leche dance with the subtle warmth of vanilla—a true delight for the soul and the taste buds.
Print Recipe
Pin Recipe
Ingredients
Chocolate Chip Crust Ingredients:
3

cups

crushed chocolate chip cookies

½

cup

unsalted sweet cream butter

melted

4

tablespoons

sugar
Dulce De Leche Cheesecake Filling Ingredients:
Whipped Cream Topping Ingredients:
Instructions
Preheat the oven to 325°F. Spray an 8-inch springform pan with baking spray and line the bottom with parchment paper.

Combine crushed chocolate chip cookies, melted butter, and sugar. Press half of the crust mixture into the bottom of the pan and the remainder around the sides. Bake for 10 minutes, then cool.

Beat together cream cheese, sugar, and vanilla extract until smooth. Add eggs one at a time, then mix in heavy cream. Split dulce de leche into two piping bags.

Pour half of the cheesecake batter into the crust. Drizzle dulce de leche over the batter and swirl with a knife. Top with the remaining batter and repeat the drizzle and swirl with dulce de leche.

Place a deep baking dish filled with warm water on the bottom oven rack. Place the cheesecake on the top rack and bake for 50-60 minutes, or until the edges are set and the center is slightly jiggly.

Turn off the oven and let the cheesecake cool inside for 60 minutes, then remove and cool further on the counter for 30 minutes. Refrigerate overnight.

For the whipped cream topping, beat heavy whipping cream, powdered sugar, and vanilla extract in a chilled bowl until stiff peaks form. Pipe around the cheesecake edges.

Soften the remaining dulce de leche and pipe a criss-cross pattern over the cheesecake before serving.
If you loved this recipe,
leave me a review below
. This helps future recipe makers and ensures continued high-quality recipes for years to come!
© 2023 I Heart Recipes