3 simple school lunch ideas that kids love
Hey friends! The kids are back in school ( well some of them are, my baby still has a few weeks of his vacation left).  I must admit that I really hate this time of the year. I have to wake up early, assist my son to get ready for school, pack his lunch, then be away from my boo for hours. I'm really not a fan of the stuff. My son however LOVES the school year. He loves being around the other kids, learning, recess, and lunch… Yeah, you read right- the kid likes his lunch! He comes home everyday, and tells me what he liked, and didn't like about his lunch. To my defense he loves everything that I pack, the hot lunches from school are another story. This year I've decided to pack more lunches for my little man, because he is such a picky eater. If he doesn't like what they make at school, he won't eat it. Then when he get's home, he wants to binge…not good… not good at all. Therefore on the days that they make something that he isn't fond of, I will pack his lunch.
When I think of lunches for Gio, I think of things that I liked as a kid( and things that I like now, because my tastebuds haven't changed much!) I try to give him a variety of things. I try my best to switch up his meals, so that he doesn't get bored. I also try to stay on a budget, as well as pack lunches that aren't time consuming.
I've come up with a couple lunch ideas that I know that Gio will love, and hopefully your kids will like them too. Check them out!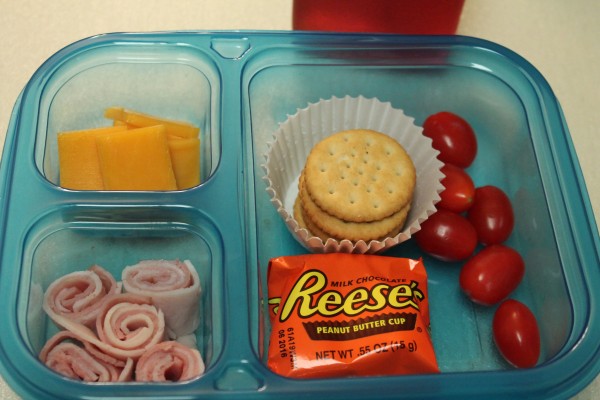 Make Your Own Lunchables
These 3 DIY lunchables are super easy to make ahead of time and have ready on a busy morning! The kids will love their lunch, and you'll save time in the morning—it's a win-win!
Watch Video
Print Recipe
Pin Recipe
Ingredients
Lunchable #1 Ingredients:
Sandwich container

Sandwich bag

Baking cups

cupcake cups

2

slices

of bread

whole wheat, white, etc.

Deli turkey

Deli ham

Cheese slices

American, cheddar, etc.

Cheese crackers

I used Cheese-Its

Fruit of choice

I used grapes
Lunchable #2 Ingredients:
3-

section lunch container

Baking cups

Cubed cheese

Deli ham

Deli turkey

Reese's Cup

Crackers
Lunchable #3 Ingredients:
2-

section container

Baking cups

Sandwich bread

Peanut butter and jelly

Grapes

Cheese crackers

Reese's cup
Instructions
Lunchable #1 Instructions:
Assemble the ham, turkey, and cheese sandwich (or you can make whatever sandwich is your kid's favorite!). We're only going to use half of this sandwich, so cut it in half and place it in a sandwich bag.

Put the sandwich in the sandwich container. Use the baking cups as dividers.

In the 2 baking cups, put the crackers (I used Cheese-It's cause Gio loves thosand fruit (I used grapes.

Store in the fridge until school day!
Lunchable #2 Instructions:
Create the "meat rollups" by layering 1 slice of ham and 1 slice of turkey, then roll them up and slice into 5 pieces.

In the 3-section container, put the rollups in one section, some cubed cheese into another section. In the larger section, I put crackers (in a baking cup), some cherry tomatoes, and a Reese's cup for dessert!

Store in the fridge until school day!
Lunchable #3 Instructions:
Use a rolling pin to flatten out the slice of bread, then cut the crusts off.

Put jelly on one half of the bread, and peanut butter on the other half (both on the same side!). Then, roll up the slice of bread, put it in a sandwich bag, and chill in the freezer for a few minutes.

In the 2-section container, but 2 baking cups in one section. In 1 baking cup, put some cherry tomatoes. In the other, put some cheese crackers.

In the larger section, put grapes in another baking cup. Then, I added a Reese's cup for dessert.

Take the PB&J rollup out of the freezer and cup into bite-sized pieces. Put it in the lunch container and you're done!

Store in the fridge until school day!
Video
Notes
For a drink, put your kid's favorite juice in a small travel cup and pack it with the lunch containers.
If you loved this recipe,
leave me a review below
. This helps future recipe makers and ensures continued high-quality recipes for years to come!
© 2023 I Heart Recipes