A Simple Recipe for Homemade Waffles!
I have NO idea why it's has taken me this long to upload a good homemade waffle recipe! Like seriously. You all know I love breakfast food, and waffles are definitely on my top 5 list. Ain't nothing better than a crispy-on-the-outside, fluffy-on-the-inside waffle drizzled with melted butter and topped with syrup or fruit and whipped cream! If I could, I would have waffles and bacon with a cup of coffee at least four times a week. That's just how much I love waffles! But I'm talking about homemade waffles fresh off the iron – NOT the frozen waffles that taste like cardboard (can't do it – no ma'am! *in my Madea voice).
In this post I'm going to show and tell you how to make some amazing homemade waffles. Seriously, after trying this recipe, you won't look at any of that frozen or other premade stuff the same way. Let's get started!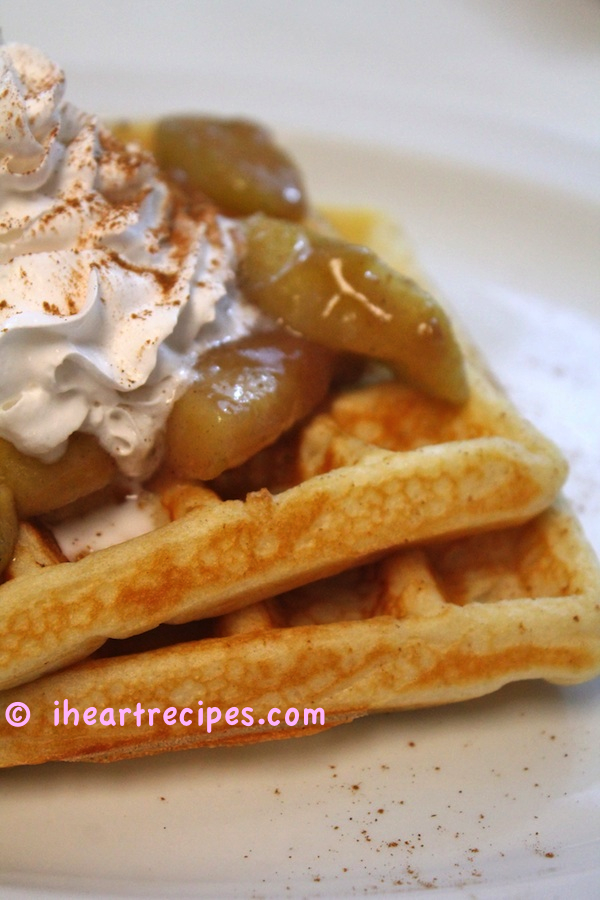 Really, this recipe is so simple and straight to the point that I don't have to blab as much as usual; however, I will answer a question that I know I will be getting:
Q: Can I replace the buttermilk with regular milk?
NO – stick to the buttermilk – you will not get the same results using regular milk. The waffle will not come out as fluffy. There are acids in buttermilk that work with the baking powder. If you want fluffy waffles, stick to the recipe. 🙂
Now let's get to this waffle recipe!
Watch me make the waffles!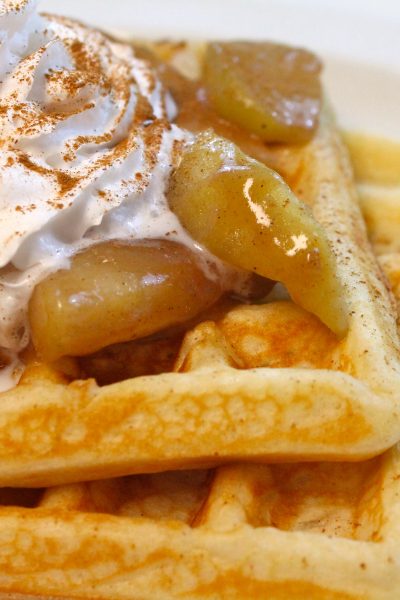 How To Make Homemade Waffles
This simple homemade waffle recipe is one everyone can master! It's perfect for a weekend brunch. Add your favorite toppings and enjoy!
Watch Video
Print Recipe
Pin Recipe
Instructions
In a medium sized mixing bowl combine the: flour, baking powder, sugar, and salt. Sift the dry ingredients then set the bowl to the side.

In a large bowl combine the buttermilk, egg yolks, vanilla extract, and vegetable oil. Mix everything is until well incorporated.

Gradually add the dry ingredients with the wet ingredients, and mix until well combined.

In different bowl, add in the egg whites.

Beat the egg whites, on a high speed, until it resembles whipped cream.

Add the fluffy egg whites into the waffle batter, and fold in until well incorporated.

Turn on your waffle iron, and spray it with nonstick spray if needed.

Once hot, pour some of the batter onto the waffle iron (how much, depends on size of the iron).

Let the waffles cook until they are golden & crisp.

Remove from the iron, and serve OR place on a cooling rack.
Video
If you loved this recipe,
leave me a review below
. This helps future recipe makers and ensures continued high-quality recipes for years to come!
© 2023 I Heart Recipes
Let me know how you enjoyed this recipe. Tag me on Facebook, Instagram, and Pinterest, subscribe to I Heart Recipes on YouTube, and check out my brand new cookbook, Super Soul Food with Cousin Rosie, loaded with many recipes you can't find anywhere else.
If you liked these homemade waffles, try some of my other brunch recipes!
Bacon, Eggs, and Butternut Squash Hash