Pecan Pumpkin Pie combines the creamy texture of pumpkin pie with the crunchy sweetness of pecan topping. It's a delicious fusion of two classic fall desserts in one slice.
The enticing aroma of cinnamon, complemented by the smooth allure of pumpkin and the unmistakable crunch of pecans, embodies the heart of Thanksgiving meals. Traditional pies have graced our tables for years, but why settle for just one flavor during this special occasion? The Pecan Pumpkin Pie stands out as the ultimate Thanksgiving pie, merging two beloved flavors into one unforgettable dessert. This pie doesn't just offer a taste of the season; it serves as a centerpiece, promising that guests and loved ones will be tempted to indulge in an extra slice or two.
Before we dive into the recipe, let's equip you with the essentials and share some tips and tricks to make your baking journey smoother and your pie more delicious.
Essentials for Baking the Perfect Pie
Bakeware and Tools That You'll Need
9-inch deep dish pie pan
A cookie sheet
A large mixing bowl
A medium saucepan
A whisk
Fresh Ingredients Needed
The flavor of your pie largely depends on the quality of your ingredients. Use fresh, high-quality produce and spices for the best results.
You'll Need Some Patience!
Baking is as much about patience as it is about skill. Don't rush; let the flavors meld, and allow your pie to set.
Tips and Tricks for Making the Best Pumpkin Pecan Pie
1. Pie Crust:
Though the recipe doesn't mention it explicitly, you have the choice of using a store-bought crust or making your own. If making your own, ensure it's adequately chilled before filling to prevent sogginess.
2. Oven Position:
Position your oven rack in the lower third of the oven. This ensures even baking for the crust and filling.
3. Check for Doneness:
The knife test is classic. If it comes out clean, your pie is set. But also look for a slight jiggle in the middle; it means your pie is done but will remain moist.
4. Spices:
Freshly ground spices can elevate the flavor profile immensely. If possible, grind your own cinnamon, ginger, and cloves.
Homemade Pecan Pumpkin Pie Ingredients
For the Pumpkin Pie Base:
9-inch deep dish pie crust
2 large eggs
15 oz can of pumpkin puree
1 cup evaporated milk
14 oz of sweetened condensed milk
1/2 tsp kosher salt
1 tsp ground cinnamon
1/2 tsp ground ginger
1/2 tsp ground cloves
For the Pecan Topping:
1/4 cup sugar
1/4 cup brown sugar
2 tbsp cornstarch
3/4 cup light corn syrup
4 tbsp unsalted sweet cream butter, melted
1/2 tsp kosher salt
2 large eggs, lightly beaten
1 1/2 cup chopped pecans
1 tsp pure vanilla extract
How to Make a Holiday-Worthy Pecan Pumpkin Pie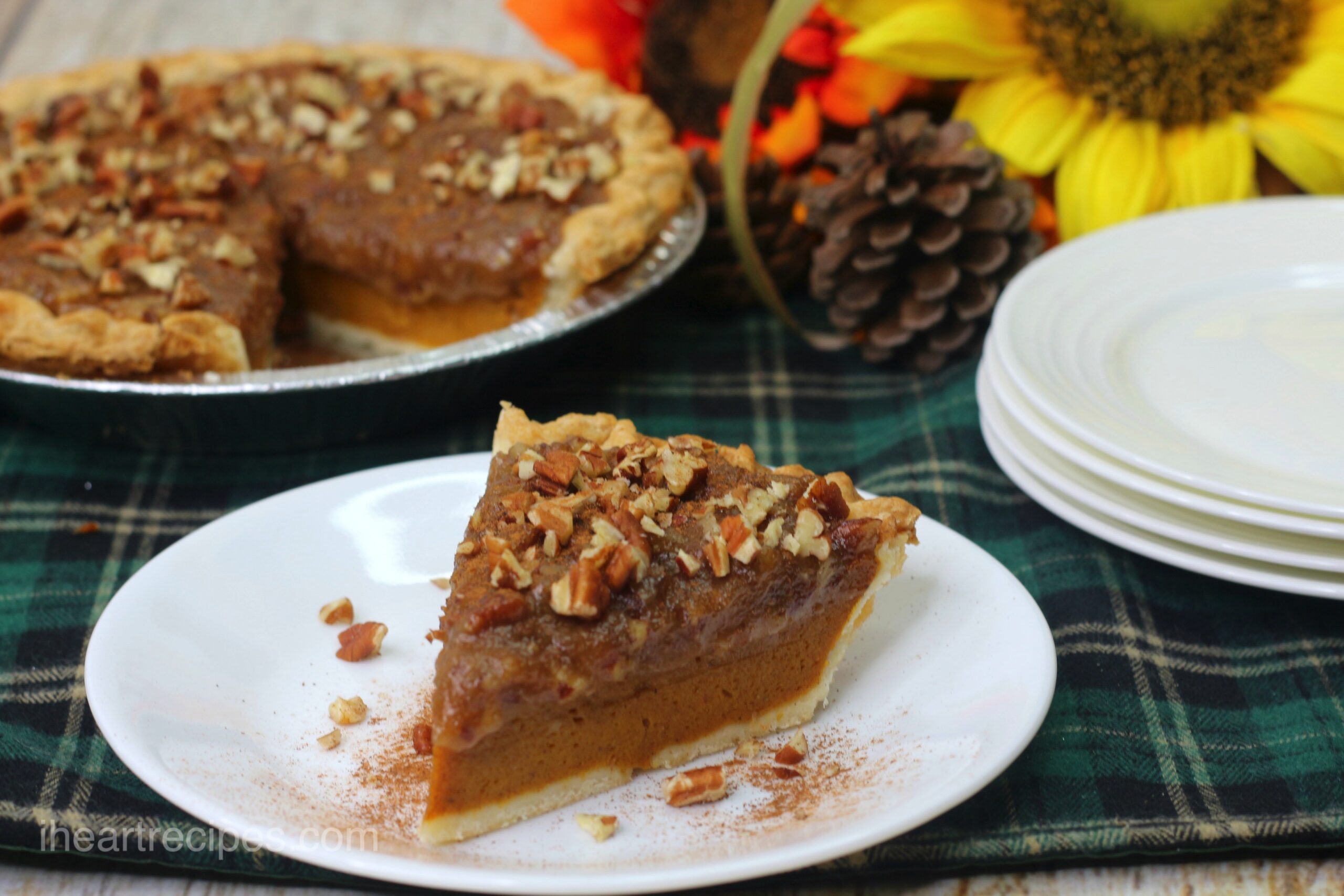 Pumpkin Base:
Setup: Preheat oven to 425 F and place the pie dish on a cookie sheet.
Mix: Beat the eggs in your large bowl. Then, incorporate the pumpkin, milks, salt, and spices.
Bake: Pour the mixture into the pie crust. Bake 15 mins at 425 F, then reduce to 350F and bake for 50-60 mins.
Cool & Set: Let it reach room temperature. Then refrigerate overnight to let it set completely.
Pecan Topping:
Combine: In your saucepan, mix all the ingredients, bar the pecans and vanilla. Bring to a boil.
Final Touches: Add pecans and vanilla. Shift the mixture to a bowl and let it cool for 10 mins at room temperature. Then, refrigerate for an hour.
Assemble: Once your pumpkin base has set, spread the pecan mix on top. Sprinkle with additional pecans if desired.
How to Store Leftover Pie
After putting in all that effort and enjoying a delightful meal, you may end up with extra slices. Here's how to keep those leftovers fresh:
Cool Completely: Before storing, ensure the pie is completely cool. This prevents condensation which can make the pie soggy.
Airtight Container or Wrap: Place the pie in an airtight container or wrap it tightly in plastic wrap or aluminum foil.
Refrigerate: Store it in the fridge for up to 4 days.
For Longer Storage: Consider freezing the pie. When ready to eat, defrost in the refrigerator and then reheat at a low temperature in the oven.
Pecan Pumpkin Pie isn't just a dessert; it's a celebration of fall's abundance, a tribute to tradition with a twist. As you enjoy each slice, may it remind you of the warmth of the season, the joy of sharing, and the magic of bringing two favorites into one. Happy baking!
More Delicious Holiday Pie Recipes
Save this recipe, and be sure to share it with your family and friends! Don't forget to follow along with everything Rosie and I Heart Recipes on social media—you can find me on Facebook, Instagram, and Pinterest