The only Meatloaf Recipe, you'll ever need!
I'm not going to lie … Meatloaf was something I actually hated growing up… FINALLY, I can admit to it. I'm not sure what my mom put in it, but whatever it is I hated it. I never understood why people liked meatloaf, and I never cared… Until I met my husband!
I remember when I first met my husband and we started dating. He loved the fact that I could cook. Like he was so impressed that I could cook food without using a box . I knew I had him wrapped around my finger, from the first dinner I had ever made him. One day I asked him, what his favorite meal was and he replied " Meatloaf!".. I almost died. I couldn't believe that his favorite meal was freaking MEATLOAF. Why couldn't he say steak, or mac and cheese. He had to say meatloaf. I thought I had a crazy man on my hands, but I played it cool and smiled and promised to make him some darn meatloaf. That evening I searched high and low for a meatloaf recipe… I came across several that actually seemed okay, but then I didn't know what kind of meatloaf to make him. Did he want gravy, barbecue, or what? I studied him over the next few weeks, and picked up what kind of foods he liked, and I simply ran with that.
He liked everything barbecue ( omg all the barbecues he made me go to….)
He loved onions and peppers
He hated gravy ( I seriously thought he was crazy when I figured this one out!)
I had a lot to work with… From that point, I simply created very basic but OUTSTANDING meatloaf recipe… To make a long story short, he loved it. He requests it at least once every two weeks… and I am now a meatloaf lover myself! ( By the way – please don't tell my mom that I hate her meatloaf… I'd never hear the end of it)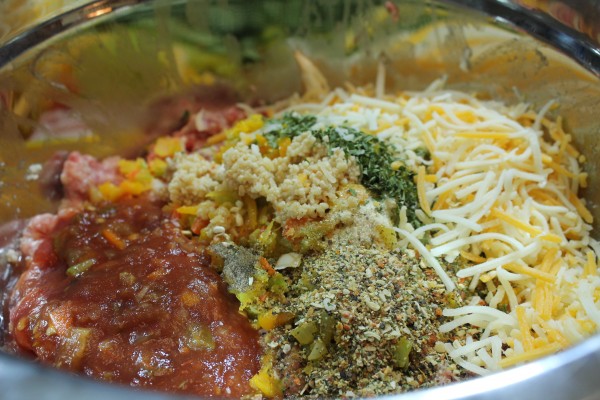 For my meatloaf, I use a combination of our favorite things… I have onions, peppers, garlic, salsa, and I even use cheese.  I actually started using cheese, after discovering that our favorite diner put cheese in their meatloaf, and my family loves it. I use the salsa because it has a nice mild flavor AND tomatoes.
You can definitely change this recipe up a bit. Feel free to experiment ( that's how I came up with my meatloaf!)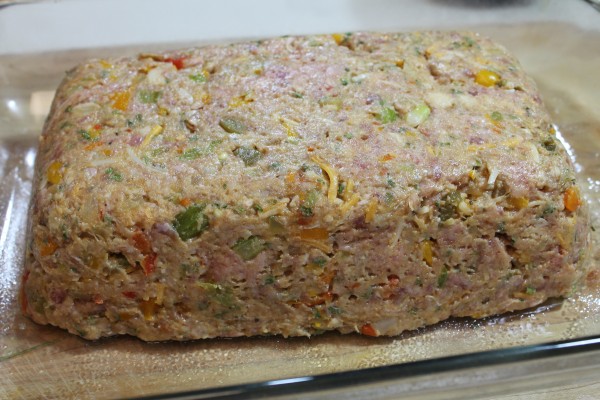 I used a loaf pan to shape up my meatloaf. You can used your hands or whatever else. Also, feel free to make meatloaf meatballs with this recipe… They're amazing!!!
Here's the video tutorial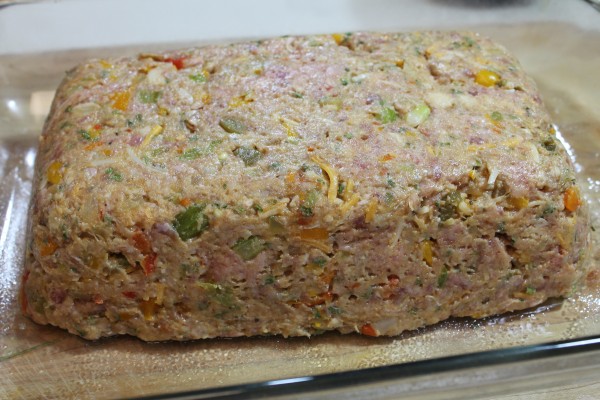 The Best Meatloaf Recipe EVER
Meatloaf is the perfect recipe to pack all your favorite veggies into one delicious dish! This is the only meatloaf recipe you'll ever need - it's a must-try!
Watch Video
Print Recipe
Pin Recipe
Instructions
Preheat the oven on 350 F.

Place the ground beef into a large bowl.

Place the bread into a separate bowl, then pour the milk over the bread. Let it sit for two minutes, then crumble the bread.

Add the bread and milk mixture , and two eggs into the bowl with the ground beef.

Use your hands to combine the ingredients.

Dice/ Chop the celery, peppers, and onions, then saute them in a pan with 1 tbsp of olive oil. Cook the vegetables for about 3 minutes over medium heat, then let it cool off.

Once the veggies have cooled add them to the meat mixture.

Add Everything else to the bowl, EXCEPT the barbecue sauce.

Use your hands to combine the ingredients.

Mold the meat into your desire shape, then place it in a bake dish.

Pour the barbecue sauce on top of the meatloaf, and spread it all over.

Bake the meatloaf, uncovered, on 350 F for 50 minutes to 1 hour.

Remove the meatloaf from the oven, drain any fat that maybe in the bake dish,and let it sit for 10 minutes before digging in.

Enjoy!
Video
If you loved this recipe,
leave me a review below
. This helps future recipe makers and ensures continued high-quality recipes for years to come!
© 2023 I Heart Recipes