When you combine the crunchy graham cracker crust with the rich apple filling and the rich caramel drizzle, you get these Caramel Apple Crisp Bites that are the perfect fall treat. A beautiful treat that each bite will bring a delicious mix of tastes and textures.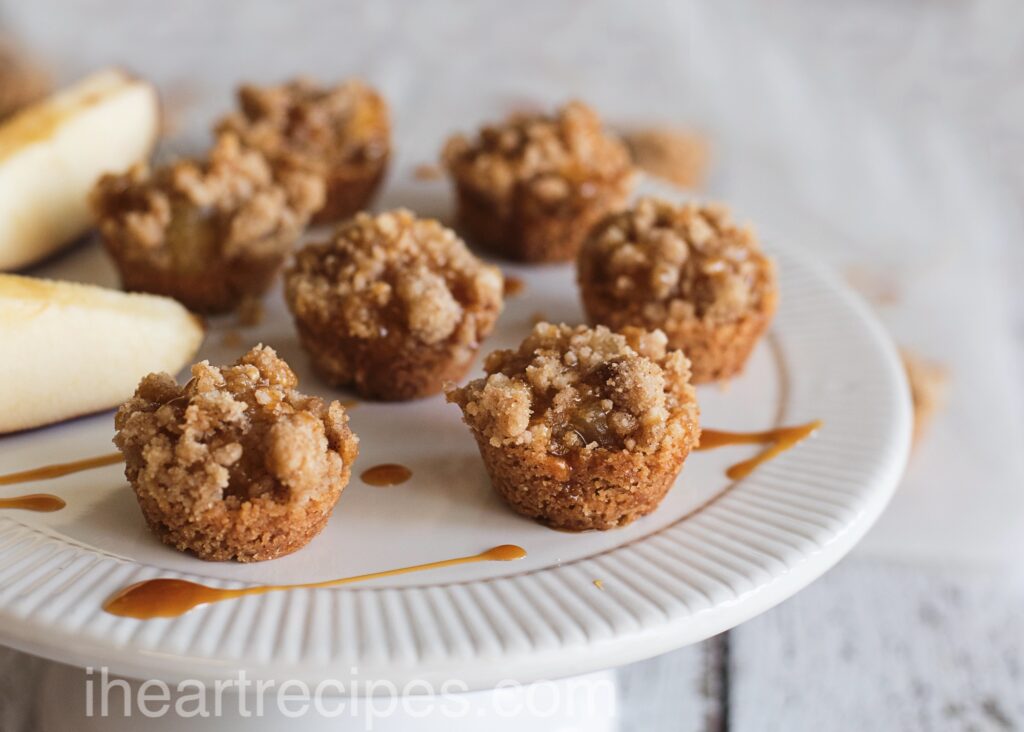 Mini Caramel Apple Crisps are a Perfect Fall Treat!
Oh, fall. It's fall, which means crunchy leaves, cozy sweaters, and, of course, sweets. Cousin, these beautiful Mini Caramel Apple Crisps are just what you need to add a touch of class to your fall celebrations. Allow me to lead you through this cooking adventure so that every bite takes you to a stylish fall party.
As the sun goes down and turns yellow, and the air gets that characteristic crispness, our taste buds start to yearn for warmth, comfort and a little pleasure. It's not just the weather that changes when summer ends and fall begins; our food preferences also change. Next up are rich soups, roasted treats and desserts that match the earthy tones of the season. Before these, we had fresh salads and tangy grills. The Caramel Apple Crisp Bites are a great example of this change; they have a lot of different tastes and textures that make you think of fall.
Also, there's something naturally romantic about fall, isn't there? This is a time to think, spend time with family, and follow customs that have been passed down from generation to generation. Every part of these bites, from the crunchy crust to the soft apple filling to the sweet caramel drizzle, should make you think of a special memory. Maybe of jumping into piles of leaves as a kid, of harvest gatherings, or of cozy nights by the fire. You are not only having a treat with each bite; you are also creating a web of old and new memories. Here's to fall, Cousin, and all the different tastes it brings to our lives.
Mini Caramel Apple Crisps Shopping List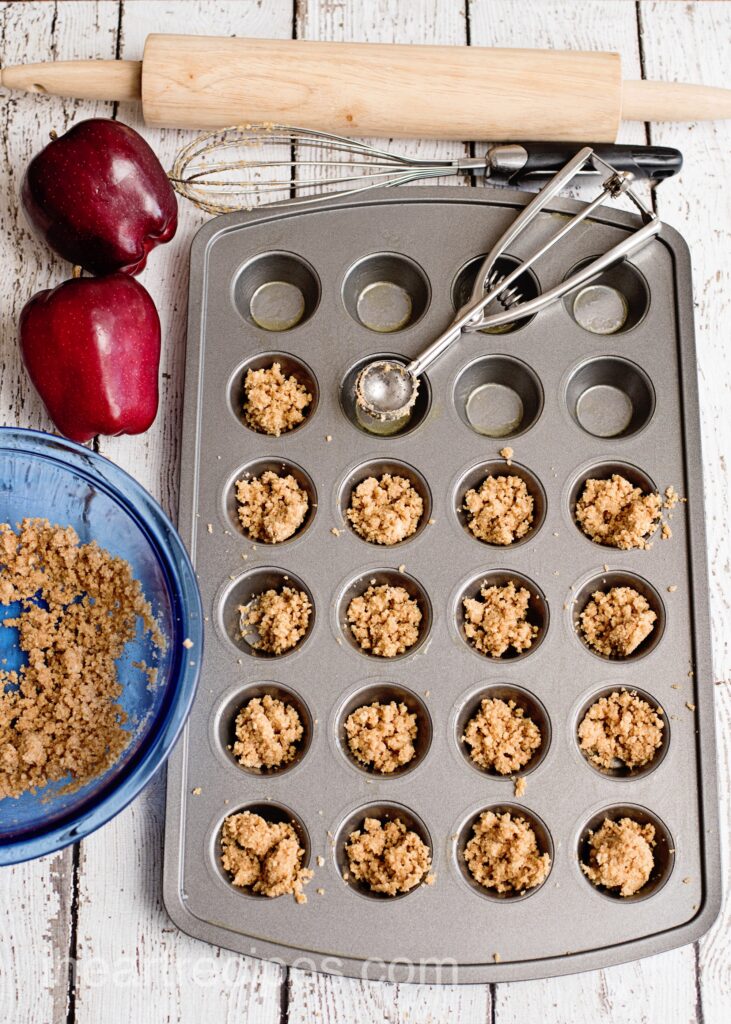 Graham cracker sheets : 7 sheets should do the trick.
Powdered sugar :1 /4 cup
Butter :10 tablespoons, melted
Apple pie filling :You'll need half a can
Caramel syrup : The store-bought variety is just perfect!
All-purpose flour : ¾ cup
Light brown sugar : ½ cup, packed
Ground cinnamon : ½ tsp
Butter or margarine : ¼ cup, melted
---
How to Make Mini Caramel Apple Crisps
Preparation: Begin by setting your oven to a modest 350°F. Make sure your 24-cup mini muffin pan is lavishly greased.
Crust Creation: Place your graham cracker sheets in a food processor, ensuring they are finely grounded. For those without a processor, fear not; simply encase the crackers in a bag and demonstrate your rolling prowess with a pin. In a sophisticated bowl, meld the graham cracker crumbs, sugar, and melted butter until harmonious.
Setting the Stage: Partition the mixture evenly amongst the 24-cup muffin pan. A gentle press with your thumb will help shape our delightful crusts.
First Bake: Grant these potential delights a brief 5-minute stint in the oven. Once their time is up, allow them a cooling respite.
Filling Fun: Turn your attention to the apple pie filling. Once in a bowl, use a knife with finesse to dice the apples into petite portions. Adorn each graham cracker base with a spoonful of apples, crowning it with a generous layer of crumb topping.
Second Bake: Embrace the art of baking and return your creations to the oven for an additional 10 minutes. Patience is key, Cousin. Once their time is up, bestow upon them a 15-minute cooling phase.
Finishing Touch: Elevate the elegance with a tasteful caramel drizzle right before presenting them to your awaiting guests.
---
Rosie's Tips & Tricks for Mini Caramel Apple Crisps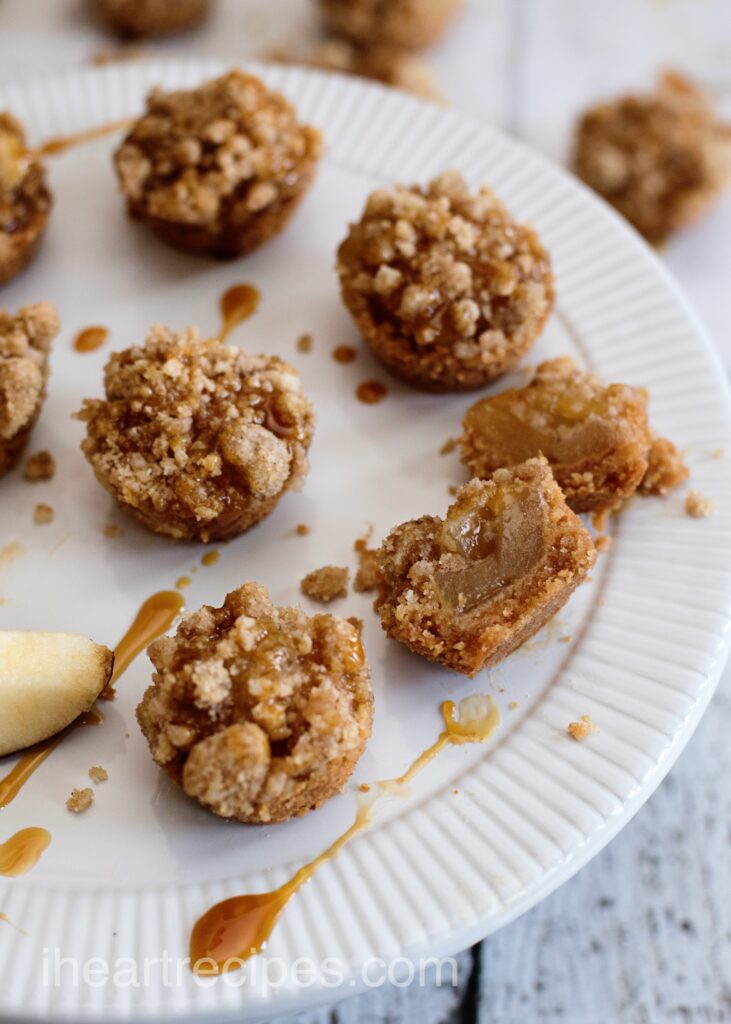 Removal Revelations: A humble toothpick can be your greatest ally. Use it to gently extract each crisp from its pan. With proper greasing, they should gracefully emerge.
Presentation Prowess: Consider serving on a chic white platter, allowing the caramel hue to truly shine.
Pairing Perfection: Consider serving with a glass of apple cider or a warm latte, amplifying the autumn ambiance.
---
Storing Leftovers
Cousin, if by chance you find yourself with leftovers (a rarity, I'm sure), here's the optimal way to store them:
Place them in an airtight container, ensuring minimal air exposure.
Store at room temperature for up to 3 days.
If desiring a longer storage duration, refrigerate for up to a week. However, I would recommend a brief warm-up before serving to rejuvenate their crisp essence.
Want more apple recipes? Check these out!
Don't forget to tag and follow me on Facebook, Instagram, and Pinterest, subscribe to I Heart Recipes on YouTube, and check out all my cookbooks with many recipes you can't find anywhere else.
Print and save this recipe for later!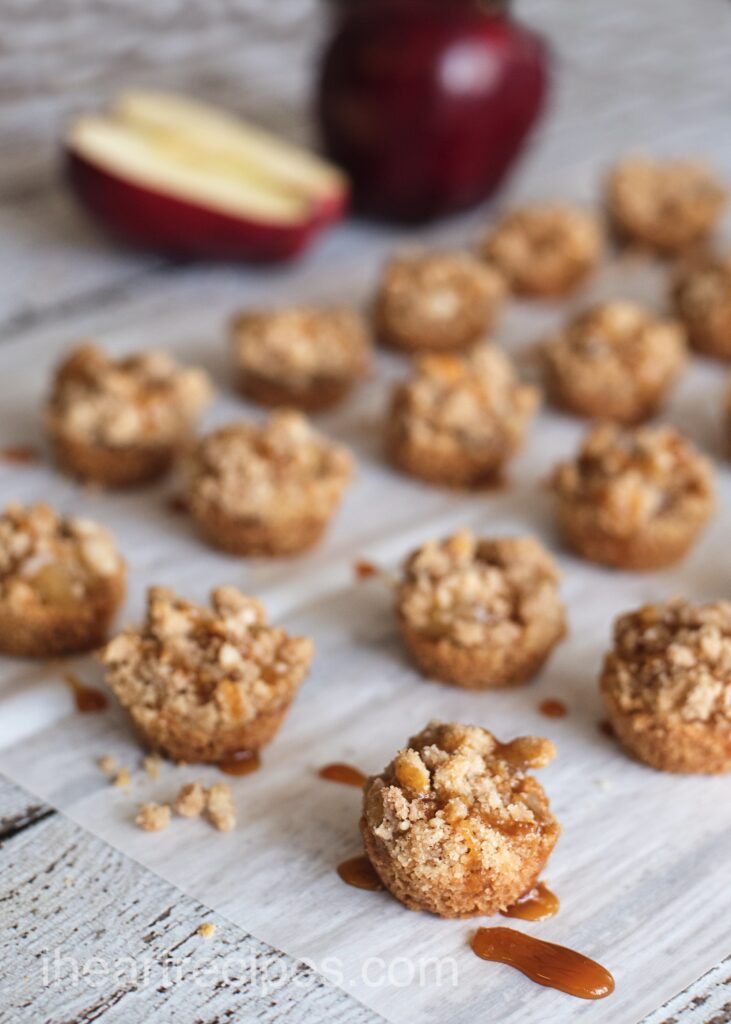 Mini Caramel Apple Crisps
These Caramel Apple Crisp Bites are a luxurious blend of crunchy graham cracker crust, sumptuous apple filling, and a lavish caramel drizzle, perfectly encapsulating the essence of autumn. An elegant treat that promises a delightful burst of flavors and textures with every bite.
Print Recipe
Pin Recipe
Ingredients
7

Graham cracker sheets

for the crust

1/4

cup

sugar syrup

5

TBSP

of melted butter

1/2

cup

canned apple pie filling

store-bought works just fine!

On top: ½ cup all-purpose flour and ½ cup packed light brown sugar

½

TBSP

of cinnamon powder

¼

cup

melted butter or margarine

Caramel syrup
Instructions
Warm the oven up to 350°F. Grease a mini muffin pan with 24 cups, making sure to cover the whole pan.

Put the graham cracker sheets into a food processor and pulse it until the crumbs are very small and there are no more chunks. You can also put them in a bag and use a rolling pin to roll them out. It works either way!

Put the graham cracker crumbs, sugar, and melted butter in a medium-sized bowl and mix them together until they are well mixed.

Put about a tablespoon (or a small ice cream scoop) of the mixture into each well of a 24-cup mini muffin pan. Press the graham cracker mixture into the pan with your thumb to make a well.

Bake for 5 minutes. Let it cool down for a while.

Spread the apple pie filling out in a bowl. Then, use a knife to cut the apples into small pieces. Put a small amount of apples into each well in the graham cracker and then cover the rest of the well with lots of yummy crumbs.

Don't worry if it looks a mess! Everything cooks at the same time, and when it's done, it will look great. To serve, put it back in the oven for 10 minutes and let it cool for 15 minutes.

After taking it out of the oven, put it on a cooling rack to cool all the way down. Add the sugar just before serving.

To take the crisps out of the pan, use a toothpick to pry each one out. They should just pop out if the coating is good.
If you loved this recipe,
leave me a review below
. This helps future recipe makers and ensures continued high-quality recipes for years to come!
© 2023 I Heart Recipes