A homemade version of Cheeseburger Hamburger Helper with tons more flavor!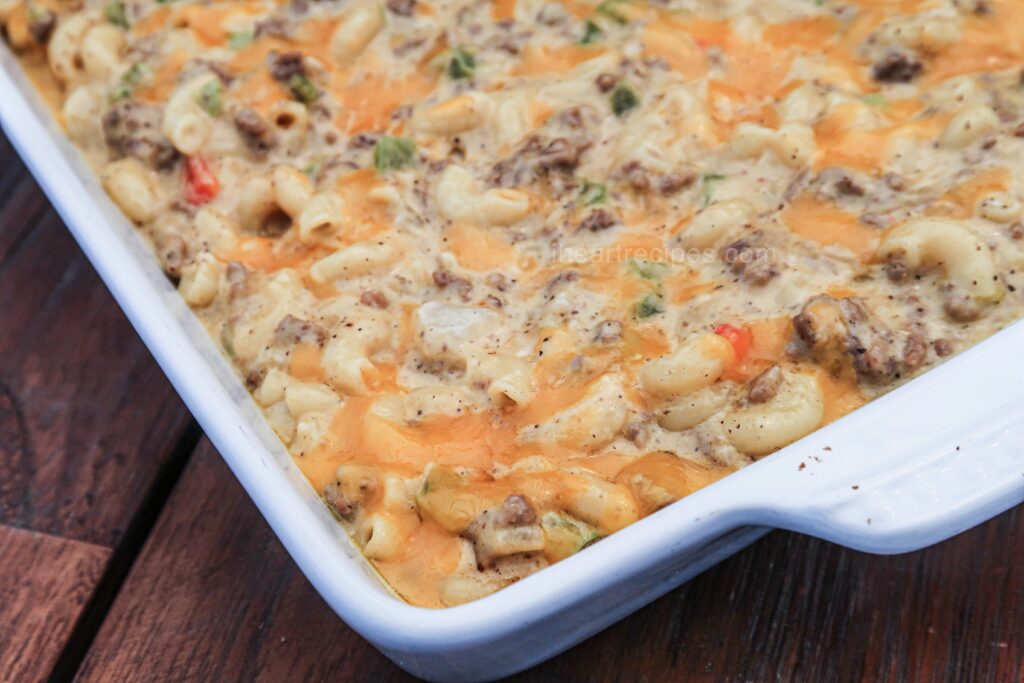 Hey cousins! I don't know if I ever mentioned it, but there was a time when my family survived off of Hamburger Helper! Like seriously, y'all, I had every darn flavor on my shelves! Times were hard, but baby we made it through!
Even though we were struggling, there wasn't nothing struggling about my little hamburger meals, baby! Chileeee, I use to jazz up the heck out of those boxed meals. Especially the Cheeseburger Hamburger Helper. I'd always add more ground beef than needed. Also, I'd add in some chopped onions, peppers, garlic, and load it with cheese. My boxed meals were lit y'all!
When we got out of the struggle zone, I still had a taste for hamburger helper. However, instead of buying the boxed stuff, I started to make my own homemade versions!
My easy homemade cheeseburger hamburger helper is amazing y'all. Like for real! I make a homemade cheese sauce made from half & half, cheddar, and flour. I load up on the ground beef and still love to add the onions & peppers.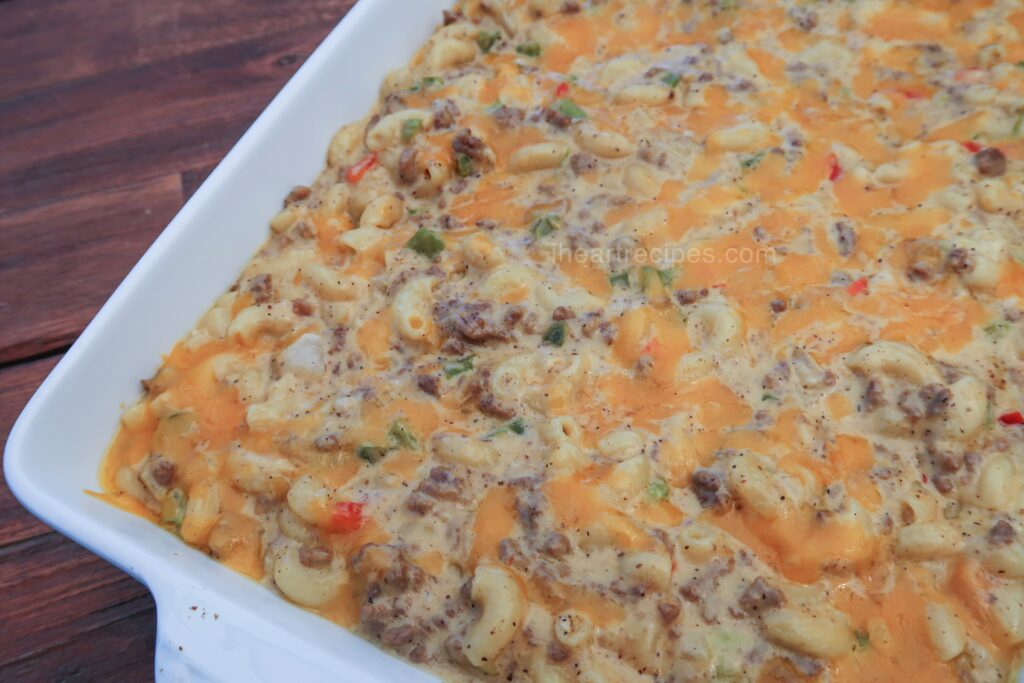 This recipe for easy homemade cheeseburger Hamburger Helper is just as easy to make as the boxed version. Let me tell you what you need.
Ingredients needed for my Easy Homemade Cheeseburger Hamburger Helper recipe
Ground beef or ground turkey
Chopped Yellow onion
Red bell pepper
Green bell pepper
Garlic
Cheddar Cheese ( I use sharp cheddar)
All purpose flour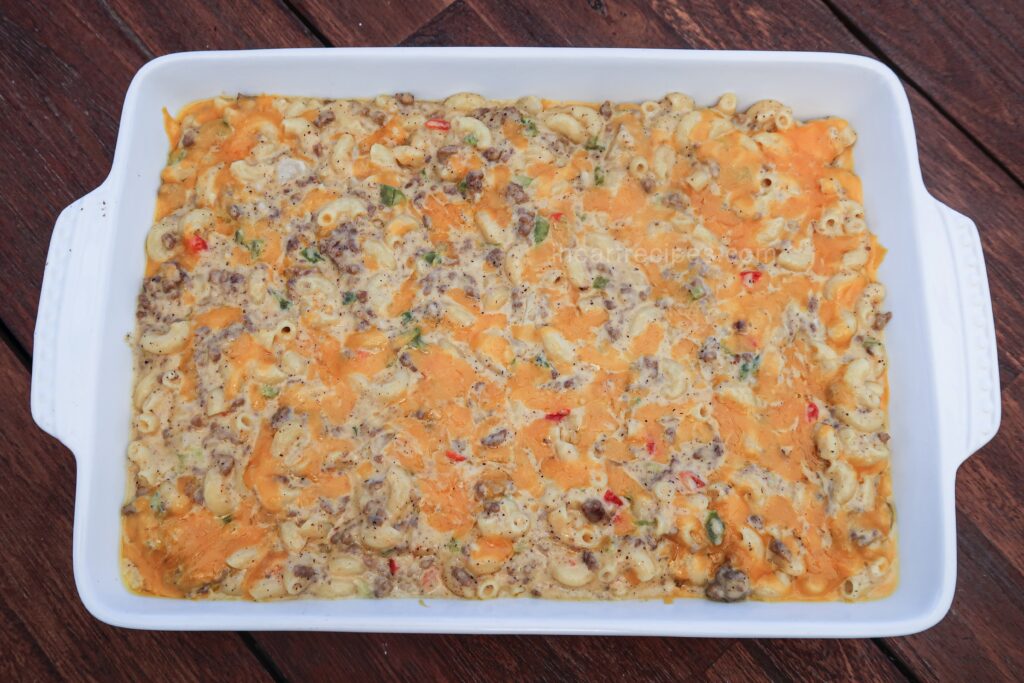 As you see, I use simple ingredients for this dish. I love using my Rosamae Seasonings Steak Whatcha Mama Gave Ya seasoning because it truly takes the ground beef to another level. The Steak Whatcha Mama Gave Ya has salt, black pepper, garlic, and spices. Since it has so much flavor, it's the only seasoning that I need for this dish.
Watch me make my easy homemade cheeseburger hamburger helper in this video. Be sure to print the recipe down below to give this recipe a try!
Easy Homemade Cheeseburger Hamburger Helper
Make this delicious homemade hamburger helper with simple, delicious ingredients! Creamy cheese sauce, ground beef, tender pasta, peppers and onions – so much more flavor than boxed hamburger helper.
Ingredients
3

cups

uncooked elbow macaroni

2.5

lb

ground beef

I use 80/20

3

tsp

Rosamae Seasonings Steak Whatcha Mama Gave Ya

1

small yellow onion

diced

1/2

medium red bell pepper

1/2

medium green bell pepper

1

tbsp

minced garlic

12

oz

sharp cheddar cheese

shredded

2

tbsp

all purpose flour

2 1/2

cup

half & half
Instructions
Cook the pasta until it's nice, and firm. Drain and set it to the side.

Now grab a large skillet, and add in the ground beef. Place the pan on the stovetop over medium heat.

Cook the ground beef until it's brown, then drain most of the fat. Leave at least 2 tbsp of beef fat to fry the onions and peppers.

Start adding in the onions and peppers. Cook until they soften.

Next, add in the minced garlic, and stir in.

Sprinkle in the all purpose flour, and stir until well incorporated with the other ingredients.

Cook for about 2 minutes, then pour in the half & half.

Stir until everything is well combined, then let cook until the sauce thickens.

Once the sauce thickens, add in 8 oz of the shredded cheese, and until all of the cheese is melted into the sauce.

Next, add in the cooked elbow macaroni. Mix in with the other ingredients until everything is well combined.

Transfer the homemade cheeseburger macaroni into a 9×13 bake dish.

Sprinkle the remaining cheese on top

Bake uncovered on 350, for 20 minutes.

Serve, and enjoy with french bread & salad!
Video
Don't forget to subscribe to I Heart Recipes on YouTube to see all of my recipe videos, cooking tips, and more! You can also follow me on Facebook, Instagram, and Pinterest to keep up with all things Rosie and I Heart Recipes!
If you love my easy cheeseburger hamburger helper, you're going to love these recipe as well!