This biscuit method provides a warm hug of home-cooked perfection, creating tender, layered treats from basic components. Ideal for those longing for a reminiscent flavor, every morsel radiates coziness, heritage, and a hint of heartfelt affection.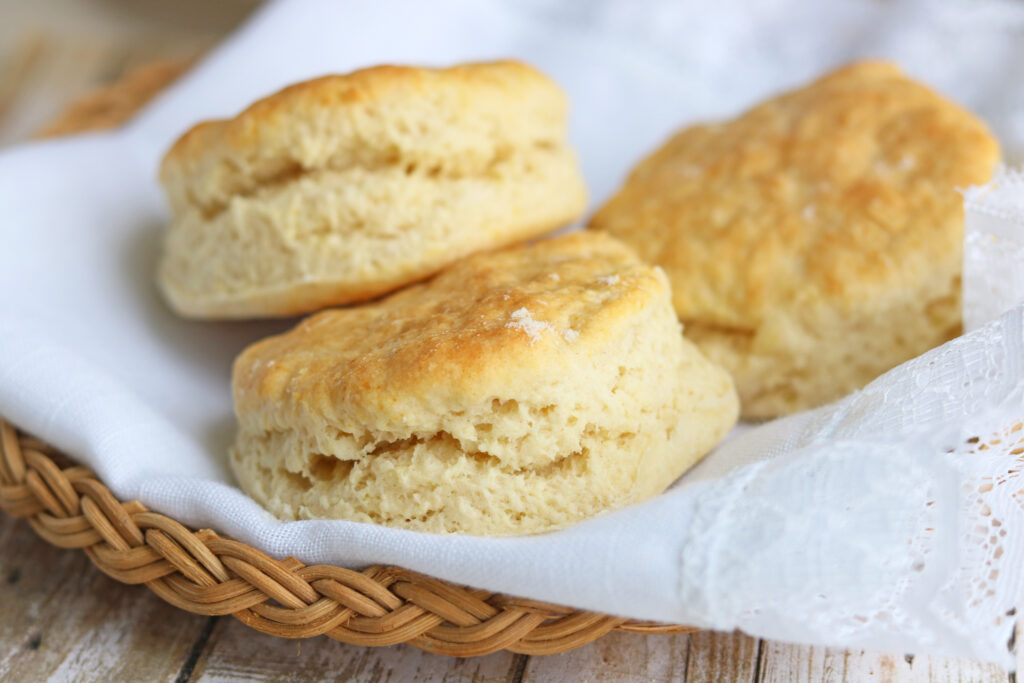 Let's chat for a moment. When was the last time you treated yourself to some homemade comfort? I'm talking about those moments when you need a little self-love, wrapped in a warm, soft, and flaky delight. If you're nodding your head, thinking, "It's been a minute!", then, darling, today is your lucky day. Let's dive into the world of biscuits – not just any biscuits, but the simple, soul-hugging kind.
Remember those times at grandma's house when the aroma of fresh biscuits wafted through the air, calling you to the kitchen like a siren song? Each bite was a journey back in time, a taste of history, tradition, and pure, unadulterated love. That's the power of food – it doesn't just fill our stomachs, but it nourishes our very souls. And what's more nourishing than a homemade biscuit crafted with dedication and passion?
In today's fast-paced world, where convenience is king, we often forget the joy of creating with our own two hands. We miss out on the therapeutic dance of kneading the dough, the thrill of watching it rise, and the satisfaction of that first bite into a job well done. But fear not! With this recipe, we're bringing back the age-old tradition, teaching you to embrace the process, and reminding you that sometimes, slowing down and savoring the moment is the key to true happiness.
Shopping List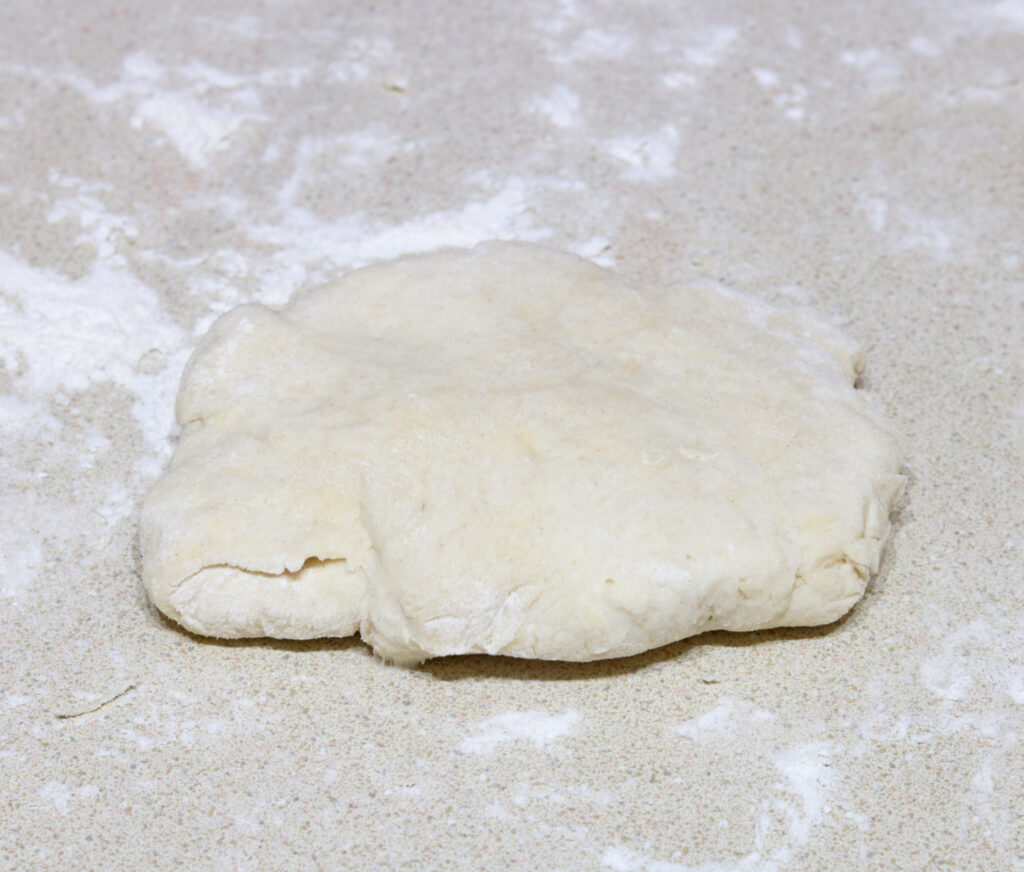 Flour : This is the backbone of our biscuit. Flour gives our biscuits structure. Now, it's not just about tossing in some random flour, no-no. Meticulously spoon it into that measuring cup. Precision is key!
Baking Soda : This little ingredient here is a silent worker. It reacts with the buttermilk, and gives our biscuits a lift. Imagine it as the tiny elevator in our biscuit building.
Baking Powder: If baking soda is our elevator, baking powder is the rocket booster! It makes sure our biscuits rise to the occasion and aren't flat as pancakes.
Salt : Every good dish needs a pinch of flavor. Salt brings out the best in our biscuits. But, darling, if you're using butter that's already got salt, skip this. We want flavorful, not the Dead Sea.
Cold Butter : Butter adds flavor and creates those dreamy, flaky layers. Cold butter, in particular, makes our biscuits puff up in the oven. Think of butter as the magic that brings it all together.
Buttermilk : This isn't just regular milk with a fancy name. Buttermilk brings tanginess and moisture. It's the secret ingredient that makes our biscuits soft and tender.
How to make Homemade Buttermilk Biscuits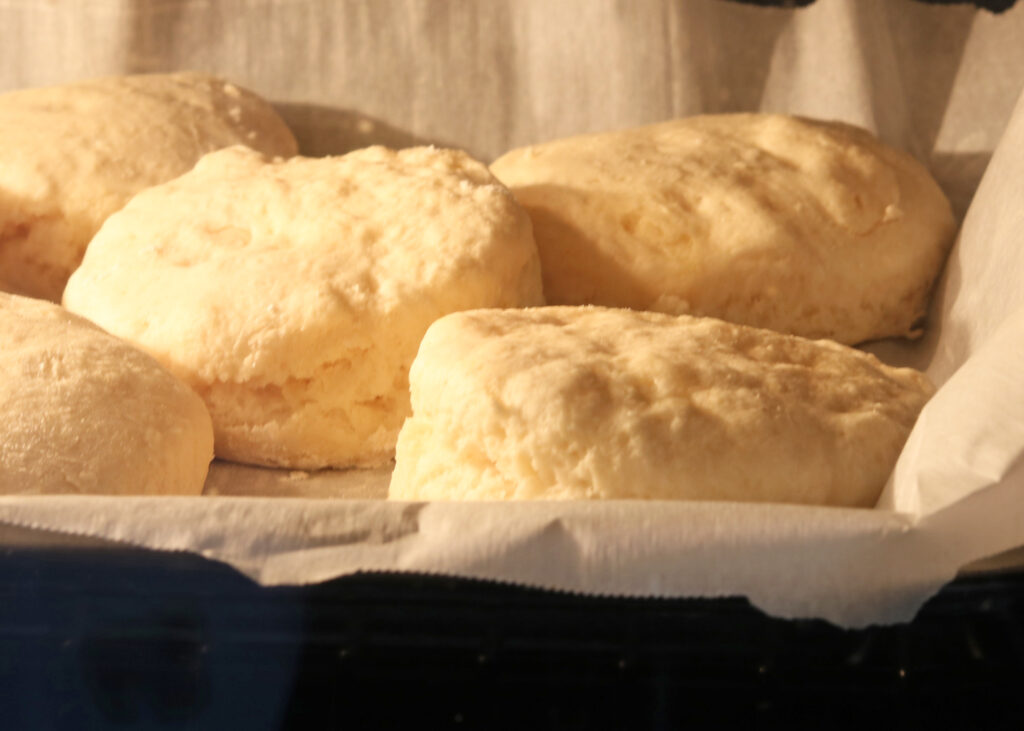 Warm It Up – Start by turning your oven to 400 degrees. Think of it as setting the stage for our biscuit performance.
Ready the Stage – Grab a baking sheet. Think of it as the red carpet where our biscuit stars will shine.
Mix the Basics – In a big bowl, combine flour, baking soda, baking powder, and salt. Mix like you're a DJ blending your favorite tracks – smoothly and with rhythm.
Butter Time – Cut your butter into small pieces and add them to the bowl. Now, dive in with your hands or a tool. You're looking for a texture like breadcrumbs. If you're feeling fancy, pretend you're massaging royalty.
Add the Magic – Pour in that buttermilk and mix until it's just right. Not too much, darling. We're making biscuits, not cement!
Shape It Up – Dust a flat area with flour. Gently press the dough until it's about ½ inch thick. Use a cutter or a glass to shape those biscuits. If they're not perfect, that's okay. Perfect is boring!
Bake to Perfection -Place your biscuits on the baking sheet and bake for 10-12 minutes. Peek in occasionally, cheering them on.
Biscuit Tips and Tricks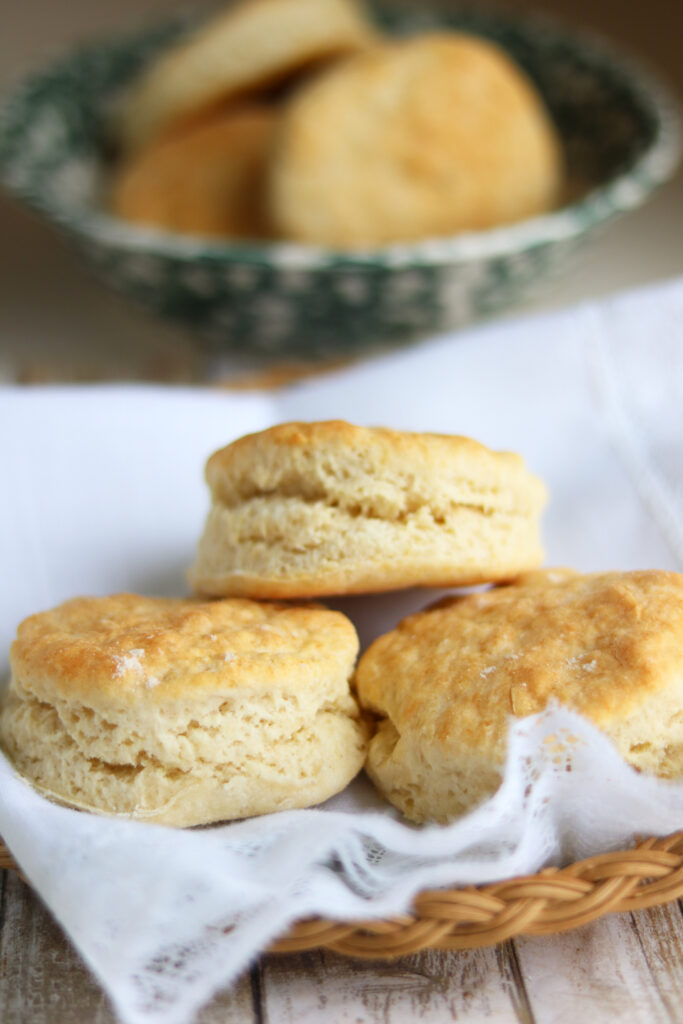 Cold Butter: Seriously, Cousin, cold butter is crucial. It melts as the biscuit bakes, creating pockets of steam, which gives us flakiness. It's like magic!
Buttermilk Swap: Out of buttermilk? Don't sweat it. Mix one cup of milk with a tablespoon of lemon juice or white vinegar. Let it sit for 10 minutes. Voila! You've got yourself a buttermilk substitute.
Hands Off: Don't overwork the dough. The more you handle it, the tougher your biscuits might be. Treat it like a delicate flower.
Biscuit 101: The Q&A Session You Didn't Know You Needed!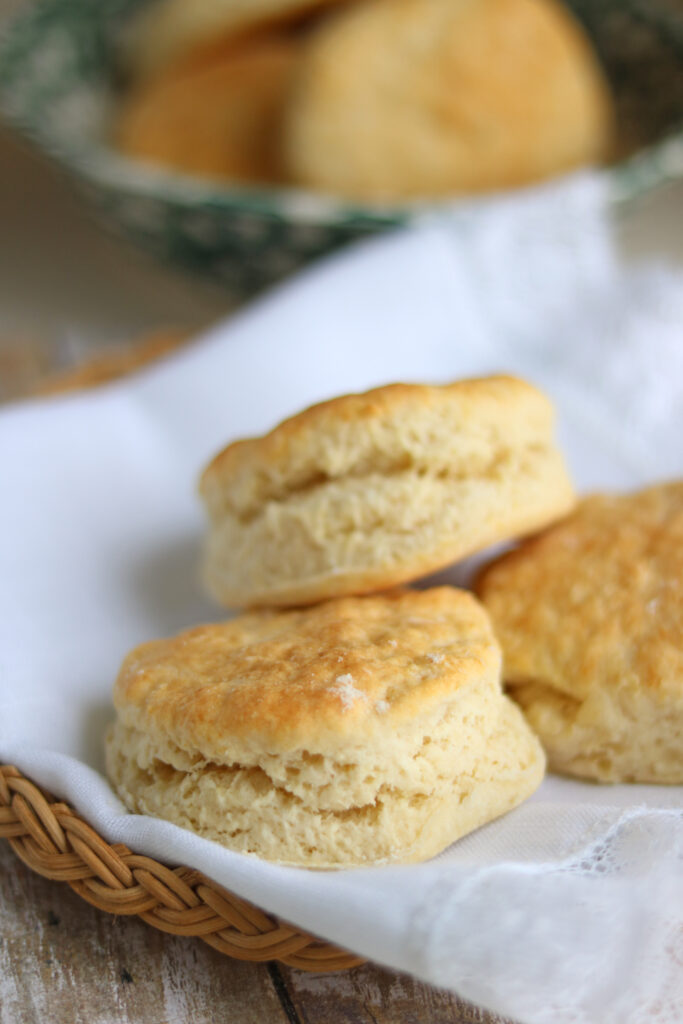 Honey, why aren't my biscuits rising to the occasion?
Now, Cousin, a few things might be raining on your parade:
That baking powder might've retired. Check its age!
Did you work that dough too much? Be gentle!
Not enough fat might be cramping your biscuit's style.
I ran out of buttermilk. What now?
No drama here! Just mix a tablespoon of lemon juice or white vinegar with a cup of regular milk. Give it 10 minutes, and voilà!
My biscuits are harder than my workout! What's the tea?
Overmixing might be your workout regime. Mix lightly to keep those biscuits soft and flirty.
Can I freeze my biscuit dough for some future goodness?
Absolutely! Shape those babies, freeze on a baking sheet until they're solid, and then cozy them up in a freezer bag. When you're ready, bake them straight from the freezer, just add a few extra minutes.
Butter talk: Salted or unsalted?
For full control over that salty sass, go unsalted. But if you're feeling a little rebellious with salted butter, dial back on the added salt.
How do I get my biscuits soft like Sunday morning?
Bless them with cold butter.
Treat that dough with TLC.
Make sure your oven isn't playing tricks on you with its temperature.
I'm feeling fancy. Can I jazz up my biscuits?
Why not? Add some herbs like rosemary if you're feeling savory or some dried fruit if you're on the sweet side of town.
Reheating biscuits: What's the 411?
Warm them up in the oven at 350°F for 5-10 minutes. They'll be groovin' like new.
All-purpose flour ain't cutting it. Can I go whole wheat?
Sure thing! But remember, whole wheat's a bit more dense. Mixing it up with all-purpose flour can be a good middle ground.
Butter or shortening: Which team are you on?
Shortening might give you sky-high biscuits, but butter brings that rich flavor. Can't decide? Mix 'em up!
Leftovers and Storing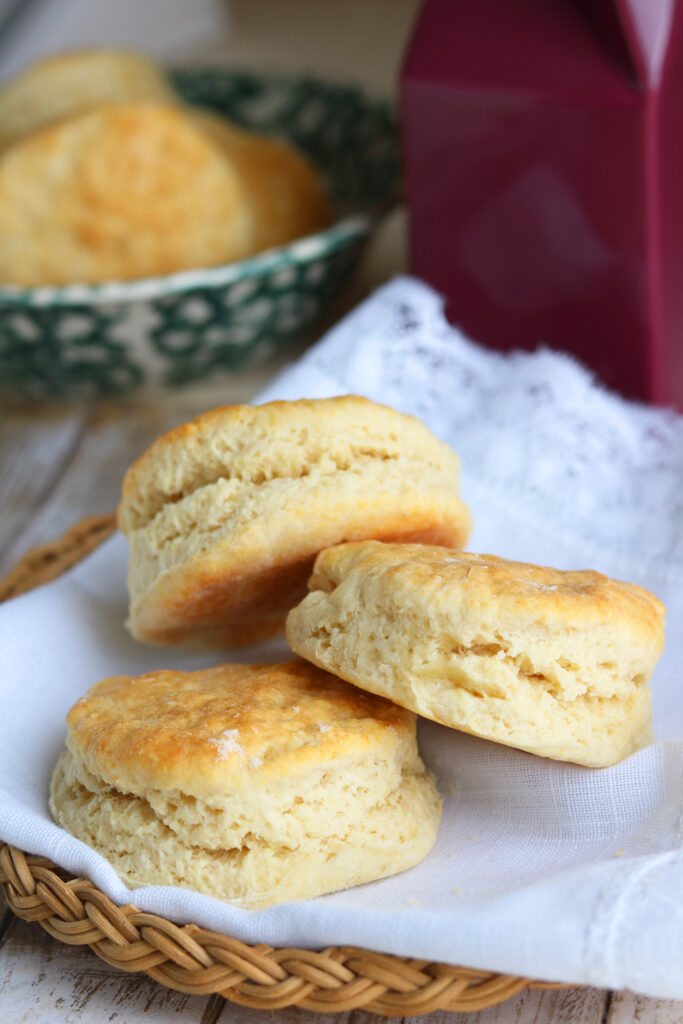 You might be thinking, "Leftovers? You're hilarious!" But just in case, wrap any leftover biscuits in foil or plastic wrap. Store them at room temperature for up to 2 days. Want them fresh again? Warm them in the oven for a few minutes.
Ready to put this recipe to work? Pair it with these recipes!
Print this recipe and save it for later!
Easy Homemade Buttermilk Biscuits
This biscuit recipe delivers a comforting embrace of homemade goodness, crafting soft, flaky delights with simple ingredients. Perfect for those seeking a taste of nostalgia, each bite offers warmth, tradition, and a touch of soulful love.
Print Recipe
Pin Recipe
Instructions
Preheat the oven to 400 F.

Get a baking sheet ready.

In a big bowl, put in flour, baking soda, baking powder, and salt. Mix well.

Cut butter into small pieces. Add to flour.

Use your hands or a tool to mix butter and flour.

Add buttermilk. Mix a little.

On a flat area with some flour, flatten dough to be about ½ inch thick.

Cut out biscuits and put on the baking sheet.

Bake for 10-12 minutes.
If you loved this recipe,
leave me a review below
. This helps future recipe makers and ensures continued high-quality recipes for years to come!
© 2023 I Heart Recipes