Moist and fluffy old fashioned Coconut Pineapple Cake recipe made from scratch.
Homemade Coconut Pineapple Cake. Need I say more?! I love it! I truly do. It takes me back to my early childhood. My family would always have huge Christmas dinner's at my Grandpa's house. Not only did we celebrate Christmas, but we celebrated my Grandpa's birthday as well! There would be tons of desserts lined up in the dining room. I was the kid that would always sneak a pinch of cake when the adults weren't looking ( no wonder where my son got it from!). I'd always act like I was just "looking", but I as secretly pinching off coconut flakes, and cherries off of the cakes. There was always a chocolate cake, Pineapple Upside Down Cake, and My favorite – Coconut Pineapple Cake. It was a tradition to make a lot of desserts because my Grandma did so.
My Grandparents ( mom's parents) had 18 kids. Yes 18! 12 boys and 6 girls. My mom is the youngest girl. Having that many kids, you can imagine how hard it would be to get all of them gifts. Apparently when the kids reached age 12, they were too old for gifts. Since the older kids didn't get gifts- Grandma would make a lot of desserts. The desserts was their gifts. The older kids ( my aunts and uncles), may not have gotten a toy( or etc), but they loved their mom's desserts. As a matter of fact, the still talk about to this very day!
The other day I talked to my aunt Nisha, my second mom, and she talked about all the amazing desserts that my Grandma made. One of them being my favorite, Coconut Pineapple Cake. I took it as a hint to make one. So here it is!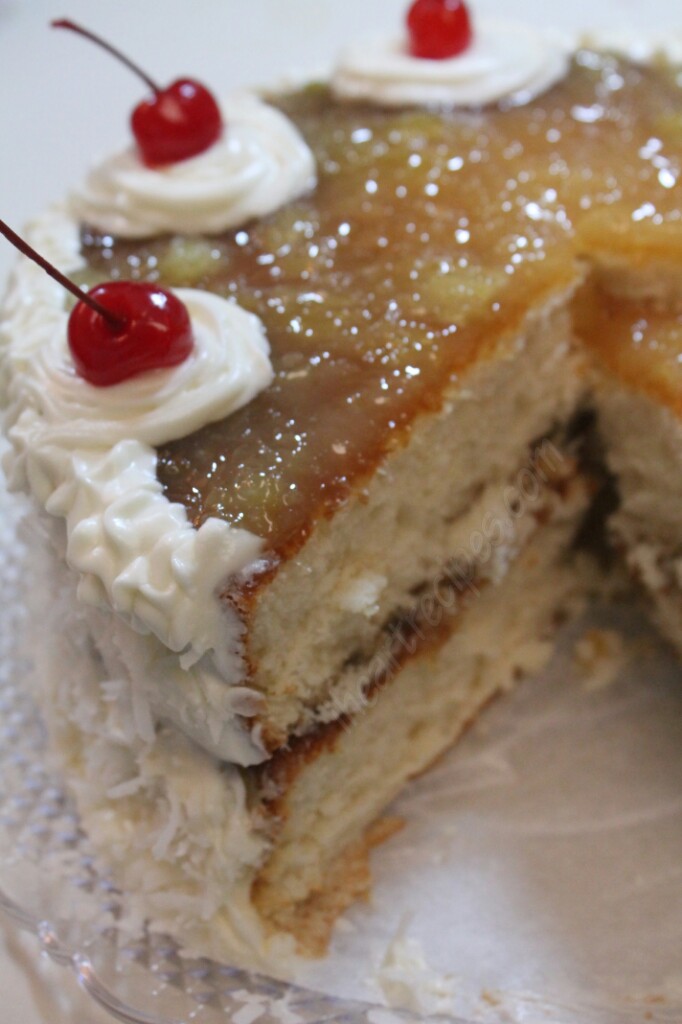 For this cake I use cake flour instead of using regular all purpose flour. Cake flour, in my opinion, makes the cake more moist. To make the coconut flavor "pop" I added coconut flakes and coconut extract.  I also make a coconut cream cheese frosting.
The pineapple filling that I make is extremely easy. It's made of crushed pineapples,pineapple juice, sugar, and cornstarch. The filling is them cooked until it thickens, and cooled.
After everything was made, I put everything together, and decorated the cake. Keep in mind that you don't have to decorate the cake like I did.
Here's the video tutorial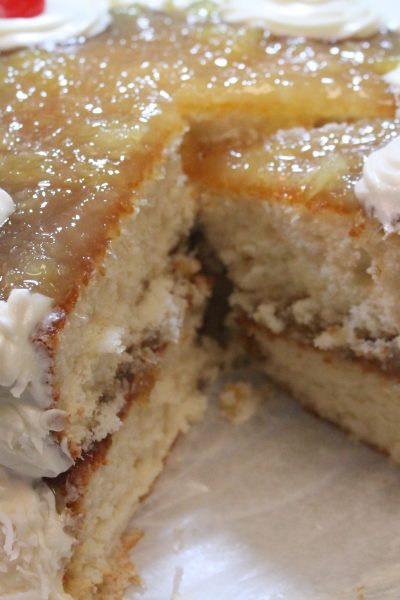 Coconut Pineapple Cake
This coconut pineapple cake is a sweet, moist treat with great pops of pineapple and coconut flavors! An easy homemade dessert that will impress everyone!
Watch Video
Print Recipe
Pin Recipe
Ingredients
Coconut Cream Cheese Frosting
1/2

cup

butter

unsalted

8

oz

softened cream cheese

2

tbsp

whole milk

4 1/2

cup

confectioners sugar

1

tsp

vanilla extract

1

tsp

coconut extract

**1 cup coconut for decorating
Instructions
Cake
Preheat the oven to 350 F

Combine the cake flour, salt, and baking powder. Mix or sift together until well combined.

Add the egg whites, 1 1/2 cup butter, and granulated sugar into a large mixing bowl.

Mix until well combined, then add in the vanilla and coconut extract.

Add in 1/4 cup coconut flakes

Gradually start adding in the dry ingredients( flour, salt, baking powder), alternating with the buttermilk.

Mix the batter until everything is well incorporated, then pour (2) 9 inch into prepared pans.

Bake for 25-30 minutes.

Remove the cakes from the oven, remove from the pan, and cool on a cooling rack.
Pineapple filling
Combine the pineapple juice and cornstarch, and mix until well incorporated.

in a medium sized pan add the sugar, pineapple juice mixture, and crushed pineapple.

Mix until well combined, then bring to a boil over medium high heat.

Let boil for about 5-7 minutes, and stir continuously.

Remove from heat, and let cool.
Coconut Cream Cheese Frosting
Combine the butter, cream cheese, confectioners sugar, coconut extract, and vanilla extract.

Mix until it's nice and creamy.

Decorate the cake to your preference.
Video
If you loved this recipe,
leave me a review below
. This helps future recipe makers and ensures continued high-quality recipes for years to come!
© 2023 I Heart Recipes