This carrot cake recipe is a delightful journey of flavors, marrying the sweetness of carrots with a harmonious blend of spices. Easy to make, it promises a moist, tender crumb that will make each bite a celebration in your mouth.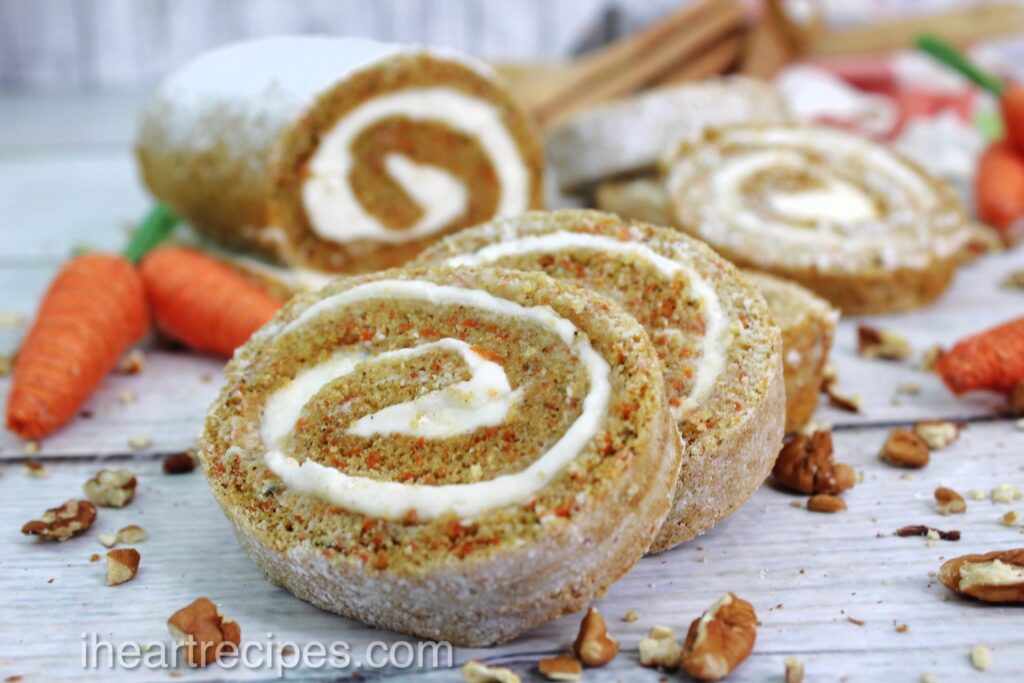 Hey cousins! Today, we're stepping into the amazing world of carrot cakes. Trust me, it's not just a cake; it's a legacy, an age-old tradition that embodies warmth, love, and celebration. Whether you are a seasoned baker or just starting out, this guide will walk you through a journey that promises not just a treat for your taste buds but a celebration of culture, tradition, and the pure joy of baking. Now, let's dive into the world where the magic happens – your kitchen!
What are the ingredients of a rolled carrot cake?
Carrot cake primarily consists of grated carrots, flour, sugar, oil, eggs, and a blend of spices like cinnamon and nutmeg. Depending on the recipe, you might also find additions like pineapples, nuts, or coconut to enhance the flavor and texture.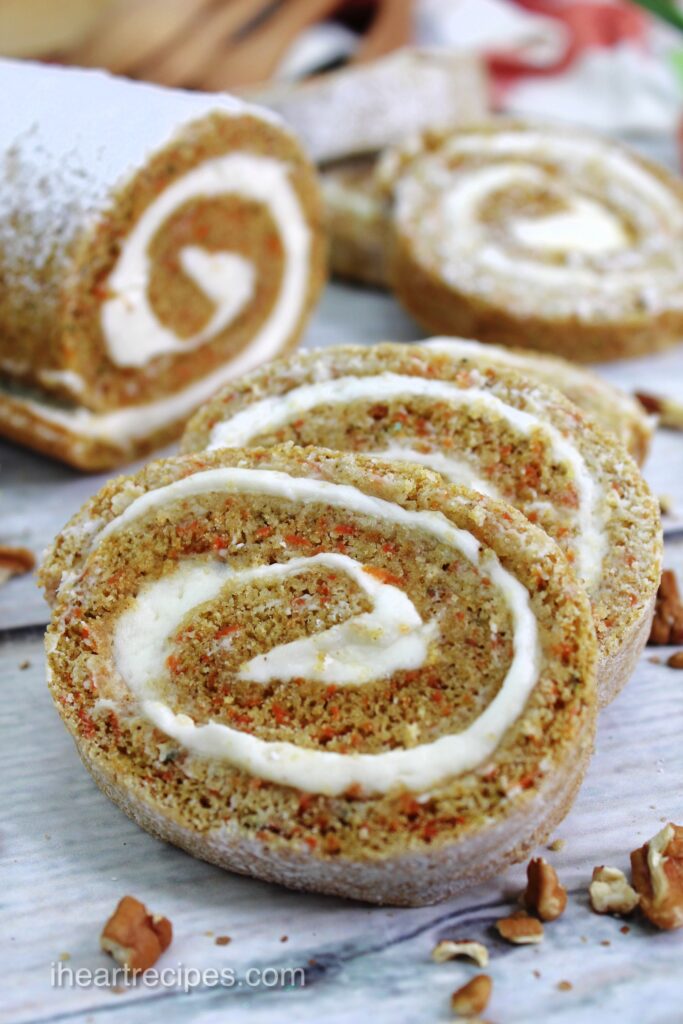 Why do you use oil instead of butter in carrot cake?
Oil tends to keep the cake moist compared to butter. Its liquid consistency at room temperature helps in creating a tender and moist crumb, which is the hallmark of a great carrot cake. Butter, while providing a rich flavor, might give a denser result.
How do you shred carrots for carrot cake?
Shredding carrots for carrot cake is a breeze! Wash and peel the carrots first. You can use a box grater for coarser shreds or a food processor with a grating attachment for a quicker process. Remember, fresh, crisp carrots will provide the best texture and flavor.
What is a substitute for carrots in carrot cake?
If you're looking to switch things up, zucchini makes a great substitute for carrots. It maintains a similar texture and moisture content. You might also try using parsnips for a slightly earthier flavor profile. Experiment and find what delights your taste buds the most!
Rolled Carrot Cake Shopping List and Notes
Carrots: The star of the show. Always go for fresh and crisp carrots as they bring in a burst of flavor and texture.
Pineapple: For that tropical flair in your carrot cake recipe with pineapple. Canned or fresh works perfectly, adding a sweet and tangy note.
Flour: Preferably all-purpose, this will be the sturdy base for your cake, ensuring it holds up beautifully.
Baking Powder & Baking Soda: These ingredients work together to give your cake the perfect rise, making it light and fluffy.
Spices: Ground cinnamon, nutmeg, and ginger are your trio of warmth, bringing a cozy and comforting flavor profile to the cake.
Oil: This ensures your carrot cake is moist and tender, giving it a lovely, delicate crumb.
Eggs: They add structure and moisture to your cake, giving it a rich and luscious texture.
Sugar: Just the right amount of sweetness to balance out the flavors. You can use white or brown sugar, depending on your preference.
Vanilla Extract: A little splash adds a wonderful aroma and subtle sweetness, elevating the overall flavor of the cake.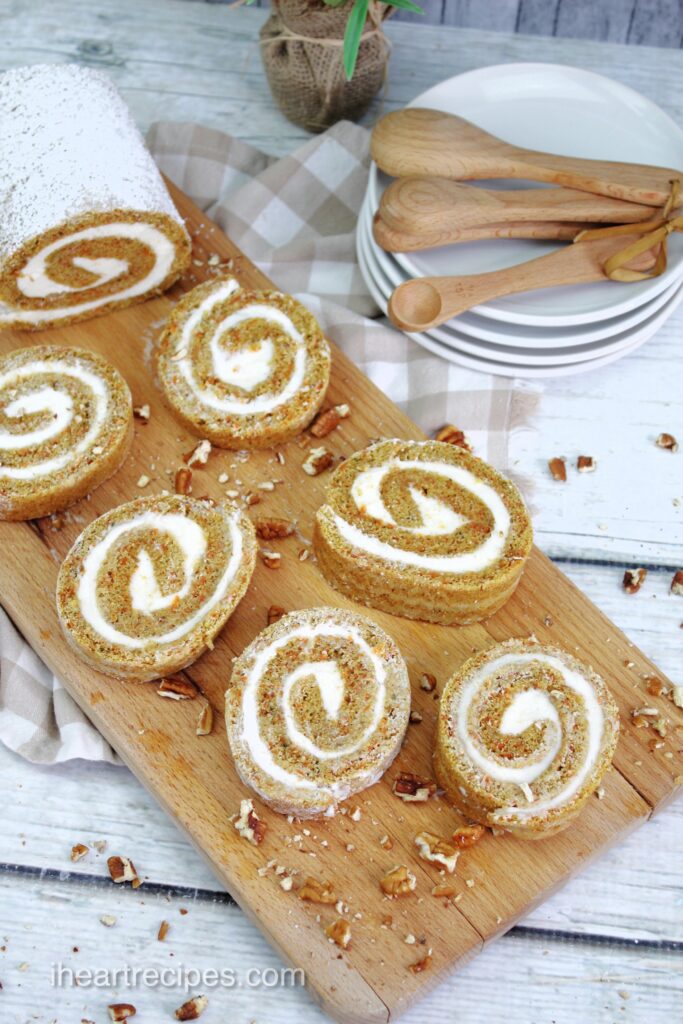 How to Make Rolled Carrot Cake
Preheat your oven to 350 degrees and line your baking tray with parchment paper.
In a medium bowl, combine the flour with the baking powder, baking soda, and spices.
In a separate bowl, whisk together the oil, eggs, sugar, and vanilla extract until smooth and well incorporated.
Gradually add the dry ingredients to the wet mixture, stirring gently to combine.
Fold in the grated carrots (and pineapples, if you're using them) until evenly distributed throughout the batter.
Pour the batter into the prepared tray and smooth the top with a spatula.
Bake in the preheated oven for about 25-30 minutes, or until a toothpick inserted in the center comes out clean.
Allow the cake to cool completely before slicing. Enjoy your homemade carrot cake with a cup of tea or coffee!
How to store leftover Rolled Carrot Cake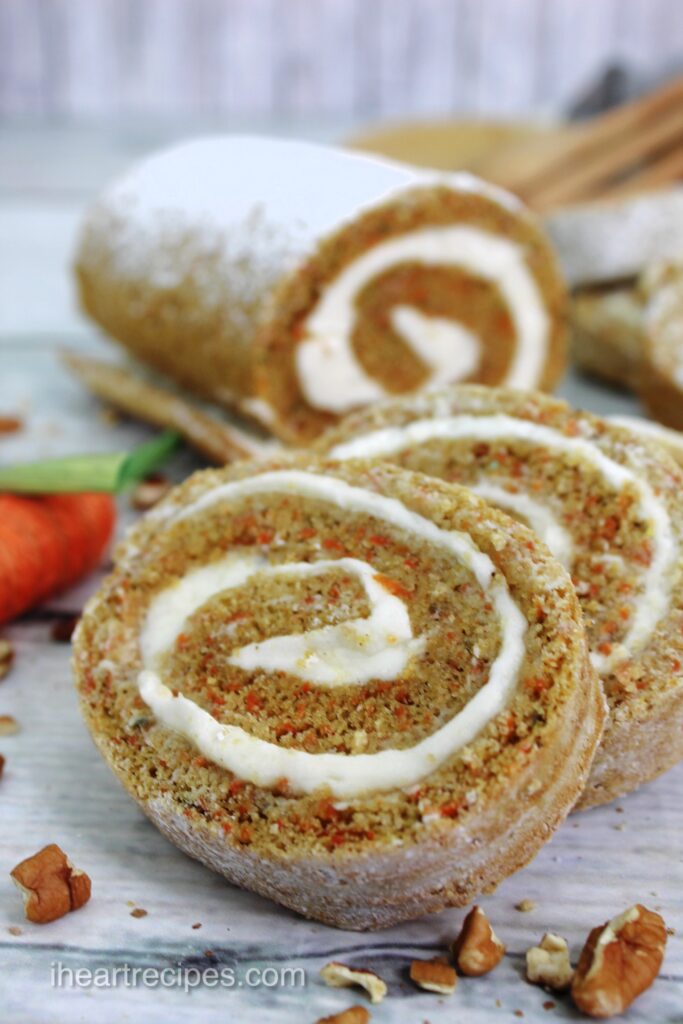 To store leftover rolled carrot cake, follow these simple steps:
Cool Completely: Before you even think about storage, ensure that the cake is completely cool to touch. Storing a warm cake can lead to condensation, which we don't want.
Slice it Up: If you've made a whole cake, consider slicing it into individual portions. This not only saves space but also makes it easier to grab a piece when the craving hits.
Wrap it Up: Use cling film or aluminum foil to wrap each slice or the remaining part of the cake tightly. This helps retain moisture and prevents the cake from drying out.
Container Magic: Place the wrapped slices in an airtight container. If you have a cakekeeper, that works great too!
Fridge or Freezer?: You have two options here. If you plan to enjoy the leftover cake within the next 3–4 days, storing it in the refrigerator is your best bet. But if you want to prolong its life, say for about a month or so, the freezer is your friend.
Reheating: When you are ready to enjoy your cake, if it's from the fridge, you can eat it cold or let it come to room temperature for about 30 minutes. If it's from the freezer, thaw it overnight in the fridge or on the countertop for a few hours.
Serving: Serve and enjoy! Perhaps with a scoop of ice cream or a dollop of whipped cream to make it extra special.
Love carrot cake? Check out my Carrot Cake Cheesecake Recipe!
Print and save this Rolled Carrot Cake recipe for later!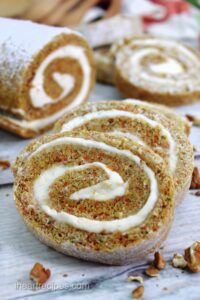 Rolled Carrot Cake
This recipe unfolds the magic of simplicity, guiding even the newest of bakers to a moist and flavorful carrot cake success. Bursting with vibrant flavors and a beautiful blend of spices, it's your passport to creating the most irresistible carrot cake in your own kitchen.
Print Recipe
Pin Recipe
Instructions
Start off by preheating your oven to a sweet 350 degrees. Make sure to get it ready by spraying it with some baking spray and lining a 13×18 baking sheet with parchment paper.

Next, grab a medium bowl. You are going to whisk together the flour, baking powder, baking soda, salt, cinnamon, ginger, nutmeg, and cloves until everything is mingling nicely, Cousin.

Now, it's time to bring out the big guns! Use a standing mixer to beat the eggs, sugar, oil, and vanilla until you've got a frothy mixture going on.

Keep that mixer running and beat in those dry ingredients you whisked earlier until it forms a nice and smooth batter.

Now, take a gentle hand and fold those finely shredded carrots into the batter. Once that's done, spread it evenly onto your prepared baking sheet.

Pop it into the oven and let it bake for about 10-12 minutes. You'll know it's ready when the cake springs back upon a gentle touch or a toothpick inserted comes out clean.
If you loved this recipe,
leave me a review below
. This helps future recipe makers and ensures continued high-quality recipes for years to come!
© 2023 I Heart Recipes
Don't forget to tag and follow me on Facebook, Instagram, and Pinterest, subscribe to I Heart Recipes on YouTube, and check out all my cookbooks with many recipes you can't find anywhere else.