Popped to perfection and coated with a symphony of red velvet, mint chocolate chip, and vanilla, this colorful treat is sure to make your holidays pop with flavor and joy.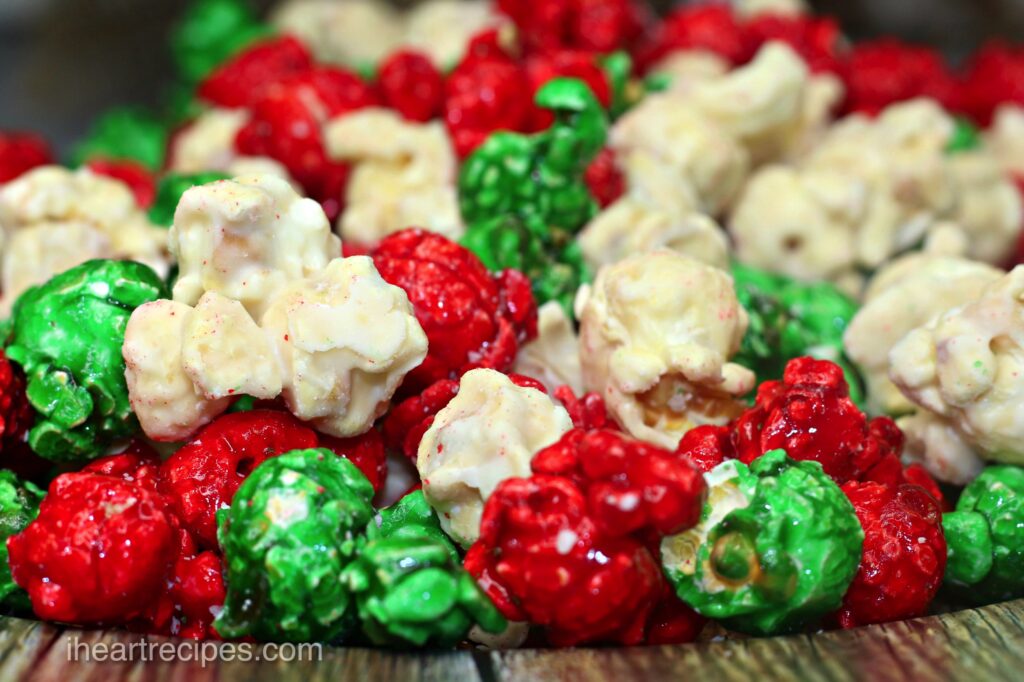 Cousins, Christmas is that time of year when everything's twinkling, and I'm not just talking about your neighbor's excessive outdoor lighting. It's about gathering 'round, sharing joy, laughter, and, most importantly, snacks that don't come out of a store-bought tin. And nothing screams holiday cheer quite like a bowl of homemade Christmas Popcorn.
Imagine this: You're at your Christmas party, and the usual cheese platter's been done to death. Suddenly, in comes a colorful bowl of Christmas Popcorn, shining brighter than the star on top of your tree. It's red, it's green, and it's flavored with more excitement than finding a parking spot at the mall on Christmas Eve.
This Christmas Popcorn isn't just a snack; it's an experience. It's the taste of caroling without going off-key, the joy of unwrapping presents without the paper cuts, and the warmth of a holiday hug without Aunt Martha's overpowering perfume.
Making this popcorn is like orchestrating your holiday symphony, complete with red velvet and mint chocolate notes. It's jazz for your taste buds, honey, and trust me, it'll have your guests rockin' around the Christmas tree or at least the snack table.
So if you're looking for a way to spice up your holiday gathering, turn on those Christmas lights, crank up the Bing Crosby tunes, and whip up a batch of this fabulous Christmas Popcorn. And remember, if anyone asks, it's calorie-free… because it's the holidays, and calories take a vacation, too!
Deck your bowls with Christmas Popcorn, and let the festivities begin, darling!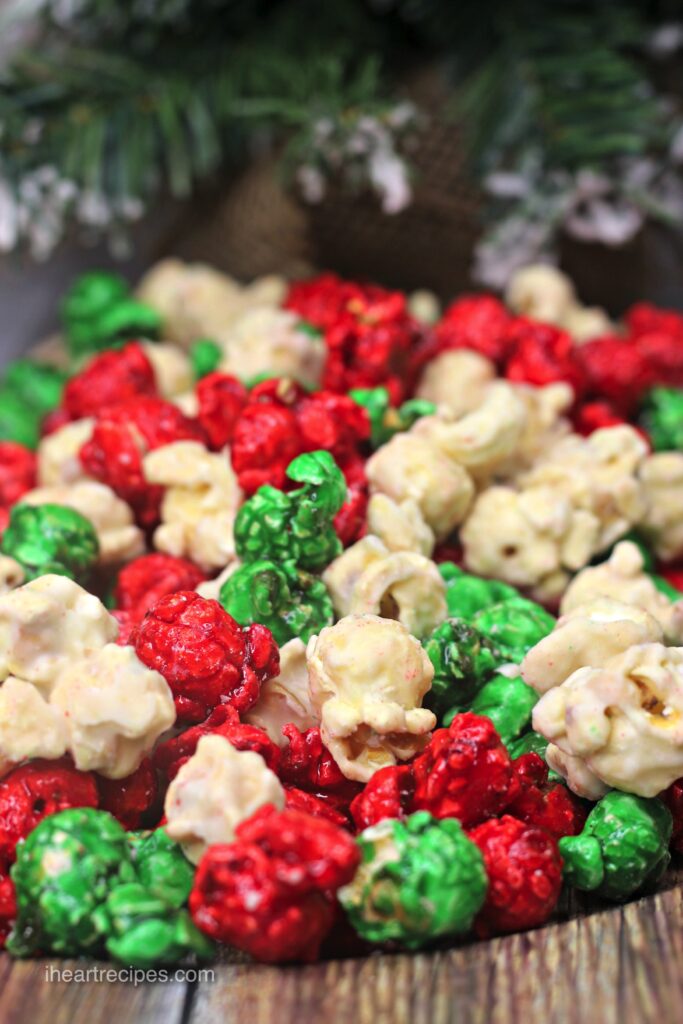 Grocery List
20 cups of popped popcorn: That's right, the star of our show, ready to be dressed up for the holiday party. And don't you dare settle for plain when you can go fabulous!
1 1/2 cups unsalted sweet cream butter: This ain't just butter; it's the smooth operator that'll make your popcorn sing "Silent Night" in perfect harmony.
3 cups sugar: Because everyone needs a little sweetness in their life, especially around Christmas.
3/4 cups light corn syrup: To keep things sticking together, just like family during the holidays.
1 1/2 tsp salt: Add a dash of sassiness to balance out the sugar. You wouldn't want things getting too sweet now, would you?
1 1/2 tsp vanilla extract: This is the flavor elf that adds a whisper of elegance to the popcorn party.
1 tsp Red food coloring & 1 tsp Green food coloring: Red and green, the iconic duo that'll turn your popcorn into Christmas on a plate. Your taste buds won't know what hit 'em!
2 tsp each of Red Velvet, Mint Chocolate Chip, and Vanilla candy oil flavoring: These are the jingle bells of your recipe. When Santa asks what that delightful taste in his mouth is, you'll know you picked the right flavors.
2 tsp baking soda: Think of this like the twinkling Christmas lights; you might not notice it at first, but it's the secret to that perfect pop.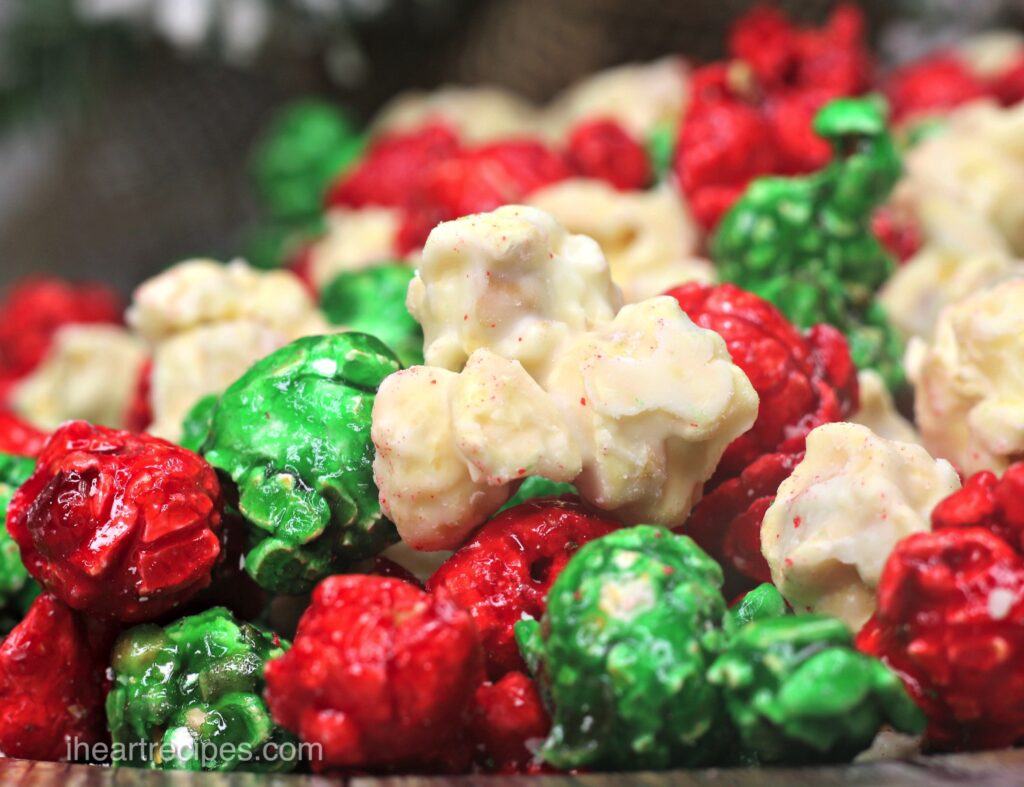 Step by Step Instructions
Pop the Popcorn: You'll need 20 cups, darling. That's like one cup for every time you've heard "Jingle Bells" today.
Butter Me Up: In a medium saucepan over medium heat, melt that sweet cream butter. It should be as smooth as your dance moves at last year's Christmas party.
Sugar, Sugar: Stir in the sugar, corn syrup, food coloring, and salt. Give it a mix like you're blending together all your favorite holiday memories.
Bring It to a Boil: Keep stirring until it boils, but then let it cook without stirring for two minutes. Think of it as a two-minute holiday for your spoon.
Flavor Town: Add your candy flavoring and give it a good stir. If it doesn't taste like Christmas morning, you're not stirring hard enough.
Cool It Down: Remove from heat and let it sit. Go ahead and tell it your favorite Christmas joke while you wait.
Mixing Time: Put 4 cups of popcorn in a sealable bowl. Pour the candy coating on top and seal it with a lid. Or a kiss. But probably a lid.
Shake It Up: Shake that bowl to evenly coat the popcorn. If you're not feeling the holiday spirit yet, shake it harder.
Spread It Out: Pour the popcorn onto a baking sheet covered with parchment paper. It should look like a holiday card you'd actually want to receive.
Cool It Again: Let it cool for 5 minutes. This is a good time to cool yourself down too. Maybe with some eggnog?
Repeat for Every Color: Red, green, maybe even a dash of gold if you're feeling extra festive. It's your popcorn party, darling!
Mix and Mingle: Add all the colors together in a big bowl, toss it like you're tossing out last year's fruitcake, and admire your Christmas masterpiece.
ENJOY!: Now eat, drink, and be merry. And remember, if you eat it all yourself, it's not being greedy; it's just embracing the holiday spirit!
The Gift Of Christmas Popcorn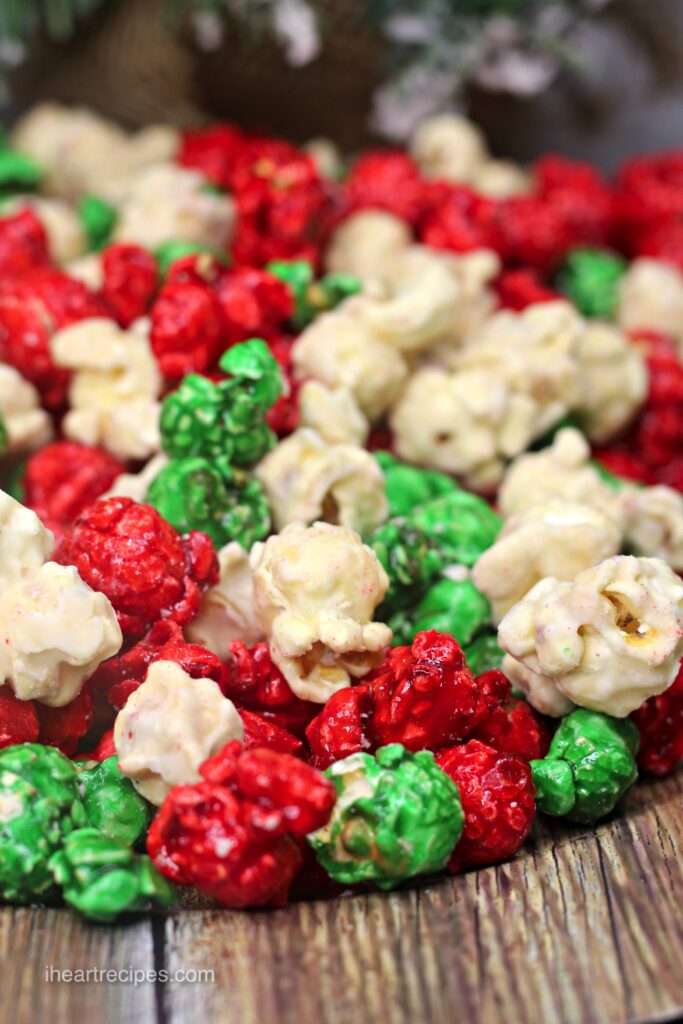 Well cousin, you've gone and whipped up this fabulous Christmas Popcorn, and now you're ready to spread the joy around like glitter at a holiday craft fair. Let's talk about gifting this scrumptious treat, 'cause nothing says "Merry Christmas, darling!" like a homemade snack that'll make them dance the Nutcracker in delight.
Packaging is Key: Honey, don't you put this masterpiece in some dull container. Find festive tins, colorful cellophane bags, or mason jars tied with a ribbon. Think of the packaging as the wrapping paper for this edible present.
Add a Personal Touch: Slide in a handwritten note or a cute little holiday card. A touch of personal charm will have them smiling before they even taste it.
Keep It Fresh: If you're sending it through the mail to long-lost cousins or that friend who moved to the North Pole, make sure to seal it tight to keep the flavor popping all the way to their doorstep.
Size Matters: If you're giving it to your yoga instructor, maybe a small festive bag will do. But for Grandma, who taught you how to cook? Go big, sugar, go big.
Pair It with Something Extra: How about a festive mug and some hot cocoa mix to go with that popcorn? Or maybe a classic holiday movie DVD for a complete Christmas movie night package?
DIY Gift Tags: Make your own tags with the recipe on the back. You'll be passing along a tradition, not just a treat.
Deliver with Style: If you're hand-delivering, why not dress up like Santa or one of his elves? Trust me, it'll be a hit. If not, it'll at least make a great story for next Christmas.
Gift Responsibly: Allergies are like uninvited holiday guests; always check them before planning the fun.
Print this recipe card y'all!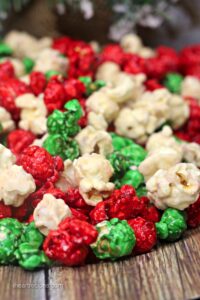 Red Velvet & Mint Christmas Popcorn
Whip up a bowl of Christmas cheer with this vibrant and flavorful popcorn recipe, tailored to make your holidays merry and bright. With a dash of humor and a sprinkle of love, these crunchy kernels are dressed in holiday colors, ready to be the star at your festive gatherings or a delightful homemade gift.
Print Recipe
Pin Recipe
Ingredients
20

cups

popcorn

1 1/2

cups

unsalted sweet cream butter

3

cups

sugar

3/4

cups

light corn syrup

1 1/2

tsp

salt

1 1/2

tsp

vanilla extract

1

tsp

Red food coloring

1

tsp

Green food coloring

2

tsp

Red Velvet candy oil flavoring

2

tsp

Mint chocolate chip candy oil flavoring

2

tsp

Vanilla candy oil flavoring

2

tsp

baking soda
Instructions
Pop that popcorn and set it to the side. It's waiting for its grand entrance!

Time to work on one color at a time, so focus, honey!

In a medium saucepan over medium heat, add the butter. Melt it down like you're melting hearts.

Stir in the sugar, corn syrup, food coloring, and salt into the saucepan. Give it some love, and make it a family affair.

Bring that mixture to a boil, stirring like you're dancing. Once boiling, let it cook without stirring for two whole minutes.

Add that candy flavoring and stir it up. Can you smell the magic?

Remove from heat, and let it rest like you after a long day.

Now, put 4 cups of popped popcorn for each color into a sealable bowl.

Pour that fabulous candy coating on the popcorn. Seal it with a kiss—or the lid!

Shake that bowl to evenly coat. Show it who's boss!

Pour your popcorn onto a baking sheet covered with parchment paper.

Let it cool for about 5 minutes, but don't you cool down yet, we're not done!

Repeat these steps for each color. Make a rainbow, darling!

Add all those colorful kernels together in a big bowl and toss like you mean it.

ENJOY, honey! And remember, you made this fabulous treat, so you better savor every bite!
If you loved this recipe,
leave me a review below
. This helps future recipe makers and ensures continued high-quality recipes for years to come!
© 2023 I Heart Recipes