Hey friends! Let me tell you that this week has been super busy! On top of my regular working schedule, and being a mom and wife, I've also been recording a lot my holiday videos. Everything was going great.. I was on my A+ game, until two days ago! I woke up sick!! OMG, It never fails. I always get sick this time of the year… I'm talking about a serious headache, sneezing, coughing, muscle aches… Seriously, I felt ( starting to feel better now) like crap.  So what did I do? I made some good old fashioned homemade soup! Nothing makes me feel better, than a nice big bowl of hot soup! Like seriously, there is something about the broth, and veggies that comfort me.
In this post I'm going to show you how to make a big ol' pot of quick and easy chicken soup. You can make this soup on the stovetop or in the CrockPot. Let's get started!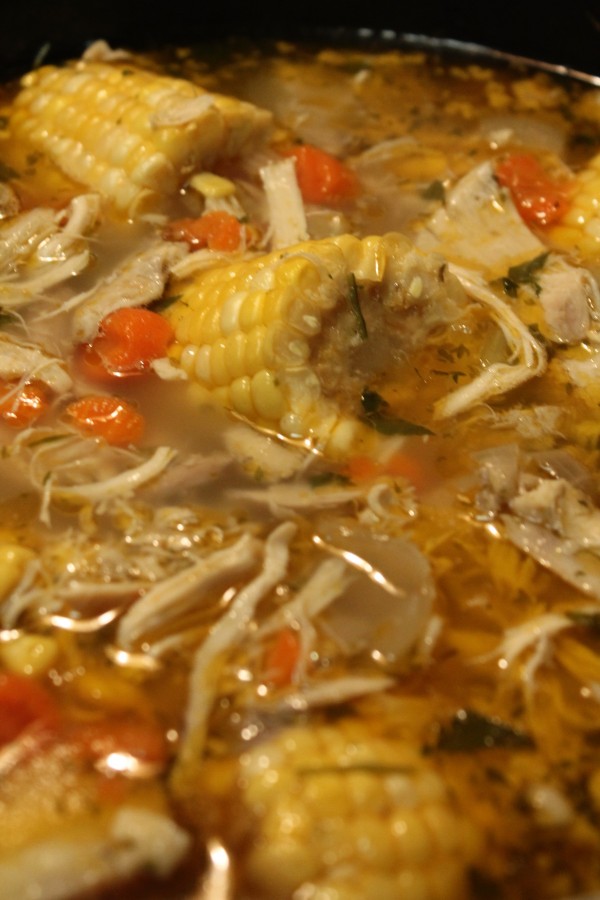 Being under the weather, there was no way in heck that I was going to be in the kitchen longer than 45 minutes ( and I'm talking about increments boo!).  To make this recipe quick, and easy I used some of my goodies that were store in my freezer, and that INCLUDES a cooked chicken! Yup – I had a whole cooked chicken ( well not whole because I stole a wing… sue me) in my freezer that I just happened to cook, in the CrockPot,  a few days prior… I also had some homemade chicken broth and vegetables in the freezer as well that I used for my soup. Once I gathered all of my ingredients I tossed EVERYTHING into a big pot, and place it over medium high heat… I could have easily put everything into my CrockPot, and set it on high for 4 hours, but my greedy butt didn't want to wait- I was hungry! The total cooking time ( on the stovetop) took about 40 minutes..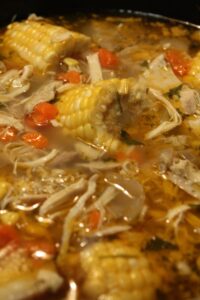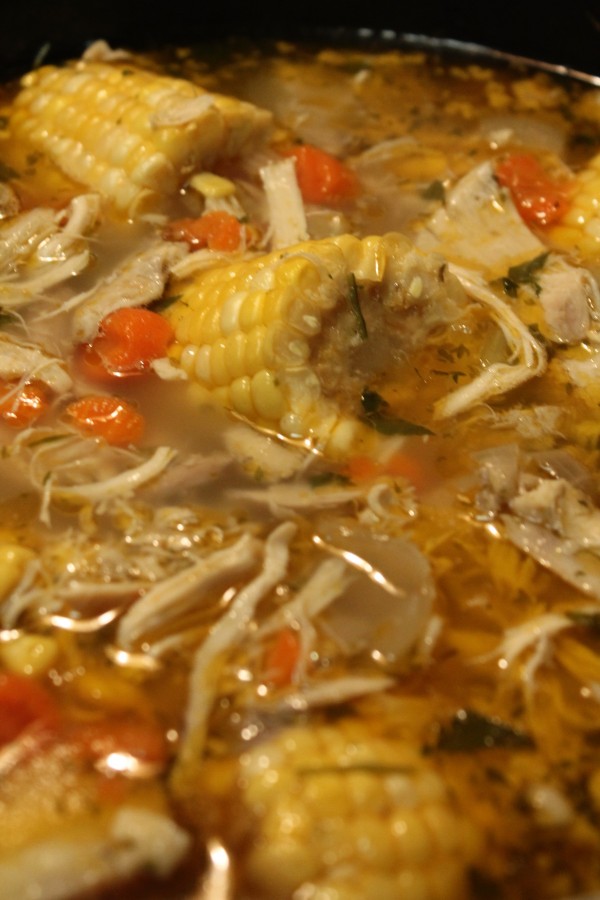 Quick and Easy Chicken Soup Recipe
Nothing soothes a cold like a quick and easy, delicious chicken soup recipe. When you're feeling under the weather, this classic soup will warm you right up!
Print Recipe
Pin Recipe
Ingredients
2

lbs

of cooked chicken

2

large ears of corn

washed and cut into small sections

5

stalks of celery

8

cups

of chicken broth

2

cups

frozen carrots

1/4

cup

of chopped Italian parsley

8

baby red potatoes

sliced in halves
Instructions
CrockPot:
Toss everything into the CrockPot, and set it on high for 4 hours.
Stovetop:
Place everything into the pot, and turn the heat up to medium high.

Stir occasionally to prevent anything from burning at the bottom.

Let cook for 40-45 minutes.
If you loved this recipe,
leave me a review below
. This helps future recipe makers and ensures continued high-quality recipes for years to come!
© 2023 I Heart Recipes