We're making old-fashioned chess pie, a gooey custard pie made with simple ingredients. This easy pie recipe is a true Southern classic!
Hey Cousins! Today, we're making an iconic Southern dessert—an easy homemade chess pie! Now, chess pie is not to be confused with buttermilk pie, which is very common. Buttermilk pie is not the same as chess pie. I shared my recipe for old-fashioned buttermilk pie a few years ago, and now I will show you how to make an old-fashioned chess pie!
Chess pie could not be easier to make. It's a simple recipe that calls for basic ingredients, many of which you likely already have on hand.
What Is Chess Pie?
Simply put, chess pie is a custard pie. The essential ingredients—milk, eggs, and sugar—make a creamy custard base that sets as it cooks and creates a gooey pie with a golden brown crust. Cornmeal helps thicken up the pie, giving it that trademark gooey texture and perfect crust.
While chess pie is a staple Southern pie recipe, early settlers brought it over from England, where it originated as early as the 1700s. The first written recipes appeared in cookbooks like Martha Washington's Booke of Cookery and the English A True Gentlewoman's Delight, both published in the 17th century. Now, you can't venture into the Southern states without finding a restaurant or bakery that offers a slice of traditional chess pie.
How Did Chess Pie Get Its Name?
Truly, there are many versions of the story of how chess pie got its name. Some believe it comes from the thick Southern accent saying, "it's jus' pie" when asked what kind of pie it is. Others say it comes from when folks stored pies in a "pie chest," a crucial piece of furniture used to store pastries and other perishable foods in the olden days. Another popular theory is that chess pies got their name from an original ingredient, chestnut meal, which was used in place of cornmeal. Whatever the real story is, one thing is for sure—this pie is as delicious now as it was hundreds of years ago.
What Is in Chess Pie? Ingredients for Homemade Old-Fashioned Chess Pie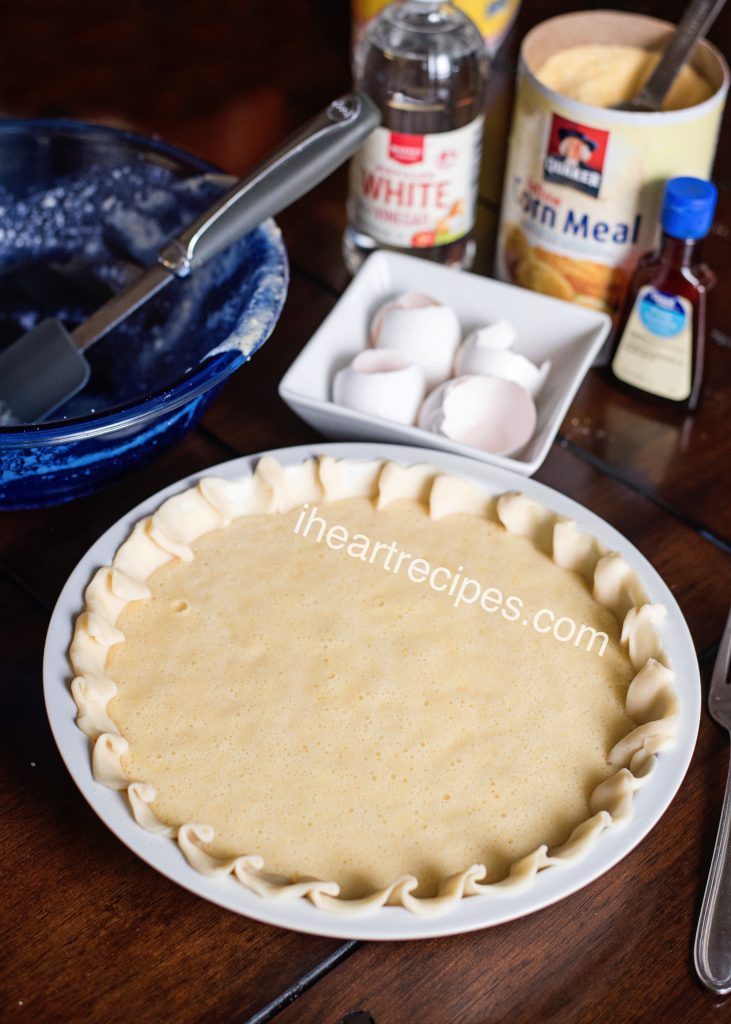 This old-fashioned chess pie recipe is made with simple ingredients, things I am sure you already have in your pantry! Here's what you need to make a Southern chess pie:
Eggs: room temperature eggs are key! This greatly helps the creamy texture of the custard.
Sugar: plain ol' granulated white sugar! Chess pie is SWEET. I use almost two whole cups of sugar.
Milk: whole milk is my preferred milk, but some people like to use evaporated milk. Either is fine.
Unsalted butter: make sure to melt the butter, or at least have it at room temperature, so it's nice and creamy.
Vanilla Extract: y'all know I don't allow imitation vanilla in my kitchen!! If you must use the forbidden kind, use a little bit less than the recipe states.
Cornmeal: I use regular yellow cornmeal. It rises to the top during baking and creates that perfect golden brown crust on top.
Vinegar: yes, vinegar! And no, you won't taste it! White vinegar is the secret ingredient in a traditional Southern chess pie.
Instead of making a homemade pie shell, I cheat by using a store-bought crust. However, if you feel the need to make a homemade pie shell, knock yourself out, honey! (Use my homemade buttery pie shell recipe here.)
How to Make a Southern Chess Pie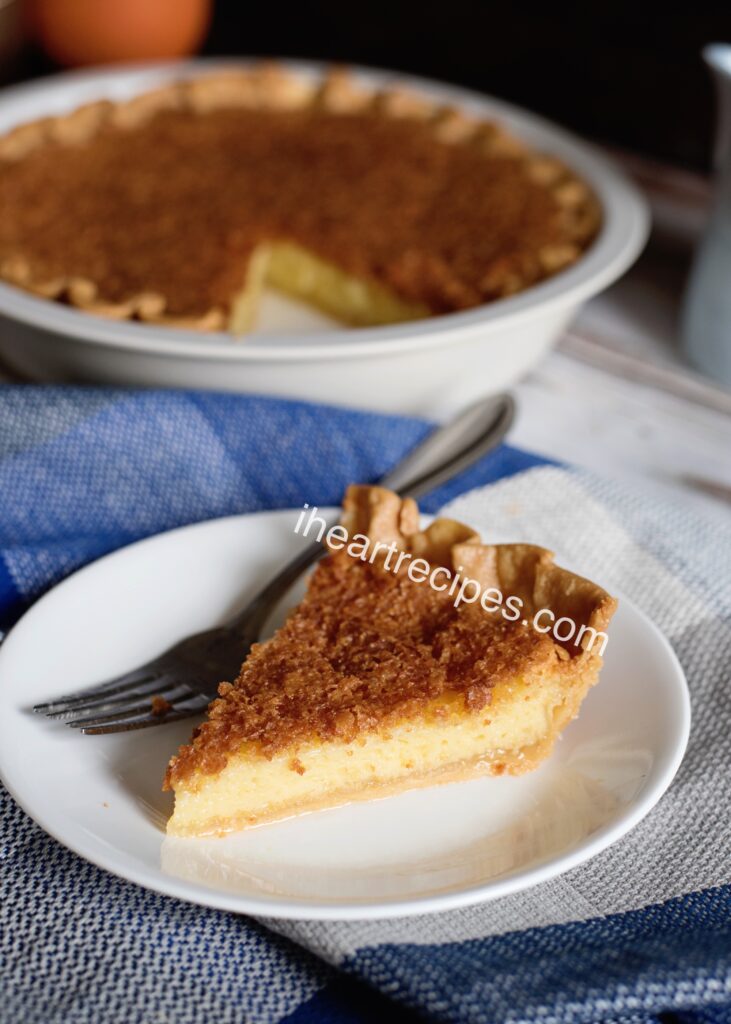 Making this classic chess pie recipe could not be easier. It's one of the easiest pie recipes I've got on my blog (and believe me, Cousins, I've got a lot of pie recipes!). As always, don't forget to check the recipe card below for exact ingredient measurements and directions below.
In a large bowl, combine all the ingredients—cream together the butter, sugar, and vanilla. Then add the eggs, cornmeal, milk, and vinegar until everything is well combined.
Place the pie crust in a 9-inch pie pan. I typically do not grease the pie tin. You can use a non-stick metal pie dish, ceramic pie dish, or glass pie dish—whatever you use for your standard pies is perfectly fine.
Pour in the chess pie filling. It's going to be liquid-y, and this is okay! While baking, the custard filling will set, and the cornmeal will create a nice crusty layer on the top of the pie.
Bake the pie at 325 for 60-70 minutes. When you see that golden brown crust on top, the chess pie is done. If you're worried about the edges of the pie crust cooking too quickly, wrap strips of aluminum foil around the edges to prevent burning.
Allow the chess pie to cool for at least an hour before serving. This step is CRUCIAL! If you want a perfectly set, creamy custard pie, you have to let it set and cool to room temperature first!
Chess Pie Recipe FAQs, Variations, and Pro-Tips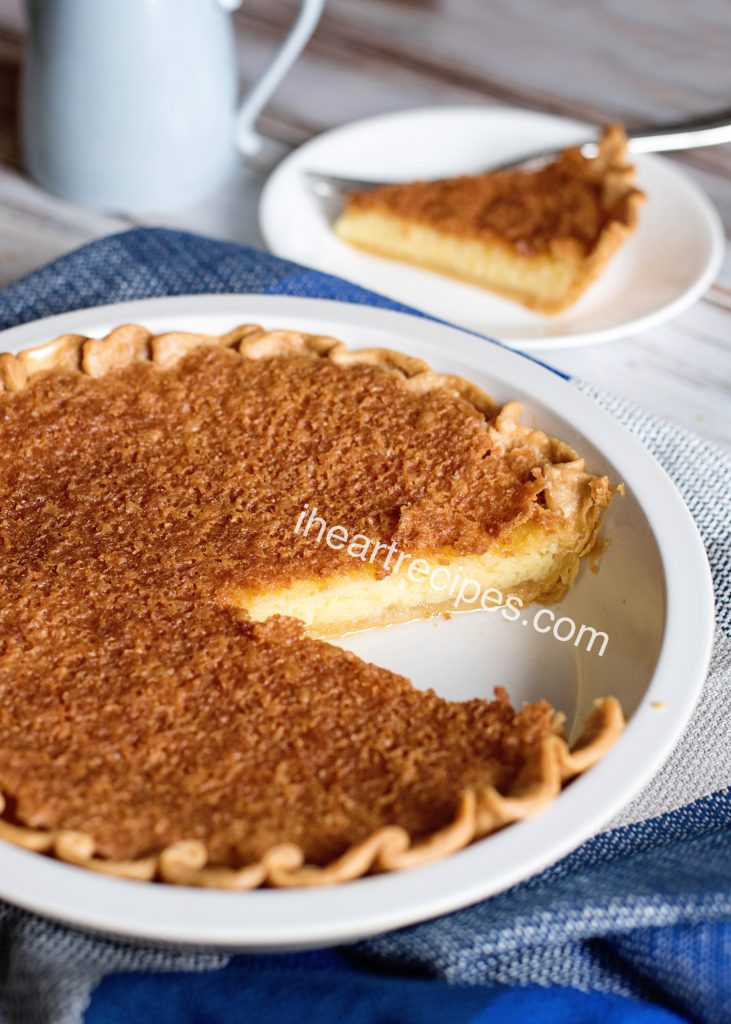 Y'all got questions; I got answers. A classic chess pie recipe is pretty straightforward, but some grannies might have variations and tweaks to their family recipes. Leave a comment below if you have any questions I haven't answered here!
What is the difference between chess pie and buttermilk pie?
I couldn't tell you how many times people ask me, "Rosie, are buttermilk pie and chess pie the same thing?!" I actually get asked that several times a month! Well, the answer is no. I'm going to be honest with you, though—both pies taste extremely similar. However, it comes down to ingredients.
Old-fashioned chess pies are a bit sweeter and made with less milk. Chess pies contain cornmeal and typically have a darker top crust than buttermilk pie. My homemade chess pie recipe forms a nice, crispy crust on top!
Buttermilk pie calls for buttermilk (duh!), less sugar, so it's much less sweet and has a characteristic tang from lemon juice and the buttermilk. The texture of buttermilk pie is typically a much creamier custard-like consistency. While chess pie still is a custard pie, its texture is gooier.
Can I make this chess pie recipe without cornmeal?
There are so many kinds of chess pies. HOWEVER, a true classic chess pie recipe always contains cornmeal in my book, and many down-home cooks will tell you that. It's a critical ingredient that helps thicken the pie and create that trademark golden brown crust on top. It simply wouldn't be a traditional chess pie recipe without it! However, if you cannot use cornmeal, you can use a few cornmeal substitutes, including corn flour, polenta, or cornstarch.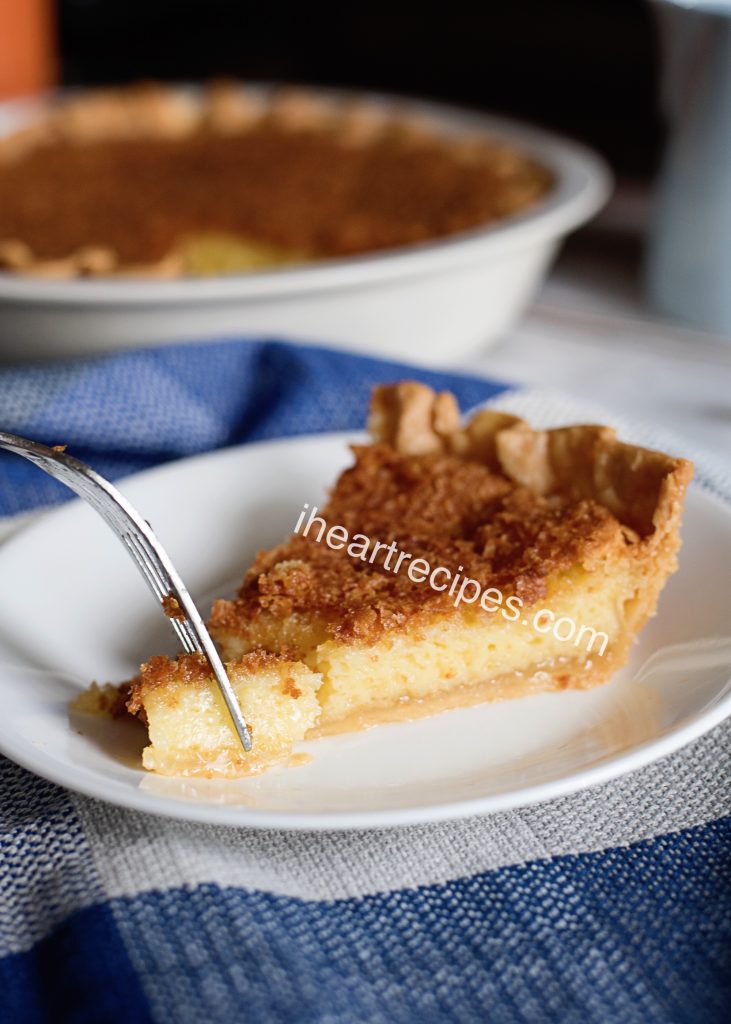 What are some popular variations of chess pie?
Since a classic chess pie recipe is pretty basic and mostly flavored with vanilla and sugar, adding some yummy flavors without completely changing the recipe is easy. Here are some popular chess pie flavor variations:
To make a lemon chess pie, add about 1/4th cup of lemon juice to the chess pie filling.
To make a chocolate chess pie, add cocoa powder (between 2-4 tablespoons).
To make an eggnog chess pie, replace milk and vinegar with eggnog (about 1/2 cup) and a little nutmeg.
To make a brown sugar chess pie, add about 1 cup of brown sugar (and lower the white sugar measurement to 1 cup). This is also called a caramel chess pie!
To make a coconut chess pie, toss about 1 cup of shredded coconut into the pie filling.
Top your classic chess pie recipe with whipped cream and fresh berries.
All of these flavor combinations go perfectly with the creamy custard-like texture of chess pie. Of course, you can't go wrong with adding some delicious fruits, classic pie spices (like pumpkin, nutmeg, or cinnamon), or chocolate to a traditional chess pie recipe.
Old-fashioned chess pie is a Southern classic. It's so easy that you can make it for special occasions or just because! Add it to your holiday pie rotation as well. Don't forget to share and save this recipe on Pinterest! You can also follow along with all things Rosie and I Heart Recipes by following me on Facebook, Instagram, and Pinterest, subscribing to I Heart Recipes on YouTube, and checking out all my cookbooks! I just released a brand new cookbook, Super Soul Food with Cousin Rosie, with many recipes you can't find anywhere else.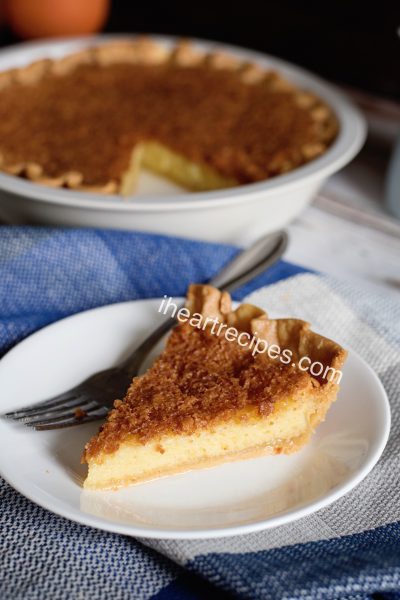 Old Fashioned Chess Pie Recipe
Old fashioned chess pie is a Southern staple. This gooey custard pie is made with egg, milk, sugar, and cornmeal, and becomes a sweet and creamy pie with a crisp golden-brown crust.
Print Recipe
Pin Recipe
Instructions
Preheat the oven to 325 degrees F.

In a large bowl, add the butter, sugar, and vanilla together. Mix the ingredients until well combined.

Add in the eggs, cornmeal, milk, and vinegar. Mix the ingredients until well combined.

Place the pie crust in the 9-inch pie pan.

Pour in the pie filling.

Bake for 1 hour and 10 minutes.

Let cool for about 45 minutes.
If you loved this recipe,
leave me a review below
. This helps future recipe makers and ensures continued high-quality recipes for years to come!
© 2023 I Heart Recipes
More Fan-Favorite I Heart Recipes Pies…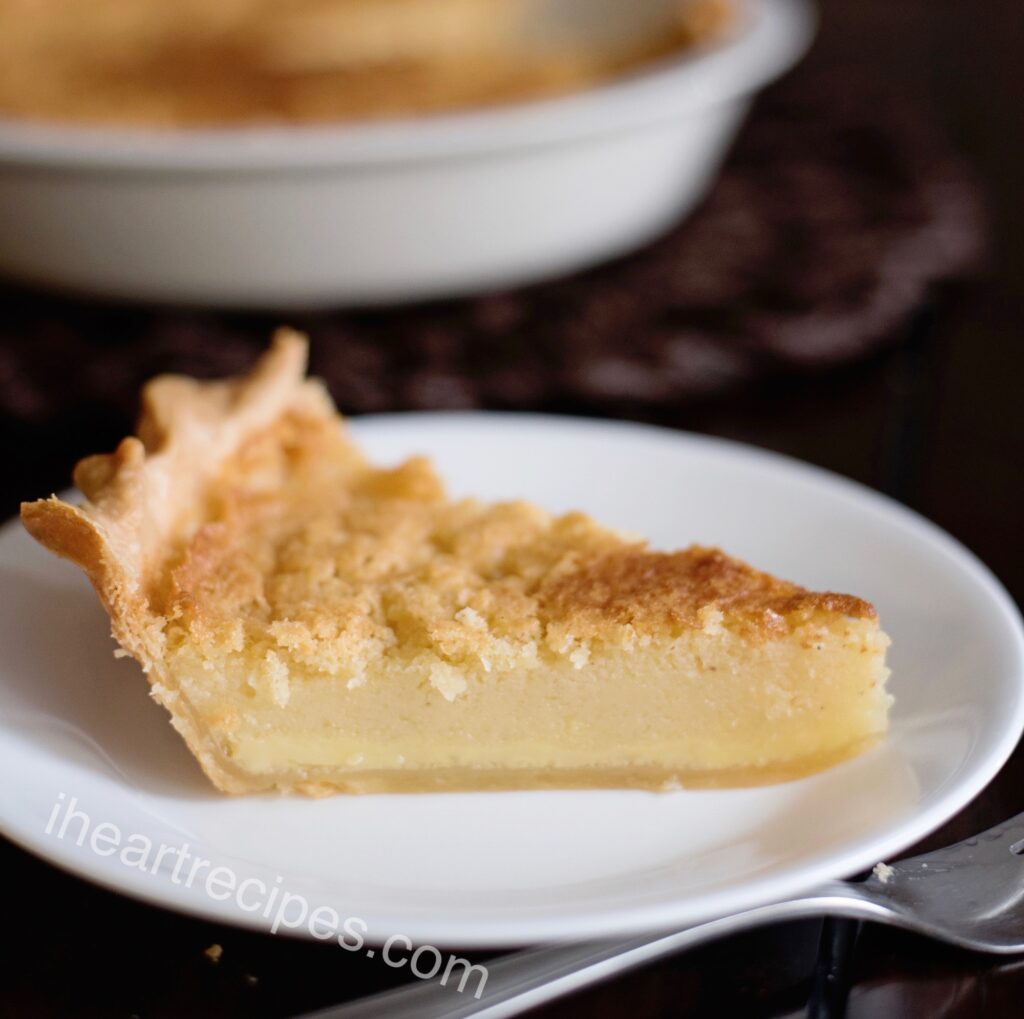 ---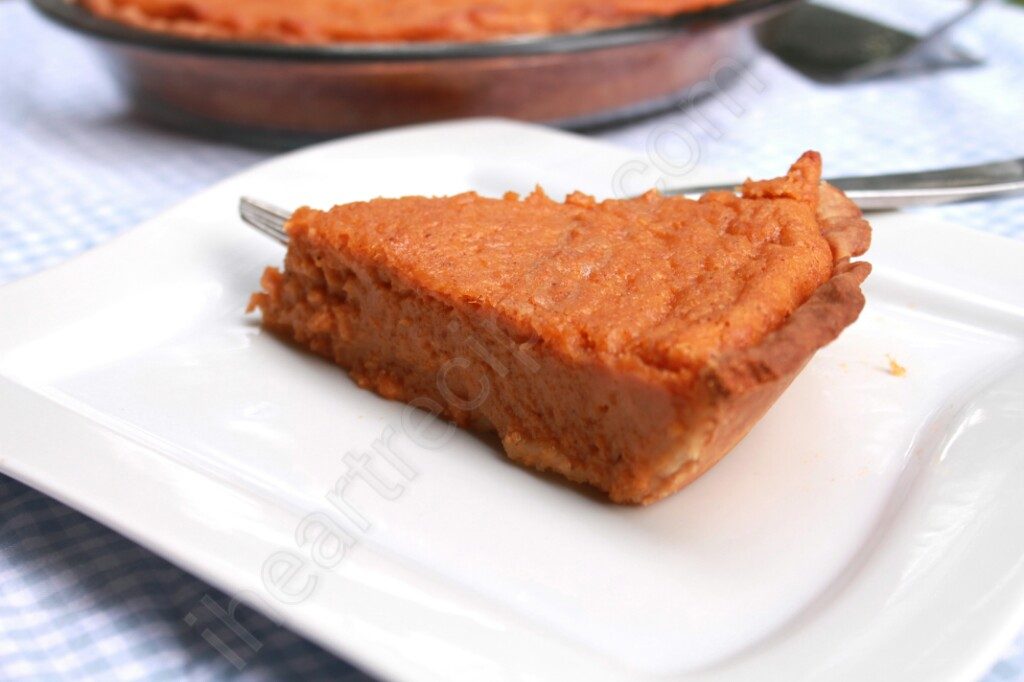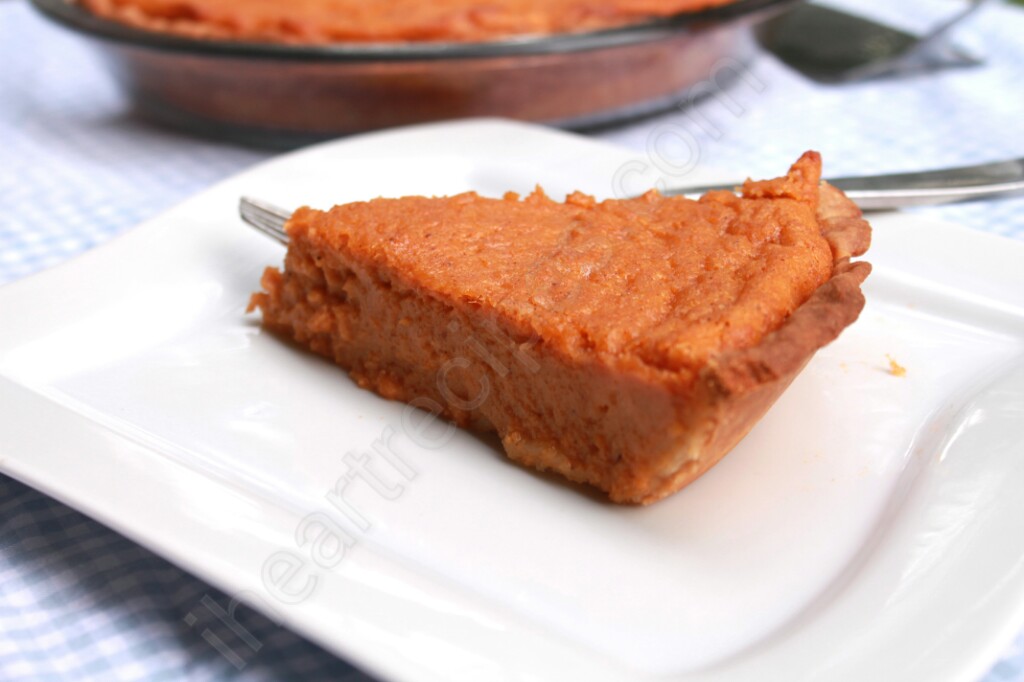 Sweet Potato Pie – Soul Food Style
---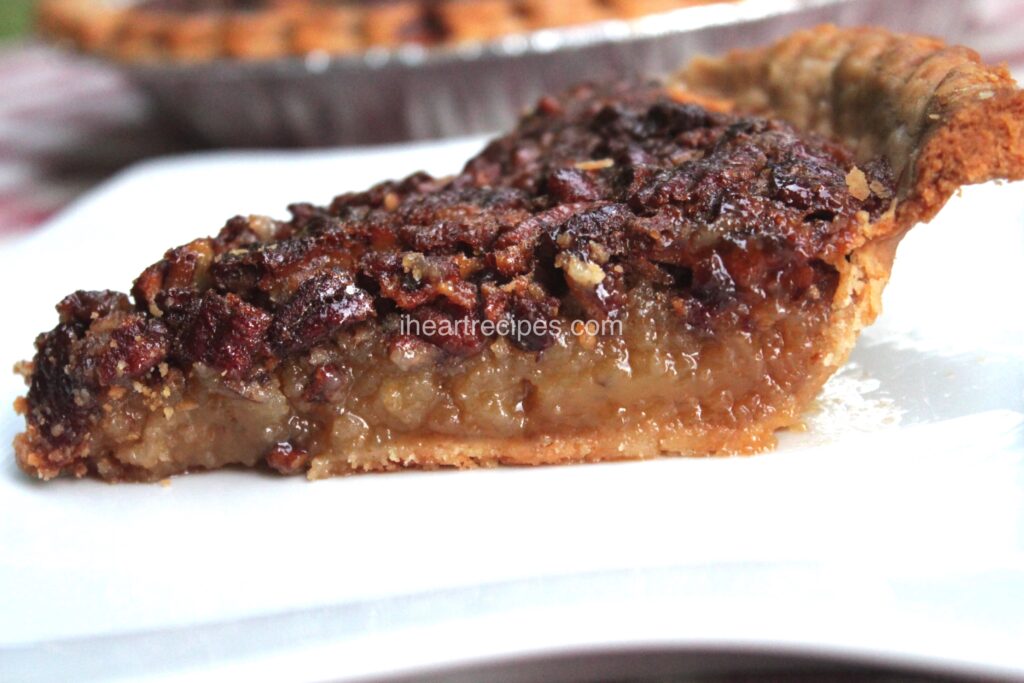 ---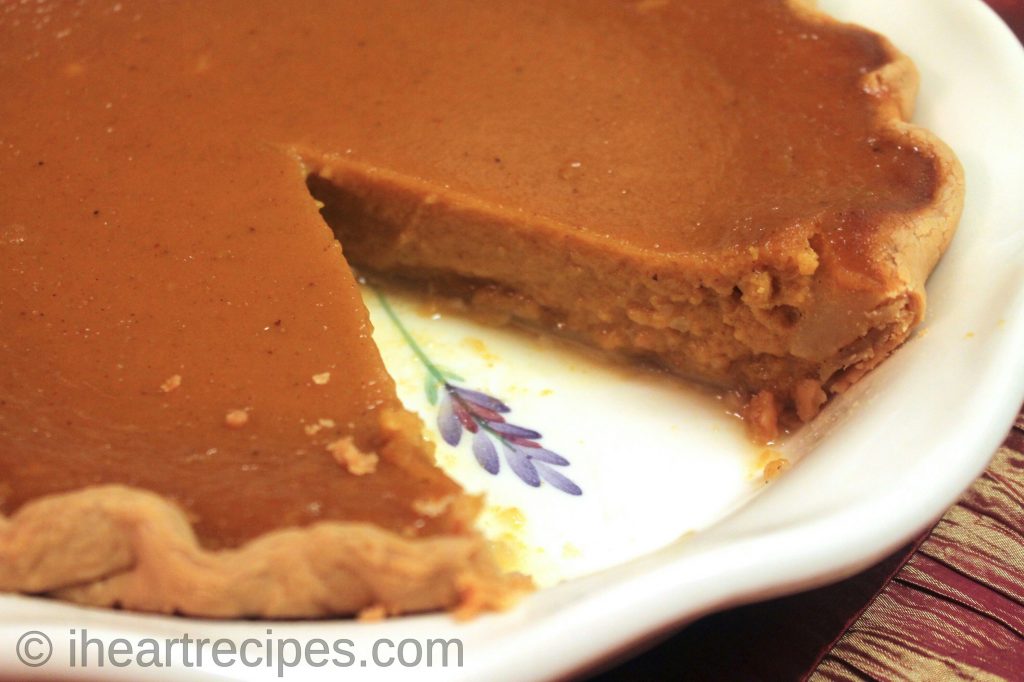 ---