Bake these delicious homemade cranberry pecan bars, and fill your home with holiday aroma. These sweet & tart bars are full of warm cranberries, and topped with a crumbly pecan mixture.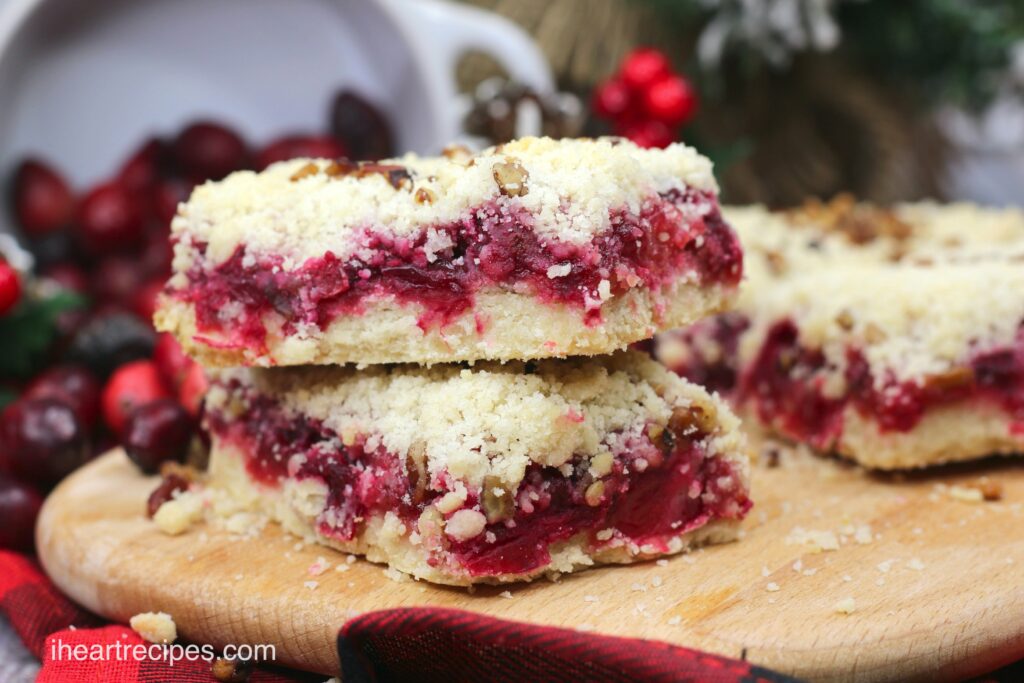 Happy holiday cousins! I know, I know! It may be a little too early for some of you, but honey it's right on time for me. I already have my Christmas tree up( yes, before Halloween!), and I've been baking a lot of holiday goods! One of the first holiday desserts that I made were these delicious homemade cranberry pecan bars! This is one of the many recipes that I must make as soon as it turns fall! There's something about these delicious gooey warm bars that just does it for me, and once you try this recipe, you'll see exactly what I mean!
For this recipe you'll need these ingredients :
all purpose flour
granulated sugar
baking powder
1/2 tsp salt
unsalted sweet cream butter, softened
1 large egg
6 Cups fresh OR frozen cranberries
unsweetened applesauce
1/3 cup brown sugar
fresh orange
vanilla extract
almond extract
salt
cornstarch
cold water
pecan chips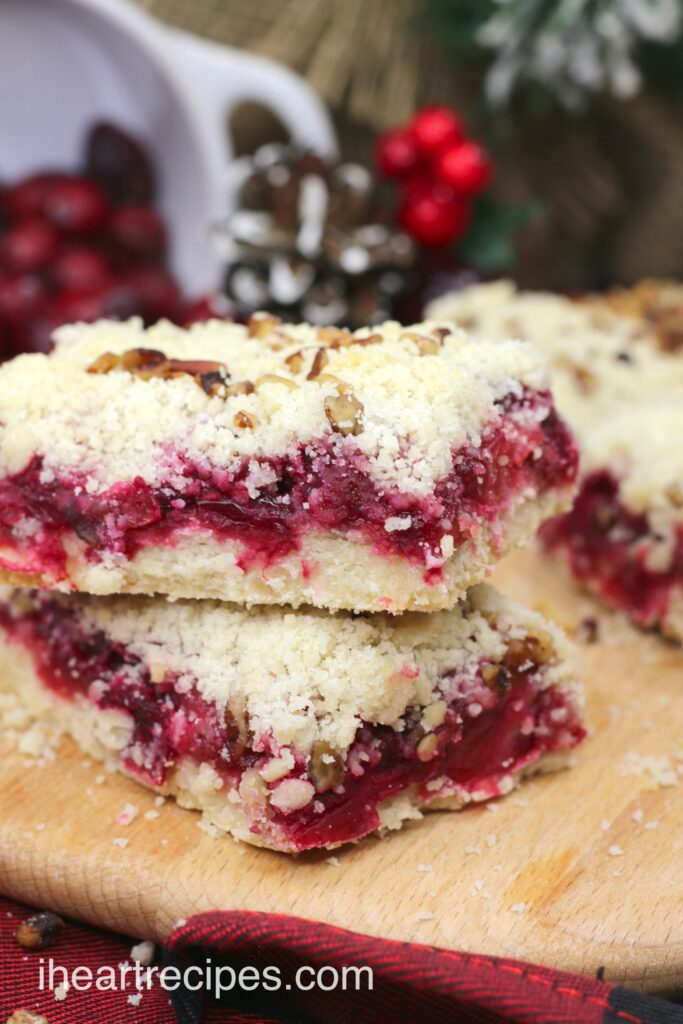 When I bake these cranberry bars, I line a 9×13 bake dish with parchment paper, and I make sure to preheat the oven to 350 F. I also like to make sure that all of my ingredients are at room temperature. This helps when I have to mix, and stir everything.
Check out the recipe below, give it a try, and tell me what you think! Don't forget to share and follow me on Pinterest and Facebook!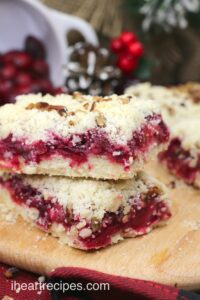 Homemade Cranberry Pecan Bars
Nothing says holidays like a tart and sweet cranberry dessert! A yummy shortbread base is filled with tart cranberry filling and topped with a crumbly, crunchy pecan topping.
Print Recipe
Pin Recipe
Ingredients
Cranberry filling ingredients
Instructions
Preheat the oven to 350 degrees and line a 9×13 baking dish with parchment paper.

Using a standing mixer, mix together the flour, sugar, and baking powder until well combined.

Mix in the butter until it's nice and crumbly.

Beat in the egg until combined. Set aside about 1 cup of the crust to use for the topping.

Press the remaining crust into the baking dish set aside.

Using a large saucepan, combine 3 cups of cranberries, white & brown sugar, applesauce, almond extract, vanilla extract, orange zest, and salt.

Place the saucepan over medium heat, and bring to a boil.

Gradually mix the cranberries.

Once cranberries get nice and soft, reduce the heat to simmer.

In a small bowl, whisk together the cornstarch, and water until combined.

Pour cornstarch mixture into the saucepan and mix until combined.

Cook for 2 minutes or until cranberry filling is thick

Mix in the remaining cranberries, and spread the filling onto the prepared crust

Sprinkle remaining crust onto the cranberry filling, and top with pecan chips.

Bake in the oven for about 35-40 minutes, or until the top is a slight golden brown.

Remove from the oven, and allow to cool completely before cutting into bars!
If you loved this recipe,
leave me a review below
. This helps future recipe makers and ensures continued high-quality recipes for years to come!
© 2023 I Heart Recipes