Homemade beef chili made in the Crock-Pot with Pinto beans, ground beef, and more!
Hey y'all! I hope you enjoyed the holidays as much as I did. The only thing that I  wasn't too thrilled about as the weather. I'm not a huge fan cold weather, and honey it has  been pretty darn cold over here in the Pacific Northwest. To help keep me and my family warm, I decided to make a big pot of homemade beef chili with beans. To make everything easy, I made the chili in my Crockpot. I simply tossed everything in my slow cooker,  and let it cook for 4 hours.  My house smelled so amazing!  While the chili cooked, I  took  care of other things such as cleaning the house, watching tv with my son and hubby, and playing with our new puppies. Once the chili was done I sprinkled on some of our favorite toppings, and we went in!  Again, this recipe was super easy because it was a toss, and go recipe ( just toss it in the Crock-Pot and go on about your business honey!). Let me tell you what I used.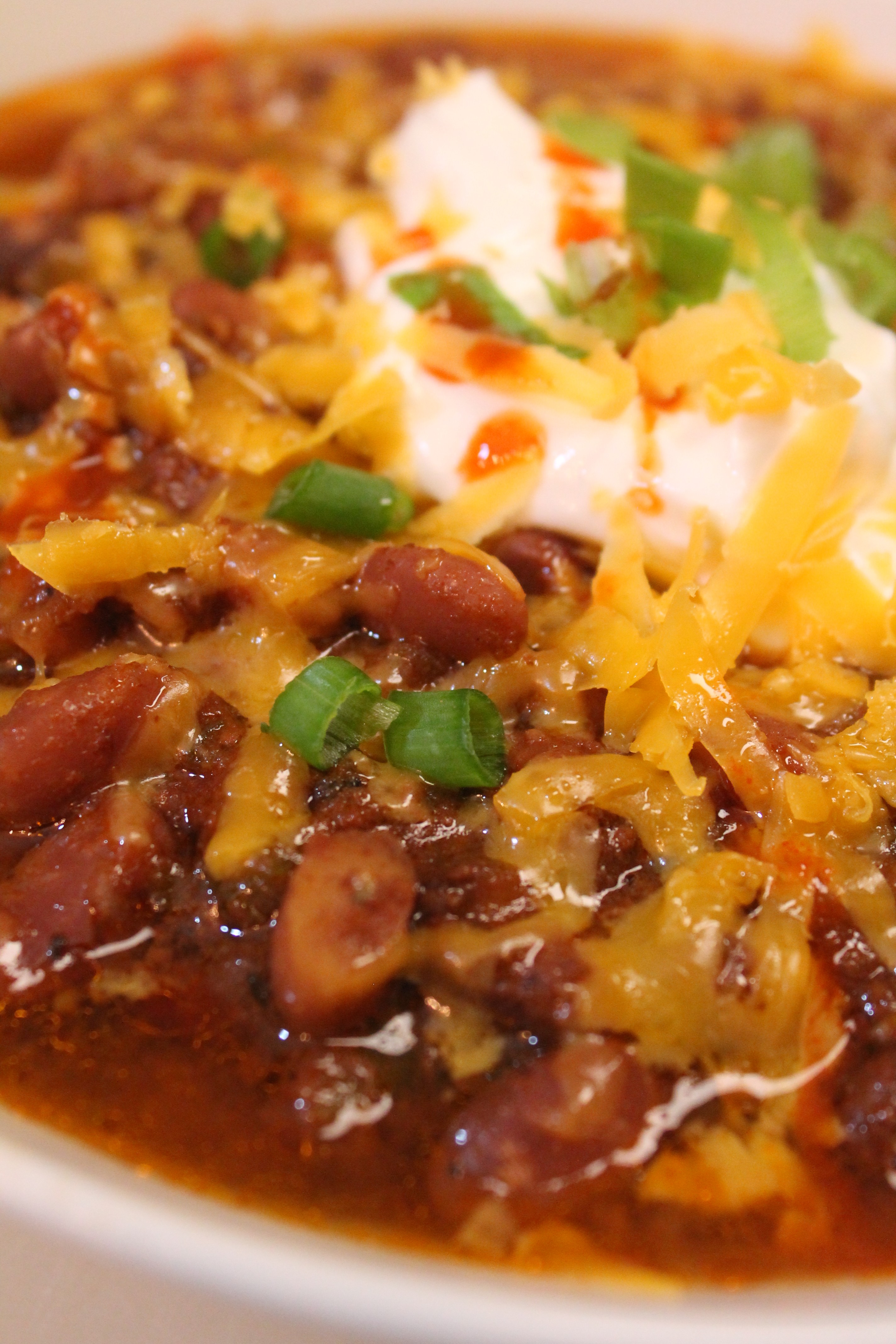 Let me start off with the beans. I decided to use dry pinto beans because I had plenty of them. Before I tossed  then beans into the slow cooker I made sure to sort through them ( getting rid of any pebbles, and rotten beans) and rinse them with cool water. I didn't  soak the beans, prior  to cooking them. In my opinion,  it isn't  necessary  to soak beans- especially when you're  going to cook them in a slow cooker.
The meat that I used for my chili was regular ground. I usually  buy whatever is on sale when it comes to ground  beef, but if you have a preference use that. Also,  if you don't eat beef you can use ground turkey,  or ground chicken as a substitution.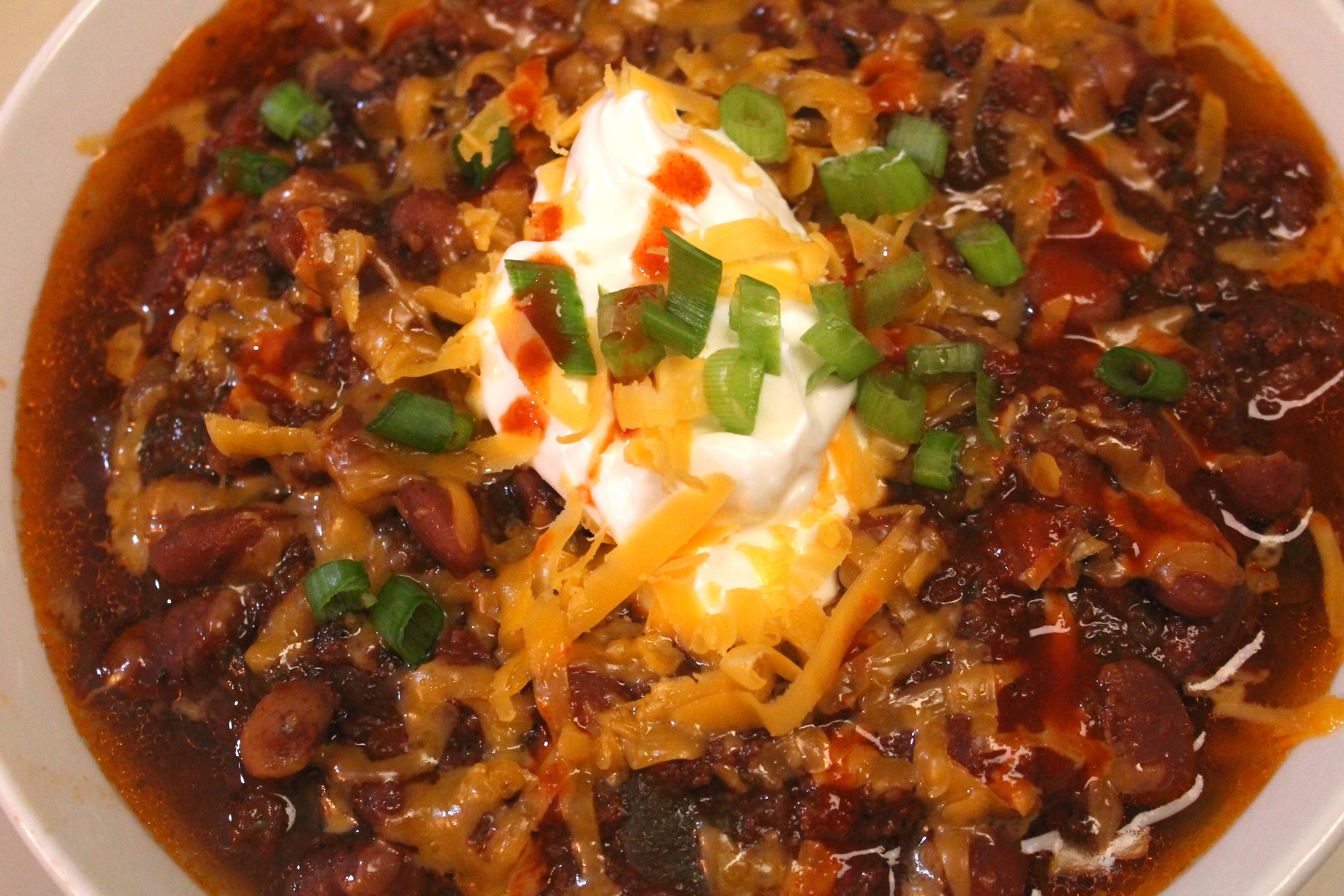 Let's talk about the other ingredients.  You know the ingredients that add lots of flavor. I used a combination  of onions, garlic, celery, and green bell peppers. I also added in some  canned diced tomatoes, and tomato sauce. I pretty much used what I had in my refrigerator at the time. If you like spicy chili feel free to add in some spicy peppers.
for more  flavor I added Salt free seasoning  ( you can use seasoning salt or plain salt ), chili powder, ground black pepper, onion powder, garlic powder, and oregano.
Below I'll leave the recipe, but check out this video tutorial for a visual!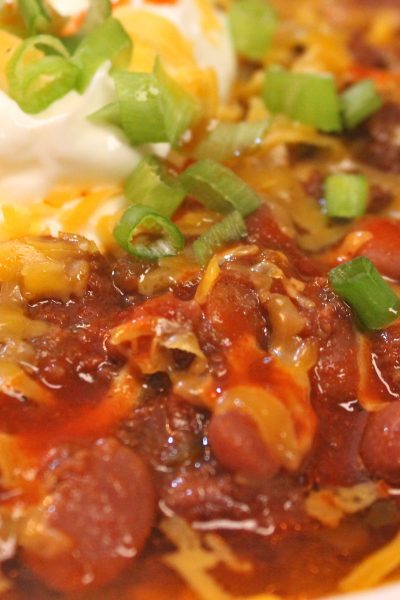 Homemade Beef Chili Made in the Crock-Pot
This large batch of beef chili is the perfect cold-weather recipe! Keep warm with this hearty dish, perfect for family dinner and leftovers.
Watch Video
Print Recipe
Pin Recipe
Instructions
Toss everything into the slow cooker.

Set the slow cooker on high for 4 hours.

Stir periodically.

Once done serve and enjoy
Video
If you loved this recipe,
leave me a review below
. This helps future recipe makers and ensures continued high-quality recipes for years to come!
© 2023 I Heart Recipes