Indulge in a triple-chocolate cheesecake that's so easy, even a beginner can master it. From its Oreo crust to its creamy center and decadent toppings, this dessert is a chocolate lover's dream come true.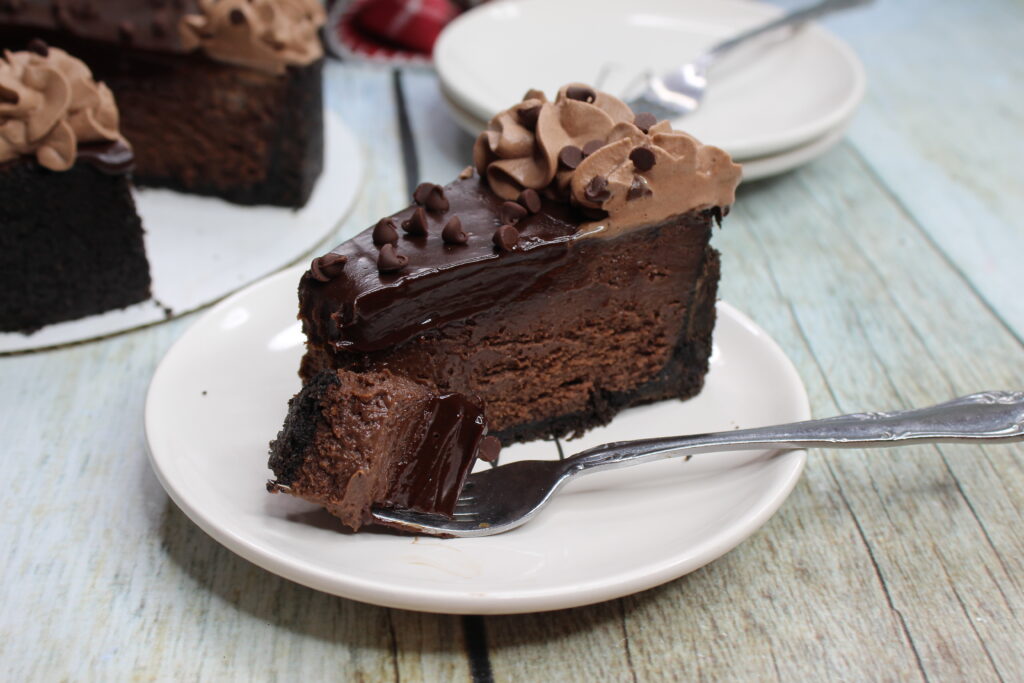 This chocolate cheesecake is so good and so easy, you'll feel like a kitchen superstar. No need to worry if you're new to baking; this recipe is all about simple steps. First, you'll make a crust from crushed Oreos and melted butter. Then comes the creamy, chocolaty middle. Top it all off with even more chocolate, and you've got yourself a dessert that screams "yum!"
Hey, you might think all this chocolate sounds hard to make. But trust me, it's not. The ingredients are easy to find and the steps are simple. Crushing Oreos is fun and mixing everything together is a breeze. You'll be done before you know it. And the best part? It looks and tastes like you spent hours on it, even if you didn't.
So, roll up those sleeves and get ready. This cheesecake is perfect for parties, get-togethers, or just a night in. It's rich, it's tasty, and it will make you the dessert hero of your family or friend group. So why wait? Head to the kitchen and let the easy baking begin!
Shopping list for this amazing cheesecake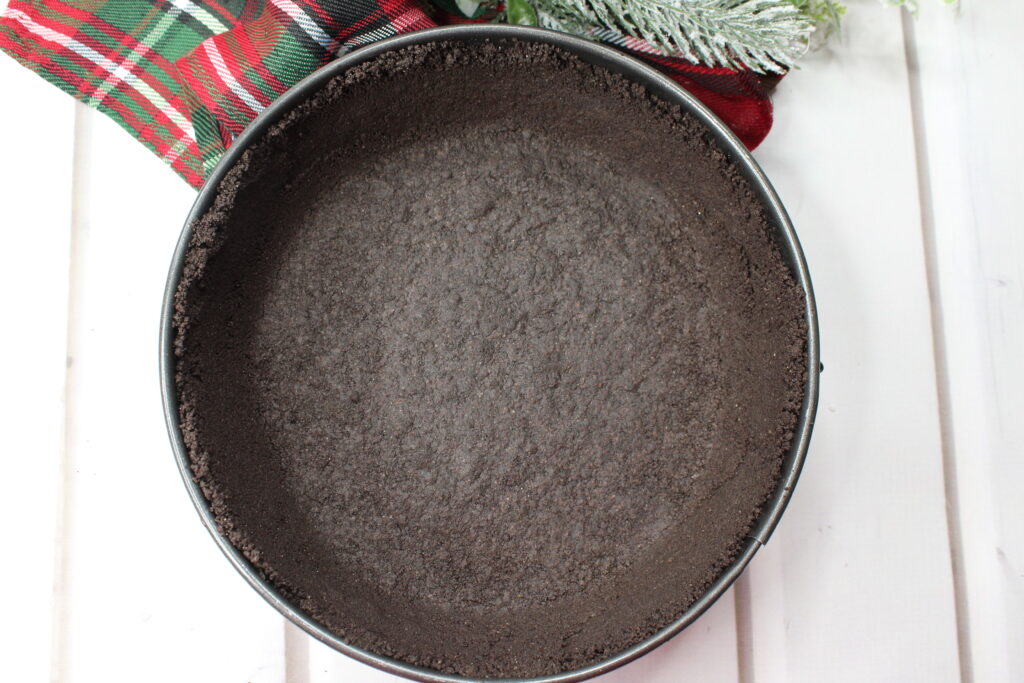 Oreo Crust
48 Oreo Cookies: These will be crushed to form your crust. Oreos add a rich, chocolaty base to complement the cheesecake.
1/2 cup melted Butter: This binds the Oreo crumbs together to form a solid crust.
Chocolate Cheesecake
2 cups Chocolate Chips: For melting into the creamy chocolate filling.
1 cup Heavy Whipping Cream, divided: Adds richness and creaminess to both the chocolate mixture and the cheesecake filling.
3 packs of 8 oz Cream Cheese (softened): The star of the show, providing the cheesecake's classic texture.
1 1/2 cups Sugar: Sweetens the deal.
1/4 cup Dark Cocoa Powder: For an extra hit of chocolate flavor.
5 big Eggs: Help to set the cheesecake, giving it structure.
1 teaspoon Vanilla Extract: A dash for flavor depth.
Chocolate Sauce (Ganache)
1 1/2 cups Chocolate Chips: For a lush chocolate sauce that you'll spoon over the baked cheesecake.
3/4 cup Heavy Whipping Cream: When mixed with chocolate, it becomes ganache, a thick sauce that pours like a dream.
Chocolate Whipped Cream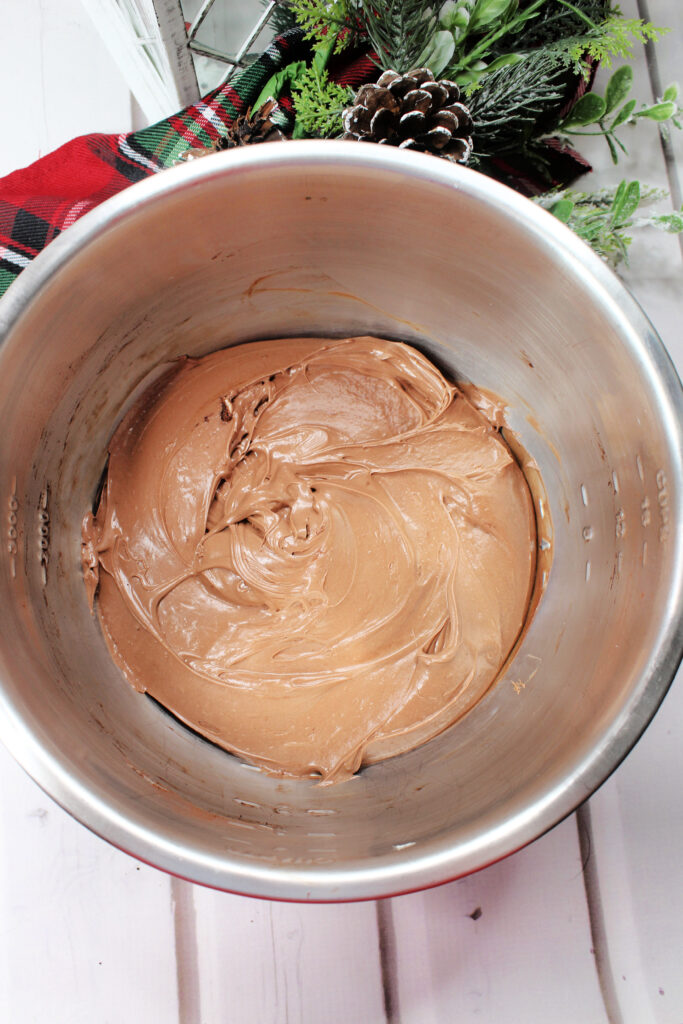 1/2 cup Heavy Whipping Cream: To whip up into a fluffy topping.
1/4 cup Powdered Sugar: Sweetens the whipped cream.
2 teaspoons Dark Cocoa Powder: Adds chocolate flavor to the whipped cream.
1 teaspoon Vanilla Extract: Balances and rounds out the flavor.
Extras
1 Piping Bag fitted with a Star Tip: To pipe out the whipped cream in a decorative way.
1/2 cup Mini Chocolate Chips: For a sprinkle of crunch and extra chocolate goodness on top.
Tips & tricks for making this Chocolate Cheesecake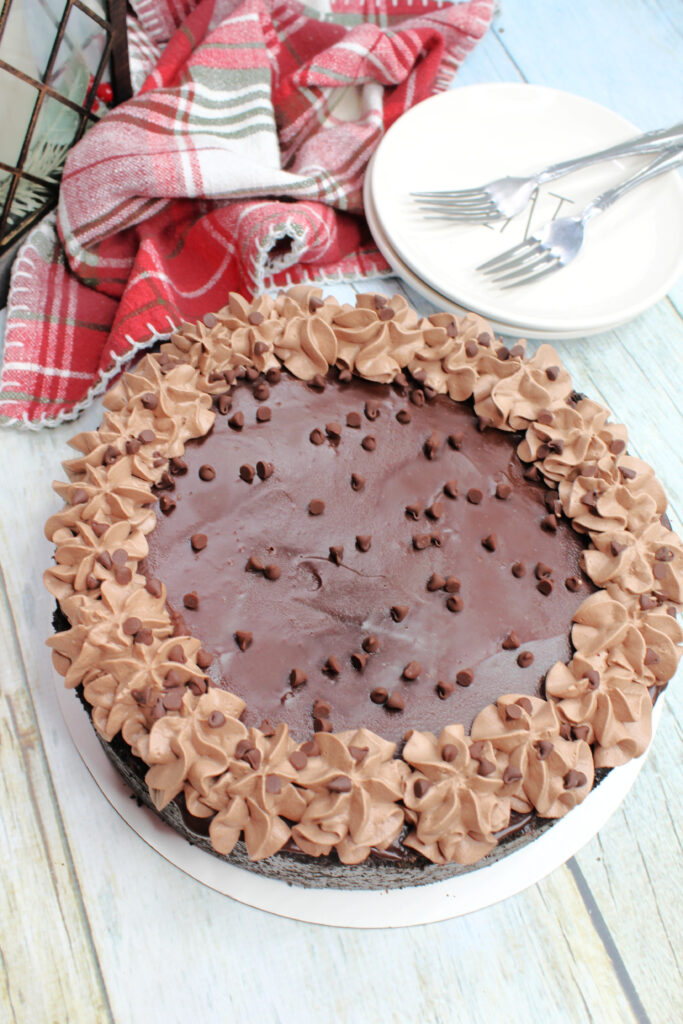 A good cheesecake is like a well-told joke: all about timing and delivery. So let's dive into those tips and tricks to make sure your chocolate cheesecake is the talk of the town—or at least your kitchen!
For the Oreo Crust:
Food Processor Magic: A food processor will give you the finest crumbs for a smoother crust. If you don't have one, a rolling pin and a ziplock bag will do—just get those crumbs as fine as you can.
Press Firmly: When pressing the crumbs into the pan, make sure to press them firmly so that they stick together. You don't want a crumbly mess, trust me.
For the Chocolate Cheesecake:
Room Temp Cream Cheese: Make sure your cream cheese is softened; this helps it blend smoothly with the other ingredients.
Melt Chocolate Properly: Be patient when melting chocolate chips in the cream. Too much heat too quickly can seize up the chocolate, and we don't want that.
One at a Time: When adding eggs, do it one at a time to make sure each gets fully mixed in. This helps with texture.
For the Chocolate Ganache: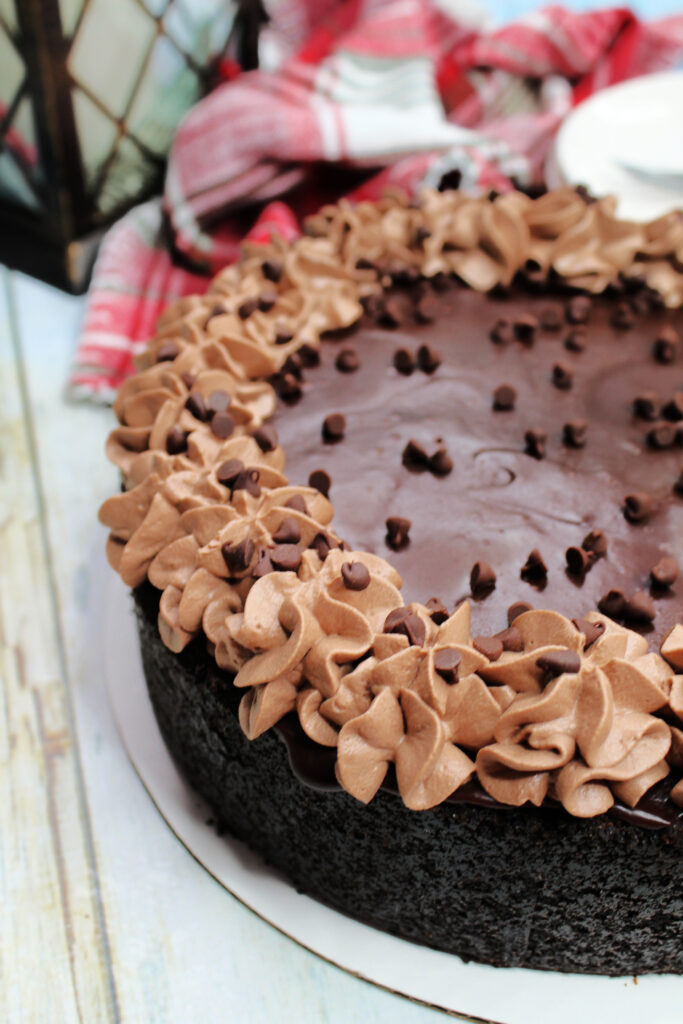 Low and Slow: Heat the whipping cream on a low simmer, and don't let it boil. Pour it over the chocolate chips and let it sit before stirring for a smooth ganache.
Cool Down: Let the ganache cool to room temperature before topping your cheesecake. This helps it spread more easily and thickens it up a bit.
For the Chocolate Whipped Cream:
Cold Cream: The colder the whipping cream, the fluffier it will get. Consider even chilling the mixing bowl.
Pipe with Purpose: When piping the whipped cream, start from the outer edge and work your way in for a pretty design.
General Tips:
Pan Prep: Don't forget to line the bottom of your springform pan with parchment paper to make it easier to transfer your cheesecake when it's done.
Baking Time: Ovens vary, so keep an eye on your cheesecake. It's done when the edges are set but the middle still has a slight jiggle.
Cooling is Key: Let the cheesecake cool in the fridge for at least 4 hours, or overnight if you can. It needs this time to set properly.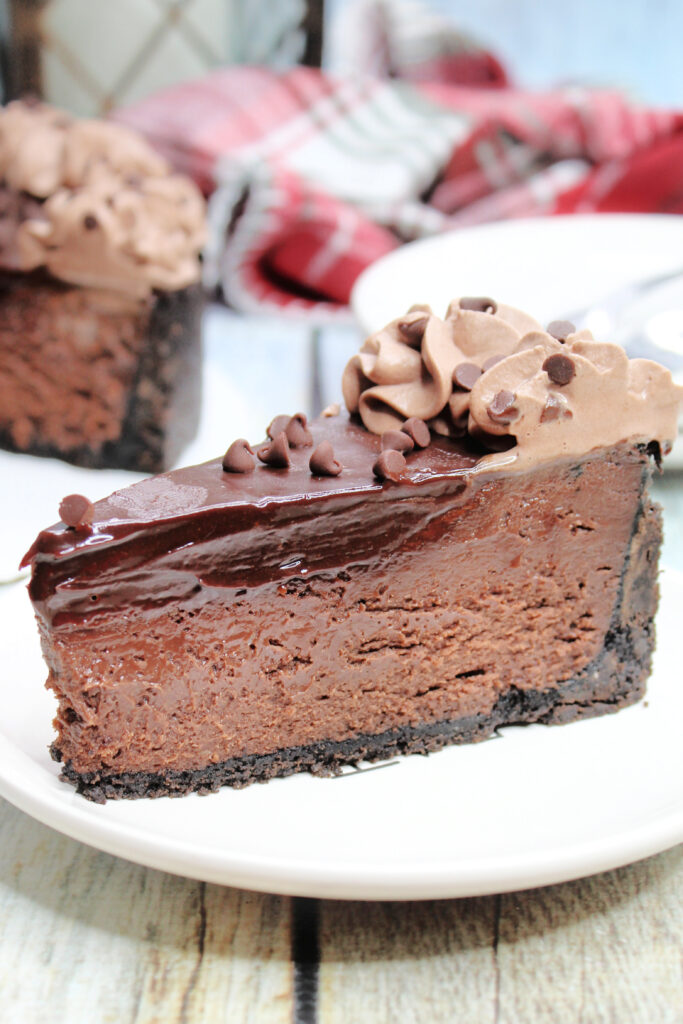 This recipe is your new go-to, whether you're trying to impress at a potluck or just need to satisfy that midnight chocolate craving. With easy-to-follow steps and foolproof tips, you'll be the proud creator of a cheesecake that not only looks like it belongs on a magazine cover but tastes like heaven on a fork. So go ahead, roll up those sleeves, break out that springform pan, and let's turn your kitchen into the delicious, chocolate-scented paradise you never knew you needed. Until next time, happy baking!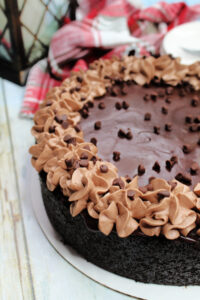 Chocolate Cheesecake with Ganache
A three-layer chocolate cheesecake that's simple enough for anyone to make. With its cookie bottom, smooth middle, and rich toppings, this treat is perfect for chocolate fans.
Print Recipe
Pin Recipe
Ingredients
Instructions
Heat your oven to 325°F. Spray a 9-inch round pan with non-stick spray. Put some parchment paper on the bottom.

Crush the Oreo cookies until they look like fine crumbs.

Mix the crushed Oreos and melted butter in a bowl.

Push this mix into the bottom of the pan. Bake for 10 minutes, then let it cool.
Chocolate Cheesecake
Put chocolate chips in a bowl.

Heat up 1/2 cup of the whipping cream until it's warm, then pour it over the chocolate chips. Wait 5 minutes.

Stir until it's smooth.

In a big bowl, use a hand mixer to make the cream cheese smooth.

Add sugar and cocoa powder. Mix well.

Add the eggs one at a time, then add the other half of the whipping cream. Mix well. Now add in the melted chocolate.

Add vanilla and mix one more time.

Pour this over the crust in the pan.

Bake for 70 minutes. Put another pan under it to catch any drips. It's done when the edges are firm but the middle wiggles a bit. Let it cool, then put it in the fridge for 4 hours.
Ganache
Heat 3/4 cup of whipping cream until warm. Pour it over chocolate chips and wait 5 minutes. Mix until smooth. Let it cool.
Toppings
Take the cold cheesecake out and spread the chocolate sauce over the top.

In another bowl, put all the stuff for the whipped cream except the mini chips. Beat until it's thick.

Put the thick cream in the piping bag.

Use the piping bag to put little puffs of cream around the edge of the cheesecake. Throw mini chocolate chips on top.

Let chill for at least 4 hours, then serve and enjoy!
If you loved this recipe,
leave me a review below
. This helps future recipe makers and ensures continued high-quality recipes for years to come!
© 2023 I Heart Recipes