How to make Easy Creamy Bacon Ranch Potato Salad
Hi friends! Memorial day is less than a week away, and there are two side dishes that should definitely be on your menu. Those two side dishes are: Pasta Salad & Potato Salad! A week ago, I shared a recipe for a delicious summer pasta salad, and today I'm going to share a recipe for a Potato Salad… Not just any potato salad, but a creamy Bacon Ranch Potato Salad!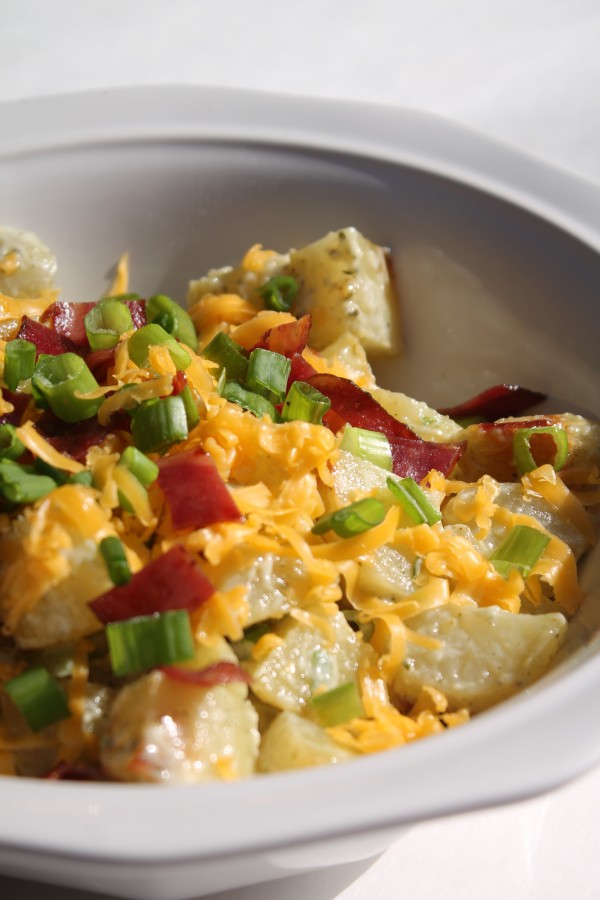 Usually when I make potato salad, I stick to my original stick, but a few weeks ago I decided to try something new. While grocery shopping, at my local grocery store, I noticed several potato salads in the deli, but one definitely caught my eye. It was a cheddar ranch potato salad. I asked to try it, and I'm glad I did- because had I bought it, I would have been disappointed. The potato salad had been quite vinegary ( I hope that's a word), and I couldn't taste a bit or ranch. It was sad.
Later on that day, I decided to experiment and make my own cheddar ranch potato salad. I added more bacon and ranch to my potato salad than cheese, so I call it Bacon Ranch Potato Salad.
Here are the ingredients
7 russet potatoes, peeled and cubed
1/2 – 1 cup of your favorite ranch dressing
2 – 3 tbsp extra virgin olive oil
2 tbsp ranch seasoning
1/2 lb bacon
1/2 cup chopped green onions
1/3 cup shredded cheddar cheese
Watch how I made this potato salad