Crispy on the outside, moist on the inside, southern-style air fryer fried catfish!
This post may include affiliate links
Hey cousins! I've been reading the emails, and I see that a lot of you are still wanting air fryer recipes. Well, I have the perfect one for you. How about some Air Fryer Fried Catfish? I know that a handful of you have been trying to stay away from deep-frying foods, so this air fryer fish recipe will be perfect for y'all!
Cooking with an Air Fryer – Are All Air Fryers the Same?
If you're not familiar with air fryers, you probably have questions about what kind of air fryer to buy. I remember when I first started hearing people rave about air fryers, I couldn't wait to get my hands on one. Unfortunately, the very first air fryer that I purchased was poor quality. It took forever to cook food, it was loud, and it was very hard to clean. That didn't stop me from searching for a new one, so I bought a second one. My second air fryer wasn't bad, but I still wasn't on the air fryer train. I knew that something was missing, so I contacted one of my air fryer-raving friends to ask what kind of air fryer she had. Once she told me about all of the foods she made in her air fryer and how easy it was to clean, I was sold. That was until she told me how much she paid for it. Then, a few months later, she also had to buy another one because her "outstanding" air fryer had stopped working. Well, that was enough for me to just take matters into my own hands and have my own air fryer made.
I am absolutely in love with our Rosamae Air Fryers! It does everything that I want and need it to do. I use my air fryer to cook, fry, reheat, and bake! My son and husband use it just as much (if not more!) as I do. I'm not telling you this so you can run out and buy my air fryer; I'm just telling you facts! I honestly love my air fryer!
If you're looking to buy an air fryer, definitely do your research before purchasing because all air fryers are not the same! Some a larger than others, some are manual, some are digital, some are loud when they are on, and some are extremely hard to clean. Definitely, do your research before buying one for yourself.
Do I need oil to fry in the air fryer?
No, you don't need any oil to fry the air fryer catfish. However, I do use cooking spray, which is oil. The reason I use oil is to help achieve the golden color that the fish would have if it was deep fried. When I don't use the cooking spray, the fish is still crispy but on the pale side. I'm a person that eats with their eyes. Therefore, I want my air fryer-fried fish to look like it's fried! If you don't want to use cooking spray, you don't have to use it.
Ingredients Needed for Air Fryer Catfish
Catfish: You can use regular catfish filets or catfish nuggets. I use nuggets because they are less expensive and don't need to be cut.
Cornmeal: I use yellow cornmeal, but you can use white cornmeal if you'd like.
All Purpose Flour
Yellow Mustard: Helps the cornmeal mixture stick to the fish. You won't taste the mustard once the fish is done.
Rosamae Seasonings Seafood Magic: My brand of seafood seasoning. If you don't have this blend, use your favorite seafood seasoning.
Cooking Spray: Not to be confused with baking spray! I use olive oil or canola cooking spray.
How to Store Leftover Air Fryer Catfish
If you have any leftovers you can wrap it in foil for a few days. You can reheat the leftovers in the air fryer on 360 for 5 minutes.
Save this recipe, and be sure to share it with your family and friends! Don't forget to follow along with everything Rosie and I Heart Recipes on social media—you can find me on Facebook, Instagram, and Pinterest!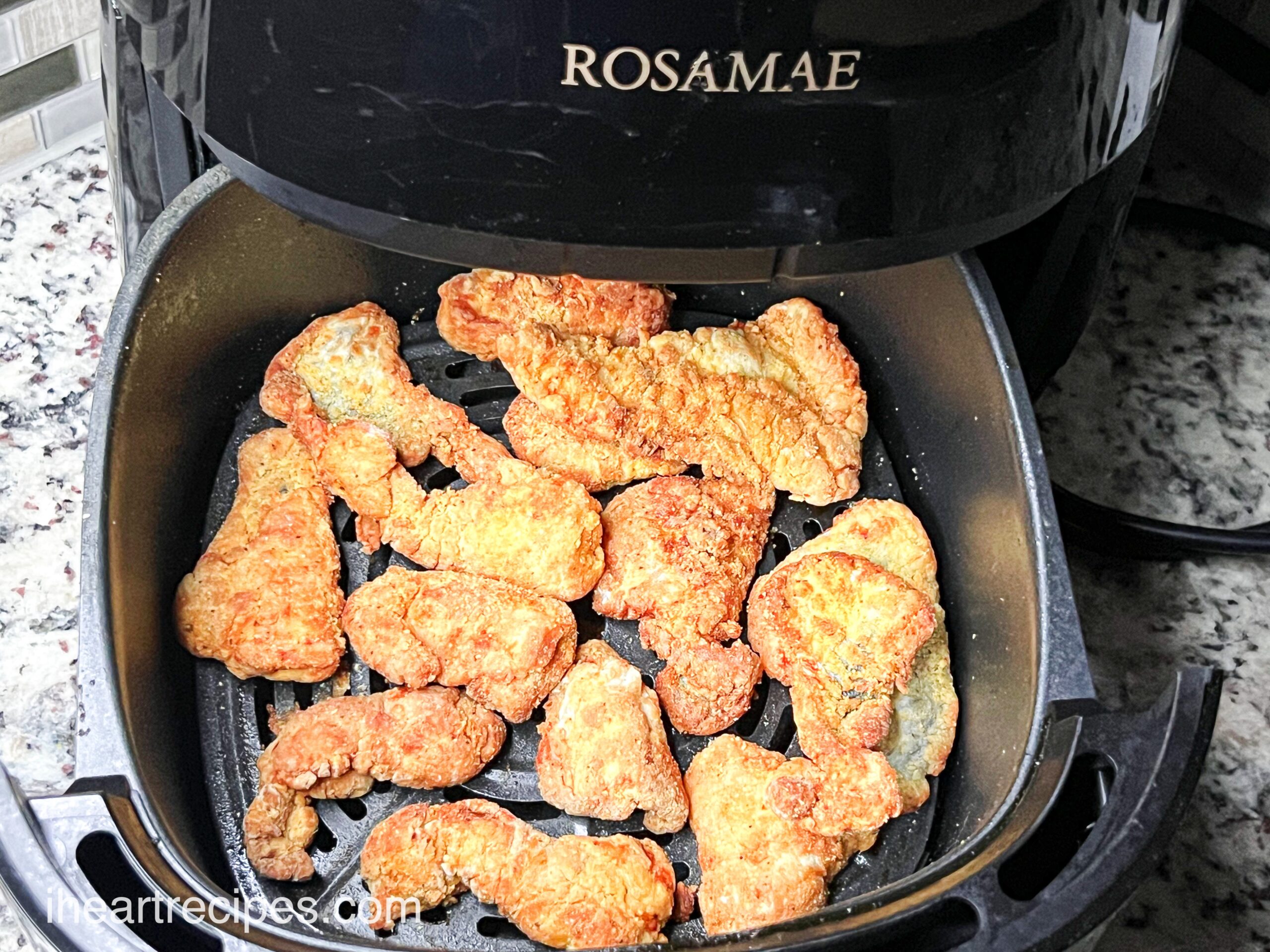 Air Fryer Fried Catfish Recipe
Learn how to make quick and easy, tasty air-fried catfish! Using an air fryer to cook catfish is fast, mess-free, and makes perfectly crispy catfish.
Print Recipe
Pin Recipe
Ingredients
2

lbs

Catfish Filets

cut into small sizes

1

cup

yellow cornmeal

1/2

cup

all purpose flour

1/4

cup

yellow mustard

3

tsp

Rosamae Seasonings Seafood Magic

or your favorite seafood seasoning
Instructions
Coat the catfish with yellow mustard, then set to the side.

2 lbs Catfish Filets,

1/4 cup yellow mustard

Combine the flour, cornmeal, and Seafood Magic in a zip bag. Shake to make sure that everything is well combined.

1 cup yellow cornmeal,

1/2 cup all purpose flour,

3 tsp Rosamae Seasonings Seafood Magic

Next, start dropping the catfish into the zip bag with the cornmeal mixture.

Shake the bag to make sure that the catfish is nicely coated with the cornmeal mixture.

Once the catfish is coated, remove it from the bag and place it on a baking sheet. Let the catfish sit for 5 minutes so that the cornmeal mixture can stick to the fish.

Next, place the catfish into the air fryer, but do not stack the fish on top of each other.

Spray the catfish with cooking spray, then set the air fryer to 360 and let cook for 7 minutes.

After 7 minutes, open the air fryer and turn the fish over. Spray with cooking spray, then cook for an additional 7 minutes.

Once done, remove the catfish from the air fryer.

Serve, and enjoy with your favorite condiments!
If you loved this recipe,
leave me a review below
. This helps future recipe makers and ensures continued high-quality recipes for years to come!
© 2023 I Heart Recipes