This Pumpkin Chocolate Texas Sheet Cake is the epitome of fall indulgence, merging the comforting embrace of pumpkin spices with the rich, velvety allure of chocolate in a heartwarming symphony of flavors. Picture this: each bite is like a delightful autumn parade in your mouth, where sweetness meets spice, creating a culinary celebration that's just as comforting as a cozy blanket on a crisp fall evening, honey!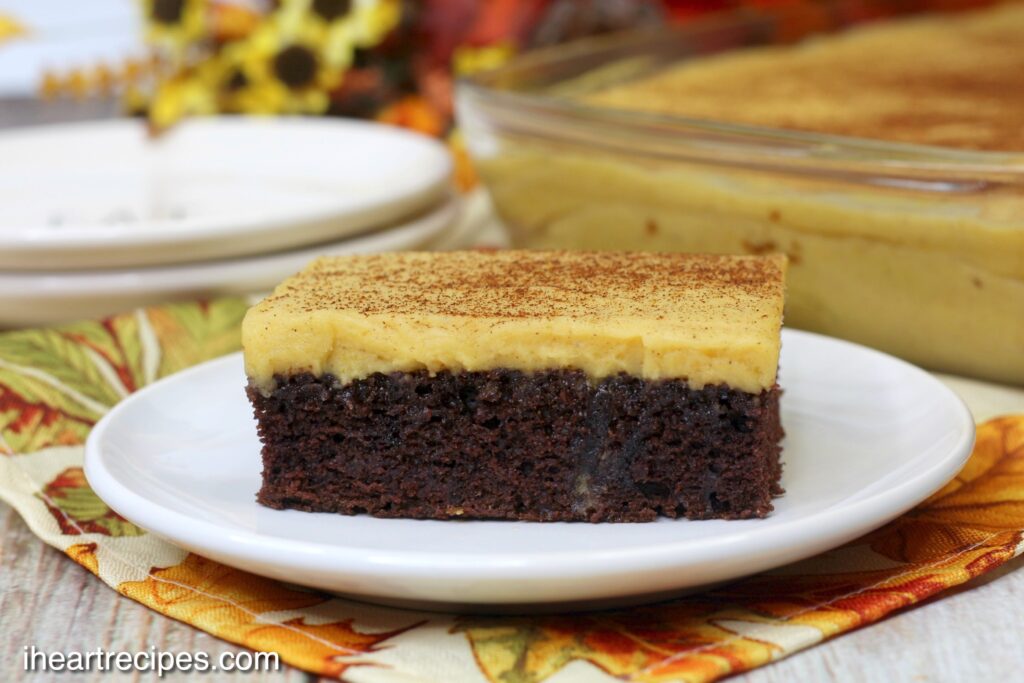 Let me take you on a magical journey where the scents of fall embrace you like a warm hug. Picture it: The leaves are gently falling in hues of golden amber and rustic reds, there's a cool whisper of autumn breeze in the air, and your kitchen is about to be the hotspot of comfort and joy with this lip-smacking Pumpkin Chocolate Texas Sheet Cake.
Yes, darling, today we are marrying the rich and deep tones of chocolate with the festive and comforting essence of pumpkin spice. It's like a carnival in your mouth, where chocolate and pumpkin take center stage and wow your taste buds with an explosion of flavors. But before we dive deep into this culinary adventure, let's make sure we have everything in place to create this show-stopping masterpiece.
Shopping List For This Fabulous Cake
Now, honey, before we start, let's make a little trip to the grocery store and stock up on all the fabulous ingredients we need to get this party started:
Unsalted Sweet Cream Butter (2 cups): Make sure it's softened, sugar. We want our cake to have a creamy and luxurious texture.
Cold Water (1 cup): To make sure everything blends together perfectly.
Cocoa Powder (½ cup): Opt for a good quality cocoa powder for that rich chocolate depth.
Sugar (2 cups): We want that sweet note in our cake, so don't hold back, darling!
Flour (2 cups): The backbone of our cake, it holds everything together in harmony.
Large Eggs (2): They bring richness and stability to our cake, like a reliable friend.
Baking Soda (1 teaspoon): This will give our cake that beautiful rise, like a morning sun greeting a new day.
Pumpkin Pie Spice (3 teaspoons): Because what's autumn without a hint of pumpkin spice warming your soul?
Sour Cream (½ cup): It brings that delightful tanginess which balances out the sweetness, making every bite a symphony in your mouth.
Pure Vanilla Extract (1 ½ teaspoons): Adds a whisper of sweetness and complexity to the flavor profile.
Whole Milk (¼ cup): To give our frosting that smooth and creamy texture that will make you swoon.
Powdered Sugar (6 cups): The star of our frosting, bringing sweetness and a delightful texture.
Pumpkin Puree (⅓ cup): It adds that distinct fall flavor that makes this cake a seasonal star.
Cream Cheese (4 oz): Gives our frosting a rich and creamy consistency that's just divine.
Ground Cinnamon: A sprinkle on top adds a finishing touch of warmth and spice.
Now, sugar, with our shopping list in hand, we are ready to bring this sensational cake to life. Let's march into that kitchen like the queens and kings we are!
Instructions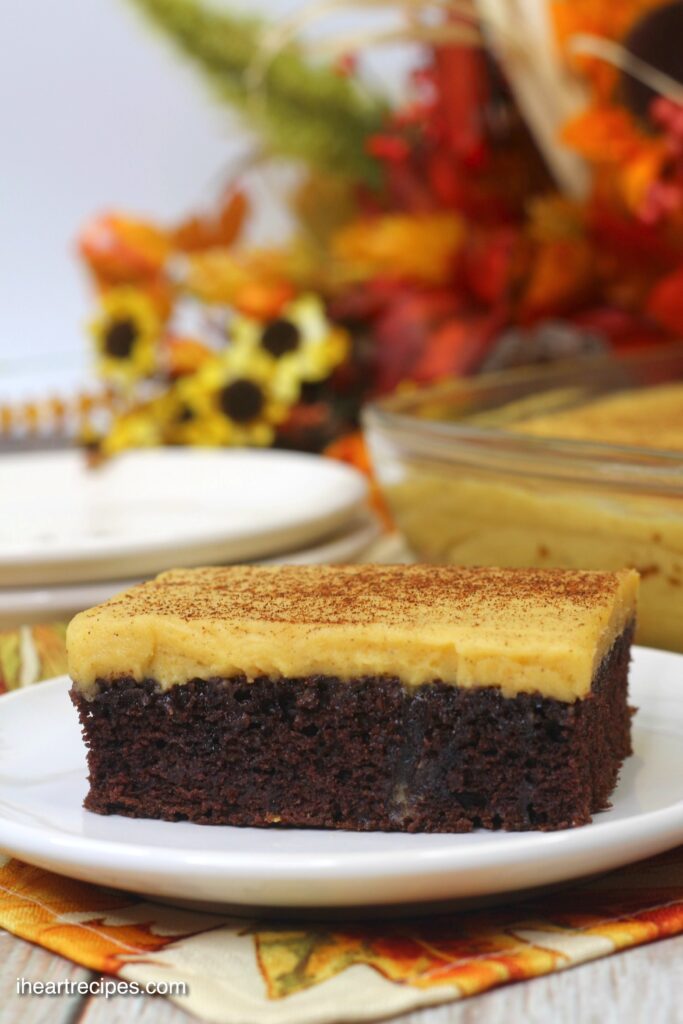 I'm about to guide you step by step to create a cake that's not just a treat for your taste buds, but a celebration of the season. Follow me, sugar:
Preheat your oven and get that 9×13 baking dish ready with a nice coat of non-stick spray. We want our cake to slide out like a dream, honey.
Now, let's start the magic in a large saucepan. Combine the butter, water, and cocoa powder over medium to high heat until that butter melts like snow on a sunny day.
In a large bowl, whisk together the flour, sugar, eggs, baking soda, pumpkin pie spice, sour cream, and vanilla until it's singing in harmony. This is the soul of your cake, darling.
Gradually, invite the wet ingredients into the party, whisking until everyone is mingled and having a good time.
Pour that lovely batter into the baking dish and let it bake for 20-25 minutes or until a toothpick walks out clean and proud.
Give it a breather, let it cool down for 15 minutes, patience is a virtue, sugar!
The Frosting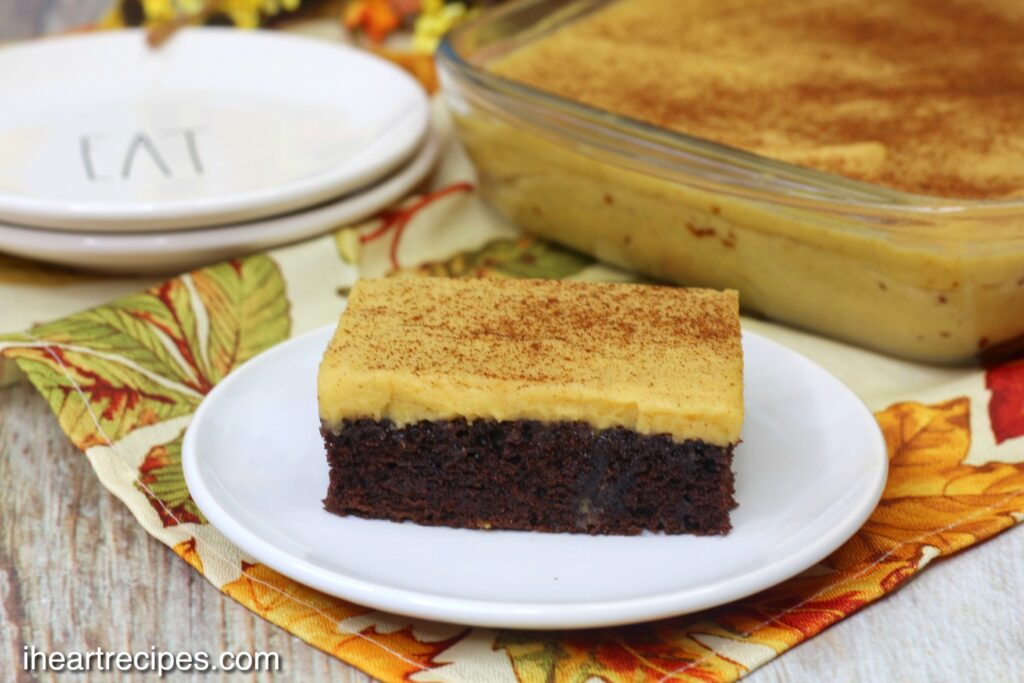 Oh, we ain't done yet, honey! It's time to crown our cake with the most fabulous pumpkin frosting you ever seen. Here we go:
In a standing mixer, beat together butter, milk, powdered sugar, pumpkin puree, cream cheese, vanilla extract, and pumpkin pie spice until it's smooth as silk.
Now, spread that glorious frosting evenly over the cake and give it a little sprinkle of cinnamon to add that touch of sparkle.
How to Store Leftovers
If by any miracle you find yourself with leftovers, here's how you can store this delicacy to enjoy later:
Room Temperature: Cover it well with cling film or aluminum foil and it will stay fabulous for about 2-3 days.
Refrigerator: If you prefer it chilled, store it in an airtight container and it can grace your table for up to a week, sugar.
Freezer: For a longer love affair with this cake, wrap it well and freeze it. It will stay good for about 2-3 months. When you're ready to enjoy, thaw it in the refrigerator overnight.
Tips to Make Your Cake A Star
Sifting the Flour: For a cake that's light and fluffy, make sure to sift the flour before adding it to the mix.
Room Temperature Ingredients: Have your eggs, butter, and sour cream at room temperature to ensure a smooth and unified batter.
Spice it Up: Feel free to add a little more spice if you want to kick up the warmth a notch.
Test the Cake: Use a toothpick to check the doneness of the cake. It should come out clean or with a few moist crumbs.
Cool Completely: Before frosting, make sure the cake is completely cool to prevent the frosting from melting.
And there you have it, sugar! A comprehensive guide to creating a Pumpkin Chocolate Texas Sheet Cake that is bound to be the star of your autumn celebrations. So go ahead, roll up those sleeves and let the magic happen. I can't wait to hear all about your culinary adventures. Remember, darling, the joy is in the journey and the sweetness is in the sharing.
Go on, grace your kitchen with this sensational cake, and remember to do it with love, flair, and a sprinkle of fun!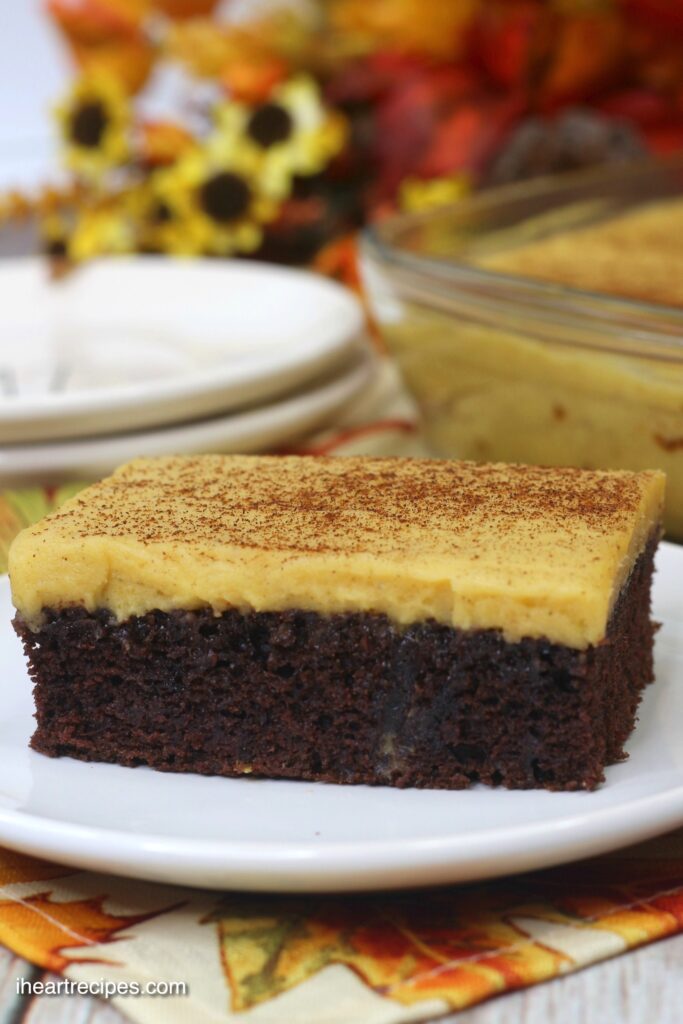 Print and save this recipe for later!
Moist Pumpkin Chocolate Texas Sheet Cake
This Pumpkin Chocolate Texas Sheet Cake effortlessly combines the robust flavors of cocoa and the festive nuances of pumpkin spice, offering a gourmet experience that tantalizes the palate with its rich yet balanced profile. With its moist, tender crumb and luxuriously creamy frosting, this cake promises not only a delightful indulgence but a vibrant celebration of the autumn season in every slice.
Print Recipe
Instructions
Preheat oven and prepare a 9×13 baking dish with non-stick spray.

In a large saucepan, combine butter, water, and cocoa powder over medium to high heat until the butter is melted.

In a large bowl, whisk together the flour, sugar, eggs, baking soda, pumpkin pie spice, sour cream, and vanilla until combined.

Gradually whisk in the wet ingredients until combined.

Pour the batter into the baking dish and bake for 20-25 minutes or until a toothpick comes out clean.

Allow to cool for 15 minutes.

For the Pumpkin Frosting

In a standing mixer, beat together all the frosting ingredients until combined and smooth.

Evenly spread the frosting over the cake and sprinkle with cinnamon.

Enjoy your marvelous creation, darling!
If you loved this recipe,
leave me a review below
. This helps future recipe makers and ensures continued high-quality recipes for years to come!
© 2023 I Heart Recipes