Hoppin' John, a traditional southern New Year's Recipe made of Black-eyed Peas, Rice, and Collard Greens!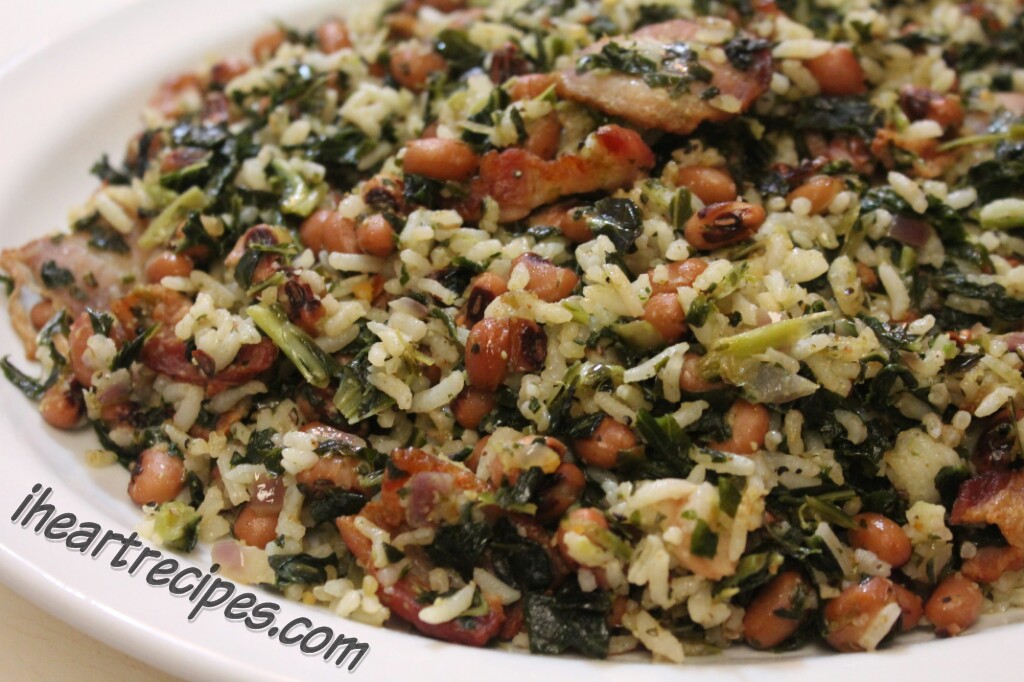 Can you believe that we are just a few weeks from 2016?! Seriously where the heck have I been? I feel like I just blinked, and a whole year passed by! I don't know about y'all, but I'm hoping to have an amazing year in 2016. Call me superstitious, but I will indeed be having my share of black-eyed peas and collard greens to help bring some luck and wealth my way, because I sure need it! LOL. This year I will be making a traditional " bring me luck, and wealth lawd!" dish for the New Year. I will be serving some good old fashioned Hoppin' John! Never heard of it? Well let me fill you in! Hoppin' John, is a combination of black-eyed peas, rice, and collard greens. It's a popular southern New Year's dish, because of the ingredients. You know that people believe that black-eyed peas bring luck, and collard greens bring wealth, and the rice… well I really don't know about the rice, but it sure helps bring everything together. LOL.  There are so many different ways to make hoppin' john. Some people make it with ham hocks, some people don't add greens, then other people like to make it into a soup. I personally like to keep it easy. Let me show you how I make it!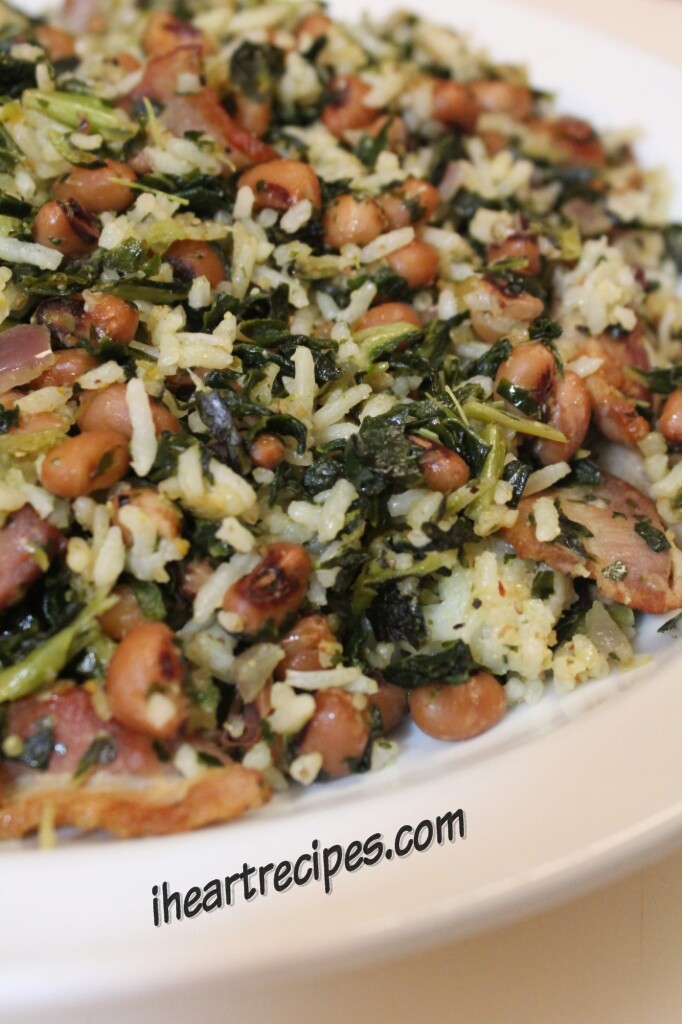 This dish can be made in under 35 minutes is you follow my steps. I take some serious short cuts when it comes to making my southern hoppin' john. I don't make it the traditional way with dry black-eyed peas, ham hocks, and etc. I use frozen collard greens instead of using fresh, because it's more convenient: no cleaning, cutting, and etc.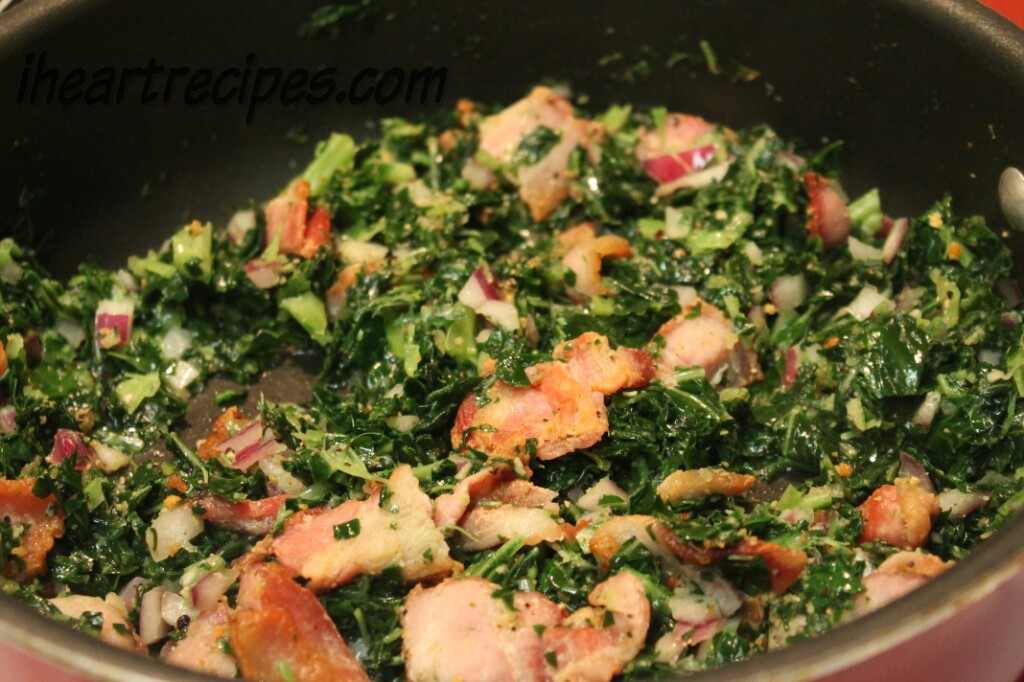 I start off with bacon. I actually use low sodium bacon ( that I buy from Costco). I use pork bacon, but you can use turkey bacon. IF you use turkey bacon, add 1 tbsp of olive or vegetable oil, to assist the frying. The bacon adds smokey flavor, and helps season up the dish. Again, I used frozen collard greens for this dish.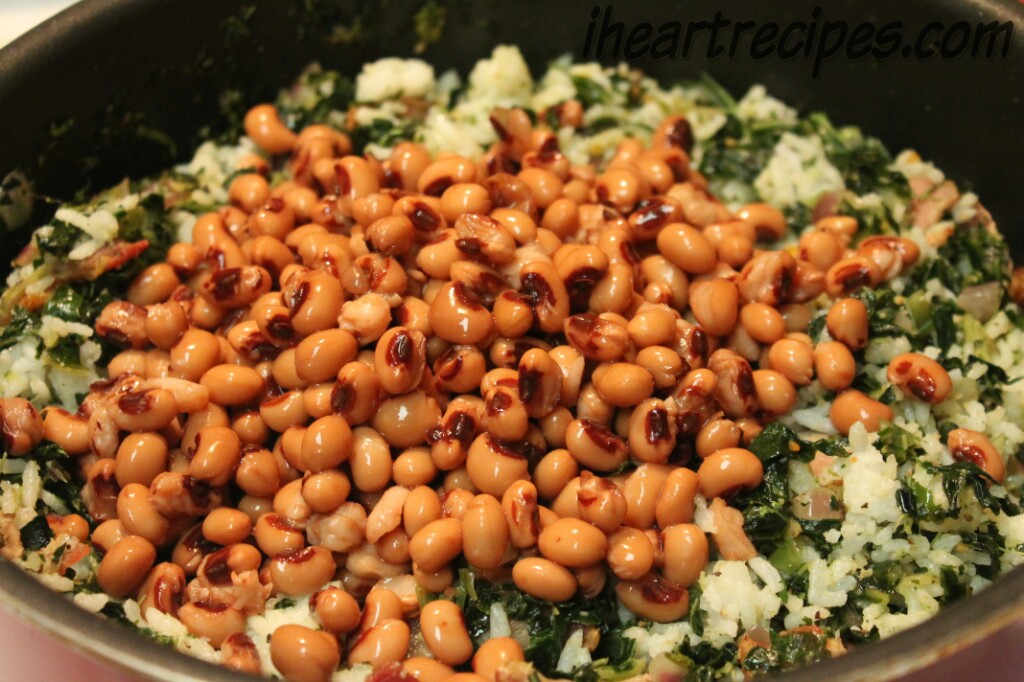 The black-eyed peas that I used were canned. Before adding the black-eyed peas to the pan, I drained and rinsed them. Be sure to do the same! Do NOT use the slimy salty liquid that is in the can.
Other than the bacon, I used a salt free seasoning to spice things up. Feel free to use seasoning salt, or whatever else that you want to use to flavor up the hoppin' john.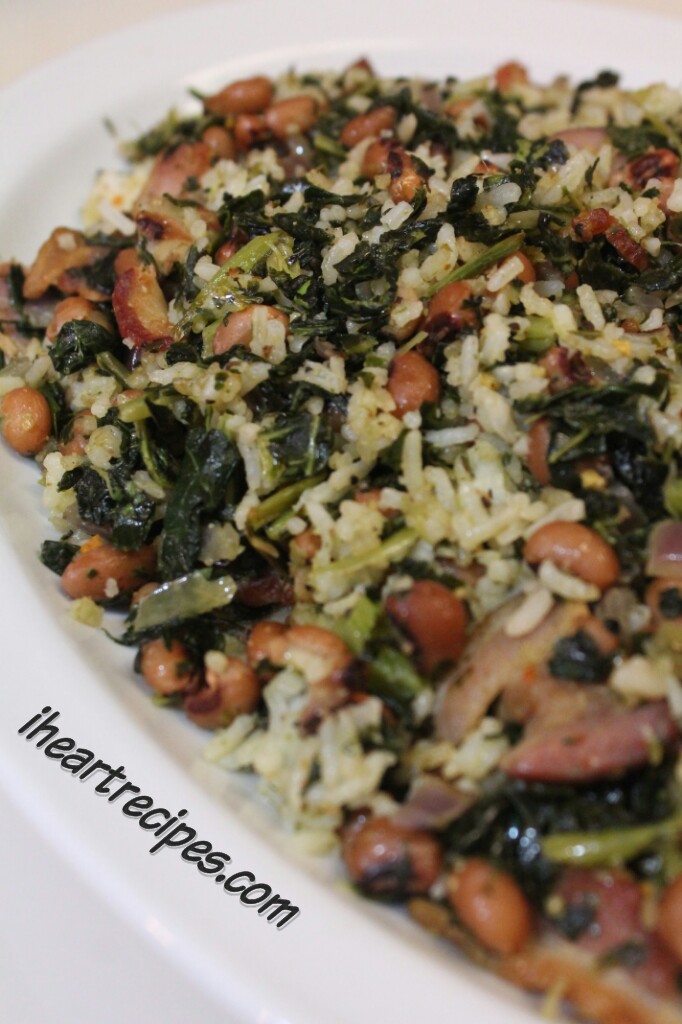 The rice I used for this dish was leftover rice from a previous meal.  You can use minute rice if you don't have any cooked rice on hand, or simply make some rice.
This meal is super easy. You can serve, and eat it alone, OR serve it with some baked chicken( or fried chicken), and cornbread to make this a true southern style New Year's meal.
Check out my video tutorial for this quick and easy Hoppin' John recipe!
Hoppin' John Recipe
Hoppin' John is a combination of black-eyed peas, rice, and collard greens. This popular southern dish is a New Years treat. Whip this recipe together in less than 30 minutes!

Ingredients
1/4

lb

bacon

cut

1 1/2

cup

cooked white rice

2

cups

collard greens

frozen

15

oz

can of black-eyed peas

drained and rinsed

1/4

cup

chopped onion

1

tbsp

salt free seasoning or 1 tsp seasoning salt & 1/2 tsp black pepper

1

tsp

garlic powder
Instructions
Place the bacon into a large skillet, and fry it over medium heat.

Once the bacon starts to brown( do not drain the bacon grease), add in the collard greens.

Cook until the collards are tender, then add in the onions.

Sprinkle in the seasonings.

Next add in rice, and fold in.

Toss in the black-eyed peas, and carefully fold everything until well combined.

Serve and enjoy!
Video