I love Halloween, but I have never have been one of those people that have spent crazy amounts of money on Halloween treats. I'm pretty much a "Cheapo".  I'm the person that will just have a simple sandwich and chip bar, and ONE scary treat. Call me what you want, but I only splurge my money during  Halloween on my son's, Giovanni, custom. Giovanni will be the AMAZING SPIDERMAN this year, and trust me- I DO mean this YEAR.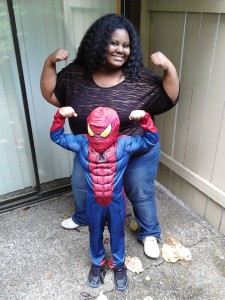 My son has a seriously puts his custom to use, and wears the heck out of it, so we try to buy something that will last him, and of course we buy it a tad bit big, since kids grow so darn fast.
This year, and last year I will be making a gelatin mold for Halloween. It's something my family definitely won't let go to waste, and it was dirt cheap to make. I got this recipe from JELLO's website, however I used a generic gelatin, and I chose my own flavor. I like to use cherry gelatin, because the end results kind of remind me of a cherry cheesecake.  You can be creative and use whatever flavor you want. I added gummy worms for decoration, but it's completely optional.
Gelatin Bloody Brain
This Gelatin Bloody Brain is fun and sweet! It's an inexpensive and yummy dessert for any Halloween party.
Ingredients
1

large package cherry gelatin

Hot water

8

oz

cream cheese

room temperature

1

package gummy worms

1

brain mold
Instructions
Mix gelatin and hot water according to the package directions.

Add cream cheese. Mix very well. Expect some small lumps to remain.

Spray the mold with a nonstick spray. Pour gelatin mixture into the mold.

Cover and place in the refrigerator overnight.

Invert the mold onto a serving tray. Gently remove solidified gelatin from the mold.

Cutting a few slits into the brain, slide the gummy worms in. You can also place a few gummy worms on the tray.

Enjoy!
Video
[mpprecipe-recipe:67]