A quick and easy dinner that the family will LOVE!
It's been pretty hot outside, and besides grilling- I have been sticking to quick and easy meals. You know, the kind of meal that take less than 45 minutes. Anyways, I couldn't decided on what to make the other day so I asked my husband, and he suggested that I make Chili Cheese Frito Pie.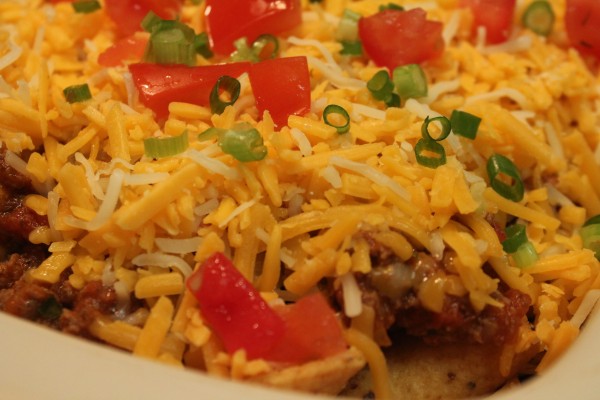 What is chili cheese Frito Pie you ask? Chili Cheese Frito Pie is a consist of delicious crunchy Frito Lay chips smothered in with homemade chili ( well my recipe has homemade chili..some people used canned chili), then topped with shredded cheddar cheese.
Must admit, when my husband first told me to it I thought that it sounded strange. Well, maybe not strange, but it just wasn't something that I was used too. After having it for the first time, I was hooked! It was love at first bite! The crunchiness from the Frito Lay Chips, the perfectly seasoned meaty chili, and the loads of melted cheese… It was amazing.
Truth be told – the secret to this dish is ALL in the chili!  So let me break down the chili game.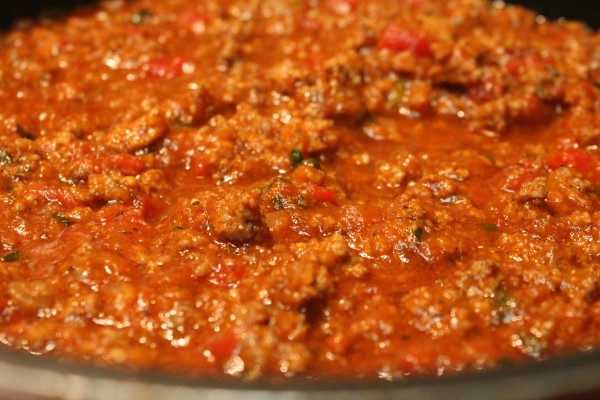 The chili that I make for my chili cheese Frito Pie is really simple to make, but don't get it twisted- IT IS OFF THE CHAIN!!!
I use use regular 70/30 ground beef, and I seasoned it with seasoning salt( salt free seasoning), garlic, black pepper, cumin, and chili powder. SIMPLE STUFF RIGHT?! I then add in crushed tomatoes, onions, cilantro, tomato sauce, and water, and let everything simmer for about 20 minutes.
I personally don't care for beans in this chili, BUT you can certainly add beans to your chili if you choose.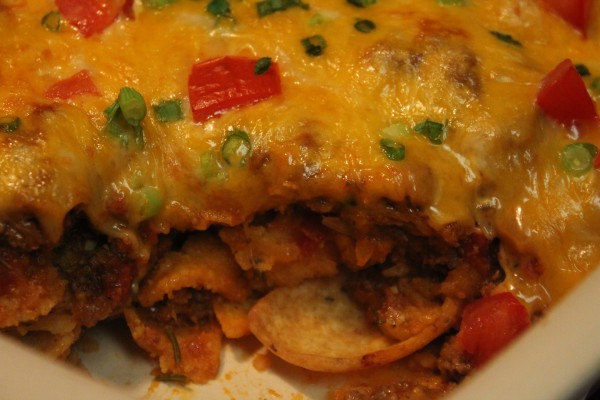 Let's build the pie!
Building the pie is the super easy! You just layer the ingredients. Start of by placing the Frito Lay chips at the bottom of a casserole dish. Next, poor the homemade meaty chili over the chips, then top the chili off with cheese! I like to use a combination of cheddar and mozzarella cheese ( but mainly cheddar).
To add more color, and of course flavor, I like to add diced tomatoes and green onions on top of the cheese. That step is completely optional.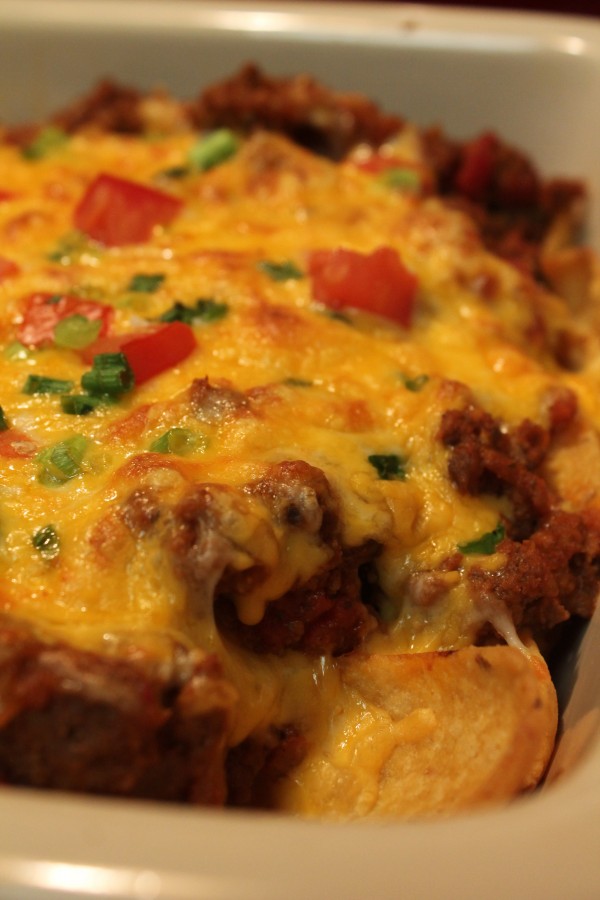 Simple Tips
There are a few ingredients that I use that my son HATES, such as onions. If you have a child( or someone else) that isn't a fan of onions, here's a tip: Mince the onions up until they are very fine! ( I use my food processor)My son claims to hate onions, but he never complains when I minced them.. Why? Because he can't see them!! LOL. Mince up those onions parents!!( unless someone is allergic to onions….in that case- leave them out!)
You can use any type of Frito Lay chips that you want. I used the scoops for this recipe, but I have used the regular chips, and even the chili cheese flavored ones. ALL of them are good in my opinion!
You may have more chili on hand than chips. If so, save the chili ( you CAN freeze it for a later day!)
The chili is not only works for this recipe. Try using it for Chili Hot Dogs. Chili Cheese Fries, nachos, and etc!
I used beef in the chili, but you can substitute the beef with ground turkey, or ground chicken.

Alright, so by now you're probably wanting to make this chili cheese Frito pie. So I will stop chatting, and get right to it!
Here's the recipe
1 large bag of Frito Lay Chips ( I used the scoops)
1 lb ground beef
1 medium sized onion, minced finely
3 green onions, chopped
2 tbsp of chopped cilantro
1/2 cup diced tomatoes
15 oz tomato sauce
1 cup water
1 tbsp sugar
2 tsp minced garlic
2 tsp seasoning salt or salt free seasoning ( I used salt free seasoning in the video).
1/2 tsp cumin
2 tsp chili powder
1/2 tsp ground black pepper
2 cups shredded cheddar cheese
1 cup shredded mozzarella cheese
green onions & diced tomatoes for garnishing (optional)
Watch the video tutorial