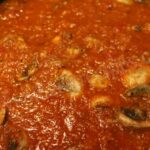 Print
Homemade Vegetable Marinara Sauce
Hey friends! Several months ago, I shared a recipe for homemade meat sauce. So many of you love the recipe as much as I do, so I thought that I'd share another homemade sauce with you. However, this time around I'm making a homemade vegetable marinara sauce. This sauce will be perfect for pasta dishes that already have meat in them. You can also use this marinara as a dip for bread, vegetables, and even mozzarella sticks !
Wash, peel ( if needed), and dice all the vegetables( except the mushrooms & diced tomatoes). Toss all of the veggies into a food processor.

Pour 2-3 tbsp of vegetable oil into a large pot. Turn the heat on medium.

Add all of the minced vegetables into the pot

Add in the tomato sauce, diced tomatoes, seasonings, and garlic.

Pour in 3 cups of water, and mix until everything is well combined.

Toss in the mushrooms, and fold in.

Sprinkle 2 tsp of crystalized lemon, or pour in 2 tbsp of lemon juice.

Stir everything, and let simmer over medium heat for 45 minutes.

Let cool, pour the sauce into freezer bags, and freeze for up to 3 months or so.