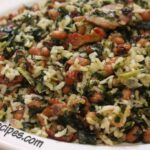 Print
Hoppin' John Recipe
Hoppin' John is a combination of black-eyed peas, rice, and collard greens. This popular southern dish is a New Years treat. Whip this recipe together in less than 30 minutes!

Place the bacon into a large skillet, and fry it over medium heat.

Once the bacon starts to brown( do not drain the bacon grease), add in the collard greens.

Cook until the collards are tender, then add in the onions.

Sprinkle in the seasonings.

Next add in rice, and fold in.

Toss in the black-eyed peas, and carefully fold everything until well combined.

Serve and enjoy!