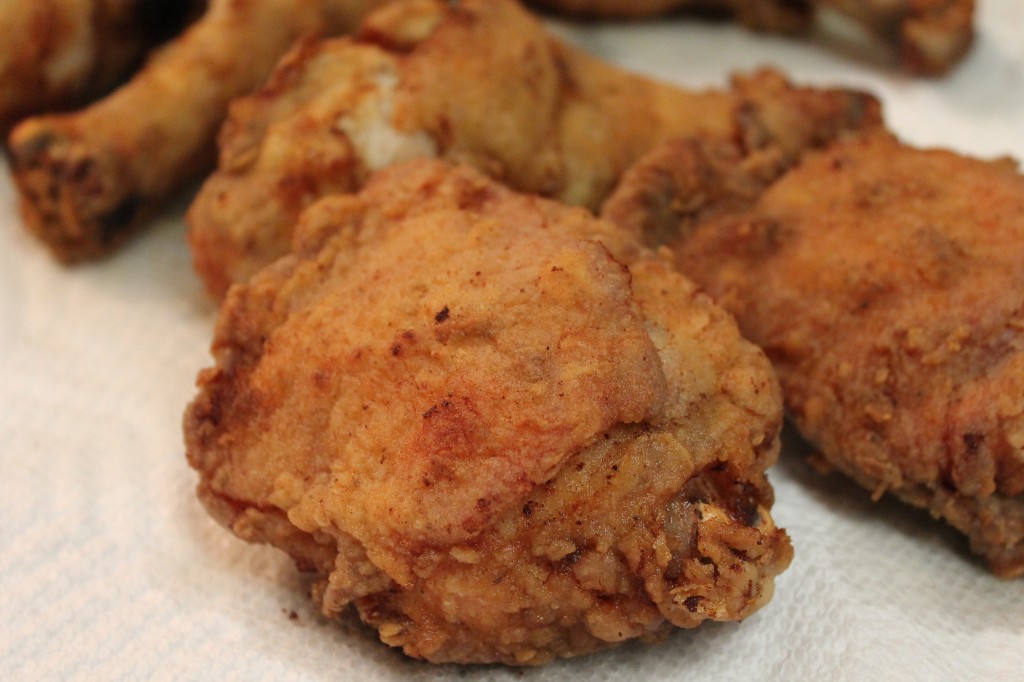 My very first video recipe on YouTube was a fried chicken video. My younger brother, who loves my fried chicken, asked me to make some- and he actually recorded me while I made the chicken. I uploaded the video, and soon after people started asking me for other recipes! Since that video was so blurry ( because of my little cheap camera), I took it down. However here I am, again, with another fried chicken recipe that I know that you will love!
When making true southern fried chicken, I believe less is better. You do not need 10 herbs and seasonings, a complicated 24 hour brine, nor a egg mixture for this chicken. This chicken is going to be crispy on the outside and extremely juicy in the inside IF you follow this recipe. Don't try to make any adjustments because you honestly don't need to.
The secret to this chicken is the buttermilk. Make sure you brine the chicken in the buttermilk for 3-4 hours. No more, no less. Do NOT add any seasoning, sauces, or herbs to the buttermilk. Just let the buttermilk works its magic. Be sure to watch the video below, and definitely print this recipe because it's a winner!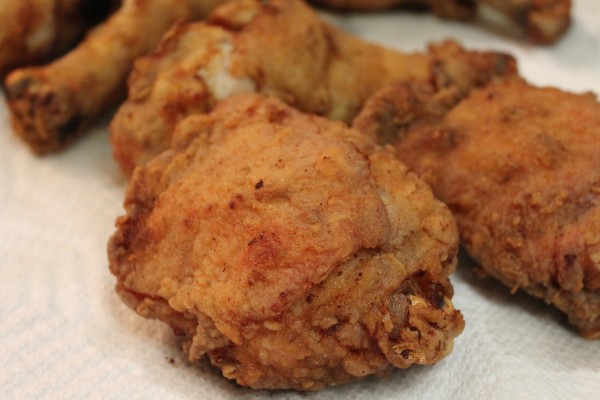 True Southern Fried Chicken Recipe
In a true southern fried chicken recipe, less is more. This simple recipe lets the buttermilk work it's magic for a delicious fried chicken you can't find anywhere else!
Watch Video
Print Recipe
Pin Recipe
Instructions
Rinse and trim the chicken of any excess skin and fat.

Place the chicken in a big bowl, and fill with the buttermilk then cover.

Place the bowl in the refrigerator for 3-4 hours.

Drain the buttermilk from the chicken, but DO NOT rinse the chicken.

Season the chicken with poultry seasoning, 1 tsp salt, 1 tsp garlic powder, 1 tsp onion powder, and black pepper.

Rub the seasoning all over the chicken, the set it aside.

In a large bowl add the flour and remaining seasonings. Mix well.

Coat the chicken with the seasoned flour 2 times.

Heat the oil to 360, and deep fry the chicken for about 10-15 minutes, or until golden brown and there is no blood.

Let sit for 5 minutes, then serve!
Video
If you loved this recipe,
leave me a review below
. This helps future recipe makers and ensures continued high-quality recipes for years to come!
© 2023 I Heart Recipes