Don't miss these delicious and fall-off-the-bone tender turkey wings seasoned to perfection! These oven-baked turkey wings will change how you feel about turkey.
Hey folks! Today, I am showing you how to make the BEST EVER baked turkey wings! When I originally posted this recipe, it was during the Thanksgiving holiday season as part of a series. I made a Sweet Potato Cheesecake and a Down-Home Cornbread Dressing along with these turkey wings for a complete and delicious holiday meal. Now it's time for y'all to realize that turkey doesn't have to be reserved for special occasions like holidays! With a recipe this good, you should be making baked turkey wings all. the. time!
Turkey wings are perfect for anyone who doesn't like a whole turkey or for a family that just likes the wings. Maybe you don't have a lot of people to feed and don't want to waste food—this recipe is perfect for that too! Plus, turkey wings take A LOT less time to make and cost less (OMG, have you seen the price for whole turkeys these days?! Ain't nobody got time for that!).
This baked turkey wings recipe is super easy to make; it's basically foolproof! The secret is all in the seasonings (as it so often is!). So let's dive on into it.
Why Use Turkey Wings? Why Not Legs, Thighs, or Turkey Breasts?
So, why am I pushing for y'all to use turkey WINGS? Well, truth be told, you can use this recipe for any part of the turkey (with adjusted cooking times, of course). Wings are the superior part of a turkey. They're the most tender dark meat that stays perfectly juicy—none of that dry turkey nonsense here.
If you prefer turkey legs or thighs, or even the breast, you can use the same seasoning blend I provide in this recipe on any of those parts of a turkey. I do have a recipe on how to roast a whole turkey, so if you're going for the entire bird, I suggest checking out that recipe instead.
This baked turkey wings recipe is seasoned to perfection and really caters to the tender meat of the wings. So you get that classic turkey flavor reminiscent of Thanksgiving without hassle.
Key Ingredients for the Best Baked Turkey Wings
To make this recipe, you need a few key ingredients. As always, I include the full ingredient list and exact measurements in the recipe card below. Here's what you need:
Turkey Wings: as I said above, the wing is superior. Try a local butcher shop if you can't find fresh or frozen turkey wings at your local grocery stores. For this recipe, feel free to buy whole wings and chop them up into pieces (I prefer to remove the wing tip).
Seasoning Blend: the seasonings we use are crucial to giving these baked turkey wings their out-of-this-world flavor. I'll give you the complete list below!
Chicken Broth or Turkey Broth: I personally don't notice a difference between the two—this recipe comes out great either way. If you can't find regular turkey broth, try Better Than Bouillon, or make your own homemade turkey broth. Don't have time? Chicken stock will do just fine.
Lemons or Lemon Juice: now, this may seem like an odd-ball ingredient but trust me, Cousins—you don't want to skip it! Lemon juice really elevates the flavor of the turkey AND the seasonings. Once you try it, you'll want to flavor all your poultry with lemon!
Baked Turkey Wing Seasoning Blend:
Onion powder and (dried) minced onions
Garlic powder and (dried) minced garlic
Seasoning salt
Poultry seasoning
Paprika
Dried parsley flakes
Salt & black pepper to taste
If you want authentic Southern flavor in a seasoning bottle, check out the variety of seasonings and spices we have at Rosamae Seasonings! We have seasoning salt and poultry seasoning (and salt-free versions of both), along with many other options for all your seasoning needs.
How to Make Oven-Baked Turkey Wings
Now, I promised an easy recipe, so I'm gonna deliver! This baked turkey wings recipe really is beginner-friendly and foolproof.
Step 1: Prep Turkey Wings
If you bought whole turkey wings, the first step is to prep the wings by chopping them up. Cut between the joint to separate the wingette (the flat part of the wing) and the drumette (or the drumstick). Cut off the wing tips and toss them or, better yet, save them to make homemade stock. You'll also want to rinse the wings and pat them dry with paper towels. Finally, here comes the lemon. Quarter one lemon and rub one wedge over the surface of each turkey wing.
Step 2: Season to High Heaven
Next, toss your turkey wings into a large mixing bowl. Drizzle with some olive oil (or vegetable oil if you prefer), and then it's time to season. Toss your turkey seasoning mixture into the bowl and make sure those wings are WELL COATED with all that flavorful goodness. (Note: If you watch my video tutorial below, I do not use flour in this recipe. The white powder is onion and garlic powder. You don't need flour!)
Step 3: Bake Turkey Wings
Toss those seasoned wings into the baking vessel of your choice. You can use a casserole dish, baking dish, roaster pan, or even a Dutch oven. There will be leftover seasoning mix in the mixing bowl, so you're going to pour the broth into the bowl, scoop up all those yummy spices, and then pour the broth into the baking dish. You don't want to cover the chicken wings fully; you only need about two and a half cups.
Cover the baking dish with aluminum foil and bake at 350 degrees F for one and a half to two hours, checking periodically. Use a meat thermometer to check the temperature—the wings are done when the thickest part of the wing reaches an internal temperature of 165 degrees F.
How to Get Crispy Skin on Your Baked Turkey Wings
Uncover the baking dish for the last 10 minutes or so of cooking time to get a perfectly crispy skin on your wings. You could use the broiler as well.
FAQs, Chef Tips, and Serving Suggestions for Oven-Baked Turkey Wings
Now that you know how to make the best baked turkey wings, let's answer some questions. If there's anything I missed, feel free to comment below!
My turkey wings aren't the same golden-brown color as yours; what did I do wrong?
You'll want to use the broiler in your oven for a few minutes to achieve a perfect golden-brown, crispy turkey wing. This will crisp up the skin and ensure those tender, delicious juices stay locked inside the turkey meat.
I don't like lemon. Can I omit or swap out the lemon juice?
I highly recommend not skipping the lemon juice, but you can omit it if you're not a fan. You do you, boo boo!
What can I do with leftover turkey broth and pan drippings from my turkey wings?
You do NOT want to toss out all the flavor from the pan drippings and leftover broth. Instead, save it, freeze it to use later, or make a savory turkey gravy that's perfect for smothered turkey wings. Serve the gravy with your baked turkey wings or as a topping for sides like mashed potatoes or roasted veggies.
Can I use chicken wings or drumsticks in this recipe?
Yes, this recipe would work just fine for chicken too! Chicken legs, wings, thighs, you name it. Keep an eye on the cooking times; chicken pieces will take less time since they're typically smaller than turkey pieces.
Can I add vegetables to this recipe?
Yes! To make this a more complete recipe, feel free to roast some vegetables along with your baked turkey wings. Onions, peppers, potatoes, and carrots would all be a delicious addition.
What are the best sides for turkey wings?
You can serve just about anything with these baked turkey wings. Here are some of my favorite side dishes for baked turkey wings!
For Thanksgiving flavors, serve with:
For a Southern flair, serve turkey wings with:
For everyday, easy sides, try:
The BEST Baked Turkey Wings Recipe Card + Video Tutorial
Okay, Cousins. If you made it this far, it's time to get cookin'! I'm so excited for you to try this easy baked turkey wings recipe; I promise y'all it will change how you look at turkey! I hear from so many readers that family members who hated turkey loved this recipe. It's a tasty turkey dinner without all the stress and effort. You can make it during the holiday season, for a casual Sunday dinner, or just because you feel like it—it's THAT easy!
For more delicious turkey recipes, follow along on all my socials. You can find me on Facebook, Instagram, and Pinterest and subscribe to I Heart Recipes on YouTube. If you loved this recipe, leave a comment below, and don't forget to check out all my cookbooks! I just released a brand new cookbook, Super Soul Food with Cousin Rosie, with many recipes you can't find anywhere else.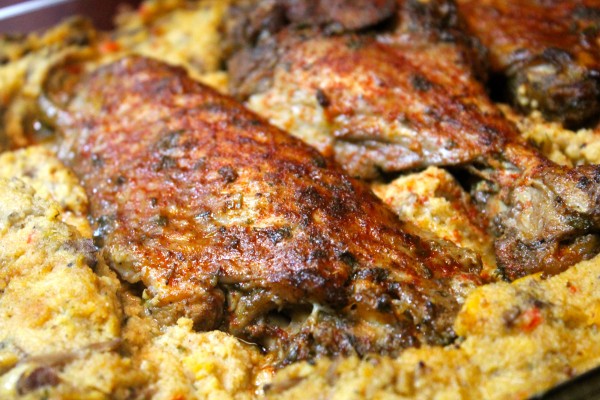 The Best Baked Turkey Wings
These deliciously tender baked turkey wings are seasoned to perfection! This is a perfect holiday dish that's easy to make and will please the whole crowd.
Watch Video
Print Recipe
Pin Recipe
Ingredients
2.5

lbs

turkey wings

cut into sections if bought whole

1

large lemon

cut into 4 wedges

2

tbsp

olive oil

you can substitute it with vegetable oil

2 1/2

cup

turkey or chicken broth

or even water
Instructions
Clean the turkey wings, then rub all surfaces of the wings with the lemon wedges.

Next, place the wings into a large bowl or dish, and drizzle the wings with the olive oil.

Sprinkle all of the seasoning onto the wings, then rub the seasonings all over the wings.

Remove the wings from the bowl and place them into an oiled baking dish.

In the bowl that the wings were in, there will be leftover seasonings. Pour 2 1/2 cups of broth or water into the bowl, stir, then pour the broth or water into the bake dish.

Cover the baking dish and cook the wings in the oven at 350 F for about 1 &1/2 hours to 2 hours

Periodically remove the wings from the oven and baste. Turkey wings are done when cooked to an internal temperature of 165 degrees.

For a crispy skin, remove the wings, uncover the baking dish, and place under the broiler for the last 5-10 minutes of cooking time.
Video
If you loved this recipe,
leave me a review below
. This helps future recipe makers and ensures continued high-quality recipes for years to come!
© 2023 I Heart Recipes