"My easy, traditional Brunswick stew ( aka campfire stew!) made in the slow cooker is a crowd pleaser. I make it with tender bbq pork, shredded chicken, and a variety of frozen vegetables. It's a bowl full of comfort!"
An Easy and Tasty Recipe for Slow Cooker Brunswick Stew!
I love old fashioned Brunswick stew. You know the kind that's loaded with BBQ pork, chicken, potatoes, and okra? OMG, I kid you not, If I could eat it every day I would! Right along with some homemade southern cornbread, and a big tall glass of sweet tea! Honey, I tell you, I would be in heaven!
Unlike many people, I actually make my easy Brunswick year round. That's right, I don't just make this stew during the colder months. I actually make it during the summer too! Why? Well because I seem to always have some leftover BBQ pork. Okay, okay- I make too much BBQ pulled pork ON PURPOSE! Just so that I have an excuse to make this traditional Brunswick stew recipe!
I just know that someone's going to ask me the big question.. So let's clear the air!
"Rosie.. Do you make Georgia Brunswick stew, or do you make North Carolina Brunswick stew?!"
Good question! I actually don't know y'all! Every time that I make my Brunswick Stew my North Carolina friends say it's their way, and my Georgia friends say it's THEIR way.. LOL!! I'm just caught up in a tug of war y'all! I really can't tell you! All I know is that my Brunswick stew is the bomb..
However, since we are on the subject. Tell me..
Where do you think Brunswick stew originated from???
North Carolina OR Georgia?
(Let me know down below in the comment section y'all!)
When I make Brunswick stew, I make in the slow cooker. I simply toss all the ingredients into the slow cooker, stir, and let it cook on low for 4 hours!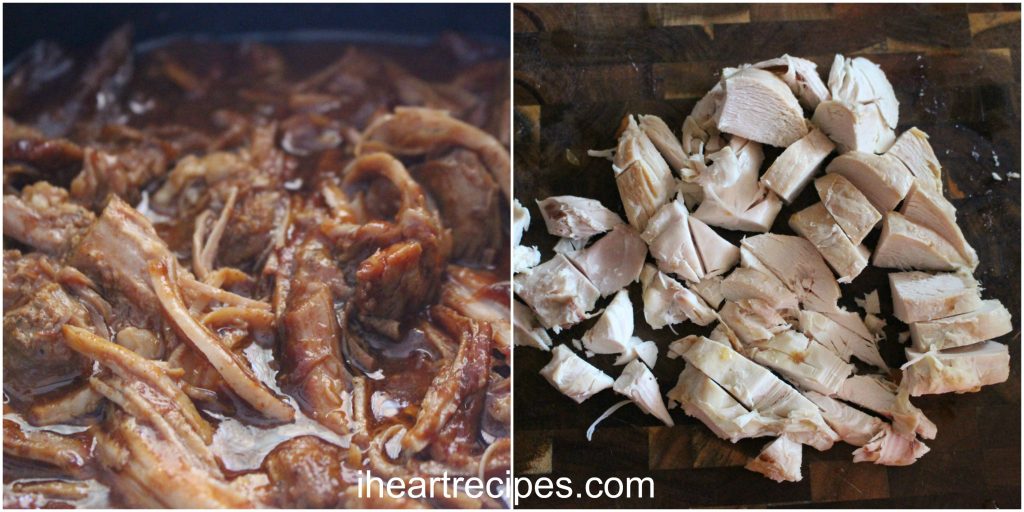 I start off with my infamous slow cooked BBQ Pulled pork, and cooked chicken. The chicken that I use is usually leftovers as well. If I don't have any leftover chicken on hand, I simply use store bought rotisserie chicken( shhhh, don't tell anyone!).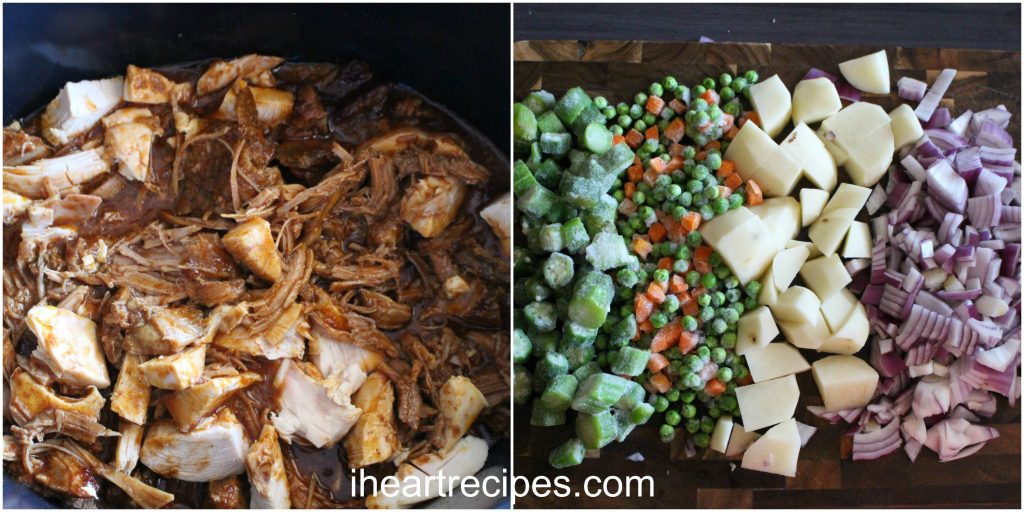 I toss the chicken and bbq pulled pork into my slow cooker, then I gather up my other ingredients such as my potatoes, onions, okra, pea & carrots, and etc.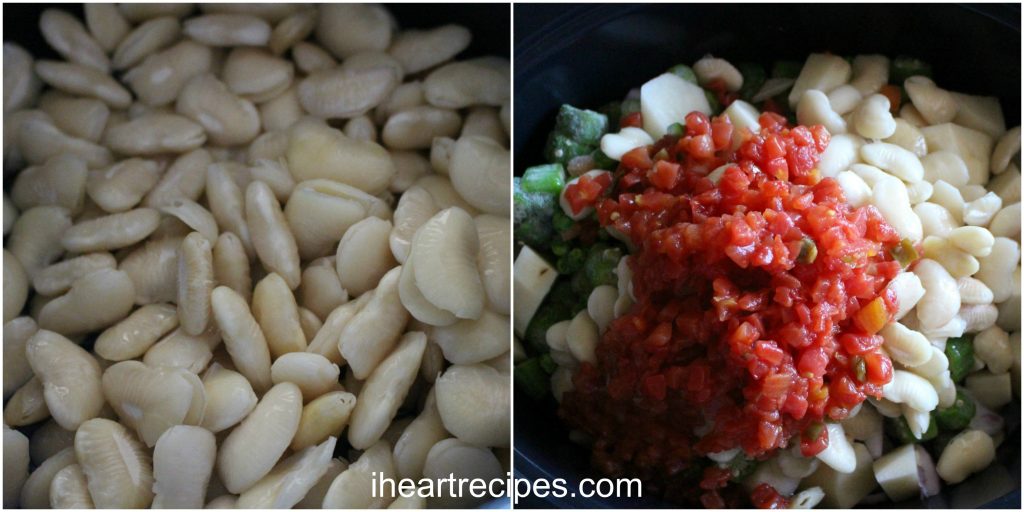 Oh, I almost forgot to mention the Lima Beans! Now when it comes to adding limas to my Brunswick stew I either use frozen limas or dry limas. When using frozen limas, I just toss them into the slow cooker. However, when I use dry limas I soak them overnight prior to making the Brunswick stew!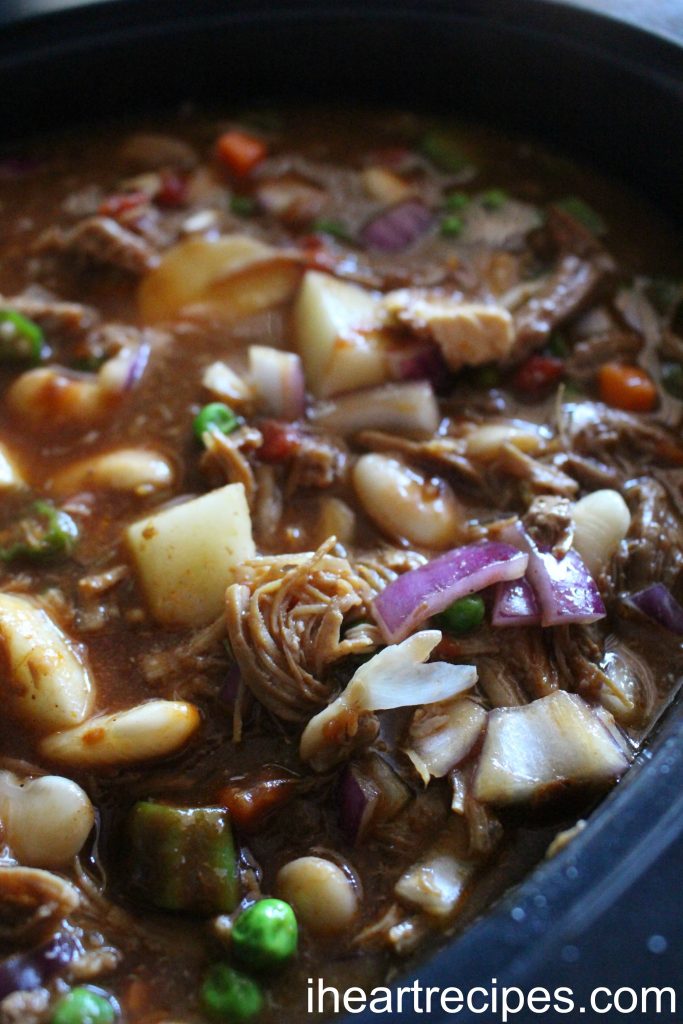 Once everything is in the slow cooker, I stir the ingredients, and let it cook on low for 5 hours.
The outcome?Try my Slow Cooker Brunswick stew for yourself! Print the recipe below, and be sure to leave any recipe request that you make have down below!
While you're here, check out some of my other stew recipes!
BEEF STEW MADE IN THE CROCK-POT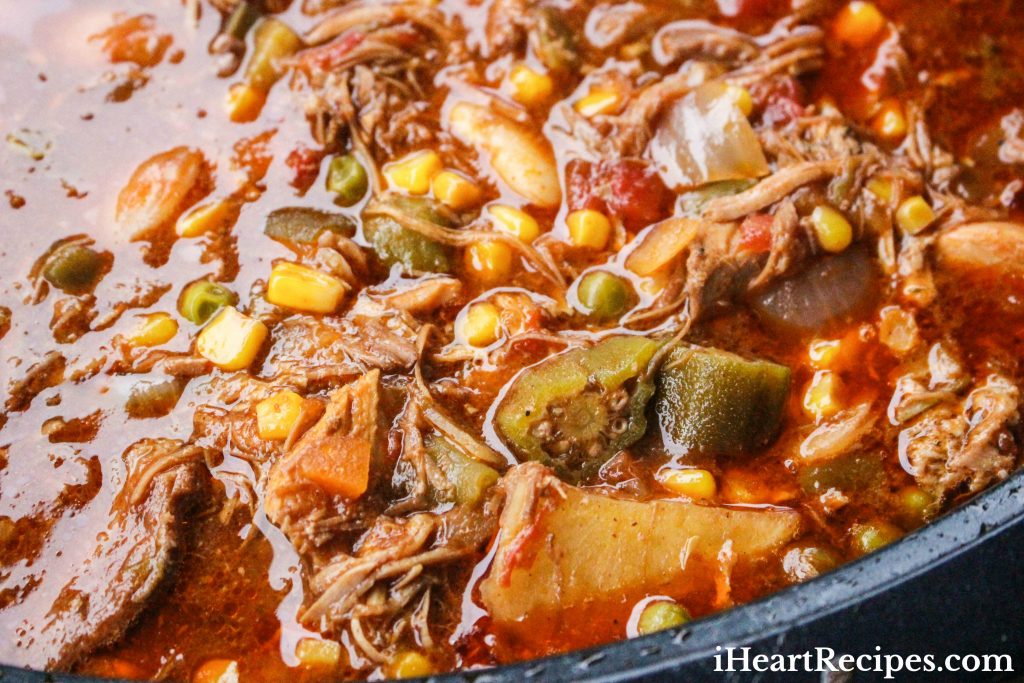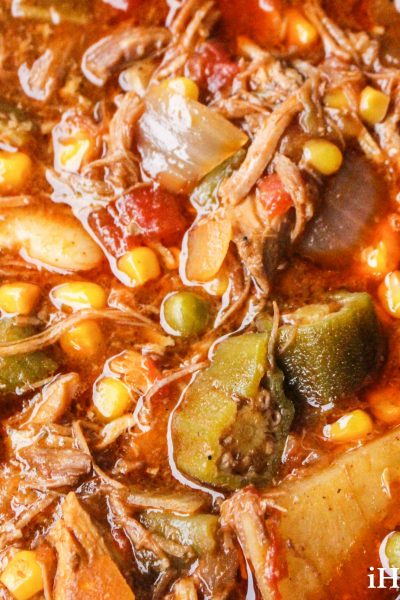 Slow Cooker Brunswick Stew
This delicious and easy Slow Cooker Brunswick Stew is filled with tender pork and chicken, tasty vegetables, all in a savory sauce. A hearty comfort meal your family will love.
Print Recipe
Pin Recipe
Instructions
Add all of the ingredients into a 6qt slow cooker.

Stir the ingredients, and make sure everything is well incorporated.

Put the lid on the slow cooker.

Set the slow cooker on LOW.

Cook for 5 hours.

Serve and enjoy!
If you loved this recipe,
leave me a review below
. This helps future recipe makers and ensures continued high-quality recipes for years to come!
© 2023 I Heart Recipes