Easy fried rice that can be made with leftovers in your refrigerator. This recipe is budget friendly, and can be made in under 30 minutes.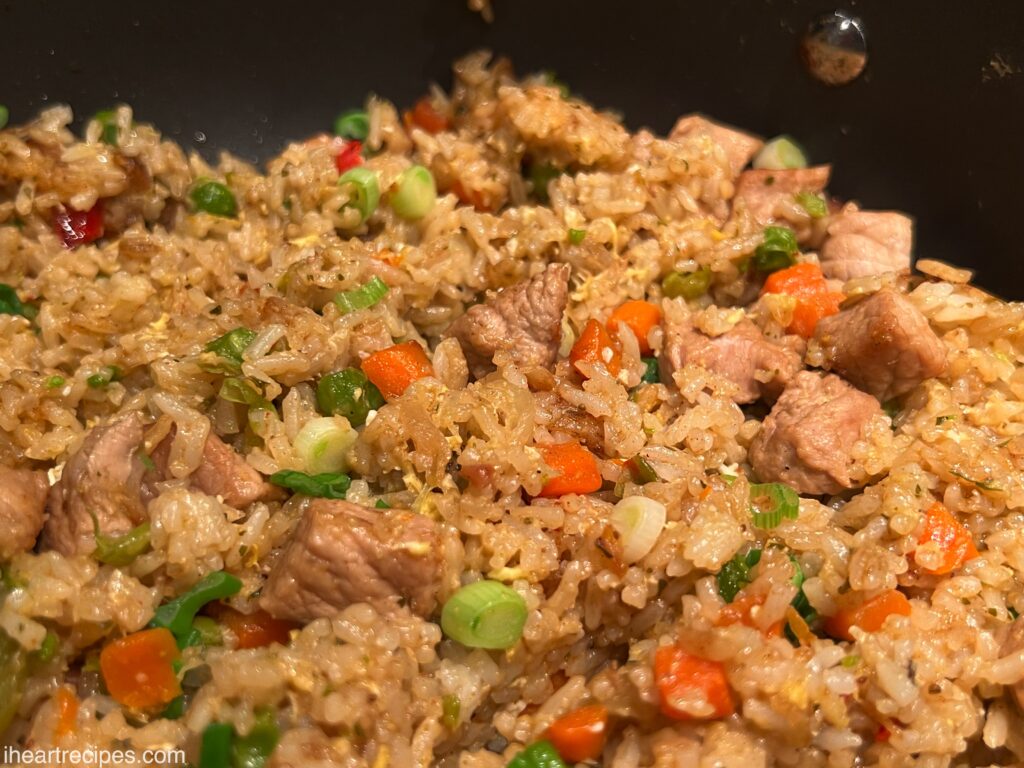 Hey cousins! Recently I tried to use Door Dash to purchase some groceries, and y'all it was definitely a miss. Many of the items that I requested were out of stock, and a lot of items were wrong. I wanted to make fried pork chops for my family, so I tried to purchase some bone in pork chops. However, instead of bringing my bone in pork chops, the dasher brought me these little lean boneless pork chops. Anyone that knows me, know that I don't do boneless. However, I'm not in the business of wasting money, or food. So I decided to make some pork chop fried rice!
I figured that I had to get rid of some of the frozen vegetables in my freezer, so what better way than to make some pork fried rice with the boneless pork chops right? Let me tell you how I did it!
Ingredients used for my Pork Chop Fried Rice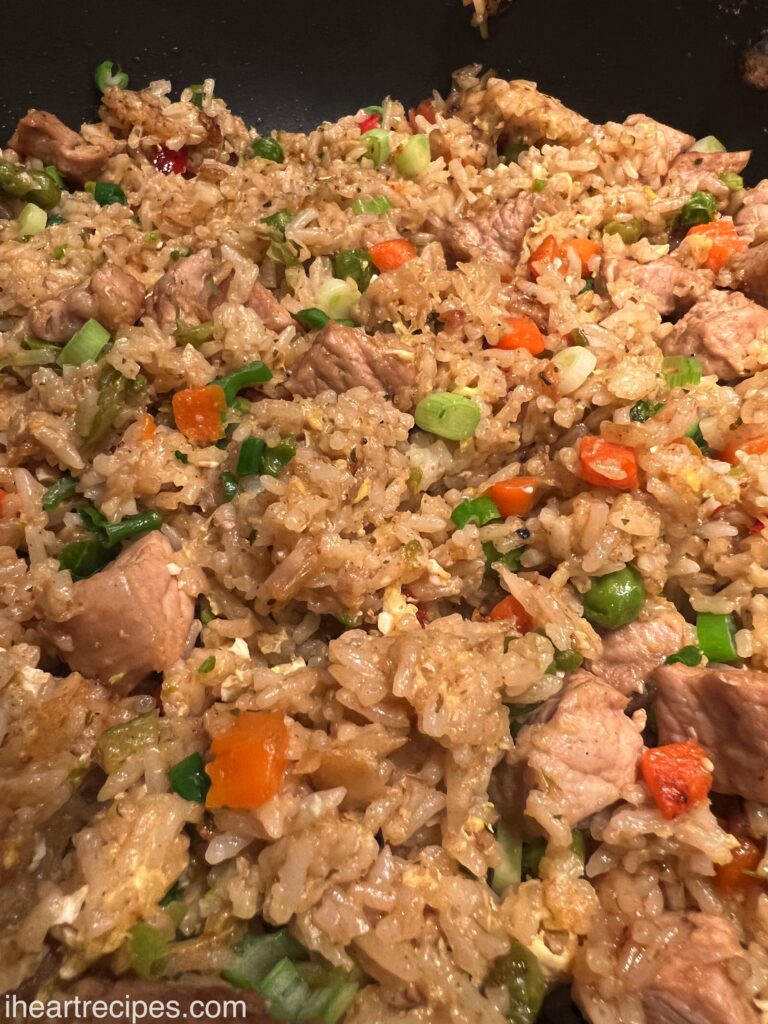 Since we're making fried rice, you'll need rice of course. The same day that I received the boneless pork chops, I had also made too much rice for a different recipe. Instead of letting it go to waste, I just incorporated it into this recipe. Although this rice was made the day of, I prefer using day old rice when making fried rice dishes. I find that " next day rice" tends to be a tad bit grainer, and is easier to incorporate with other ingredients when cooking. The rice that I used for this dish was jasmine rice. However, any rice can be used for this recipe. You can use regular white long grain rice, or brown rice. Whatever rice you have on hand, use it!
Other Ingredients used for this recipe:
Vegetable oil
Pork Chops
Pork Seasoning, I use Rosamae Seasonings Pork Seasoning of course!
Soy Soys
Peas and Carrots
Frozen Peppers, Onions, and Celery Mix- I use the Great Value frozen seasoning mix. If you want to use fresh onions, peppers, and celery you certainly can do so.
Garlic
Sesame Seed Oil
Green Onion
Tools needed to make fried rice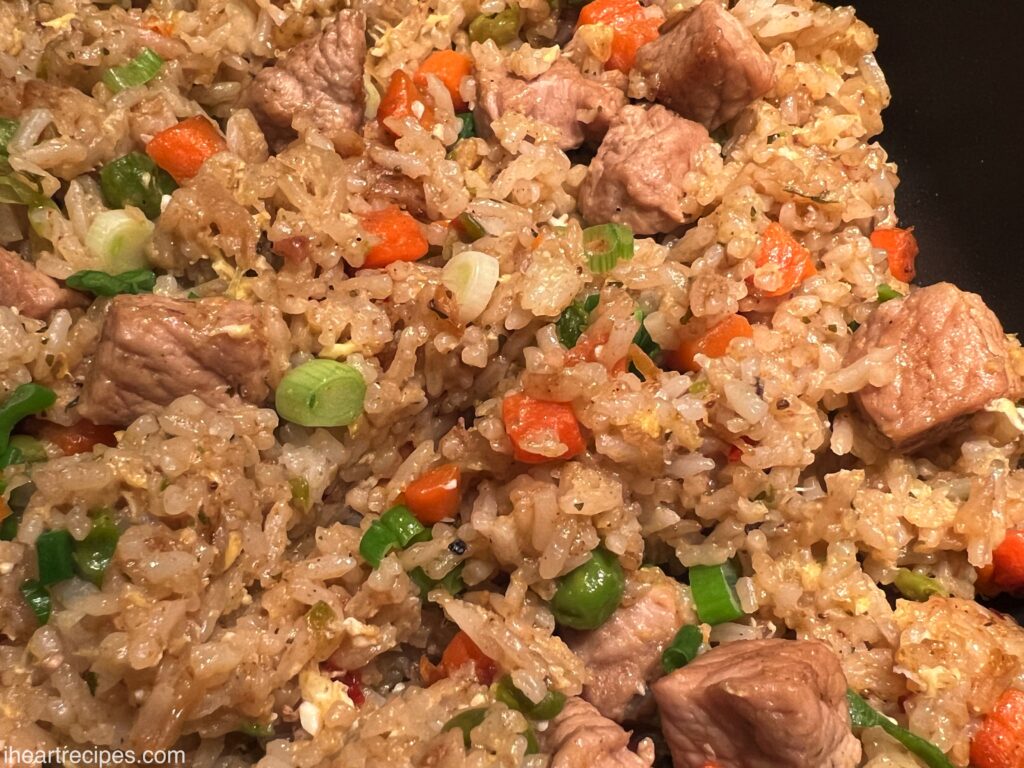 For this recipe I used my wok. However, you can use a regular frying pan as well. For stirring, and mixing I like to use my tongs, as well as a spatula. I like to use tongs so that I can grab, and break the pork apart while frying.
What to serve with fried rice
Whenever I make fried rice I usually serve them with egg rolls, and sometimes I'll make egg foo young. It really just depends on how I'm feeling. You can also serve this fried rice alone.
Check out this recipe, and be sure to share it with you friends!
Pork Chop Fried Rice
Ingredients
2

tbsp

vegetable oil

1

lb

boneless pork chops

cut into cubes

3

tsp

Rosamae Seasonings Pork Seasoning

1

cup

frozen peas snd carrots

1/2

cup

Great Value Seasoning Mix

onions, bell pepper, celery, parsley

2

tsp

minced garlic

3

cups

rice

your preference of rice

2

tbsp

soy sauce

2

tbsp

sesame seed oil

1/4

cup

chopped green onions
Instructions
Drizzle 2 tbsp of vegetable oil into a wok, or large frying pan, then place the pan over medium heat.

Once the oil is nice, and hot start adding in the cubed pork. Season with the pork seasoning, and stir.

Cook the pork until it starts to brown, then start adding in the frozen onions, peppers, and celery. Also add in the frozen peas and carrots.

Stir the ingredients, and cook for about 7 minutes, or until the pork is cooked. Add in the garlic, and mix in.

Next add in the rice, and fold in until everything is well incorporated.

Drizzle in the soy sauce, followed by the sesame seed oil, and stir.

Reduce the heat to medium. Cook the rice for about 3 minutes, then crack open two eggs, and them into the pan.

Stir the eggs in throughout the fried rice. Cook for about two minutes.

Remove the pan from the heat, then stir.