Homemade yet simple cheesecake topped with peach cobbler filling, and a crisp crumble topping!
I mentioned that I would upload more cheesecake recipes, since they are highly requested. A few weeks ago, I shared a Strawberry Shortcake Cheesecake recipe . This time I'm sharing a homemade Peach Cobbler Cheesecake! Never heard of it? That's okay.. Neither, had I before I made it a while back. Just imagine cheesecake topped with peach cobbler. Sounds good right? It's almost like peaches & cream, but better.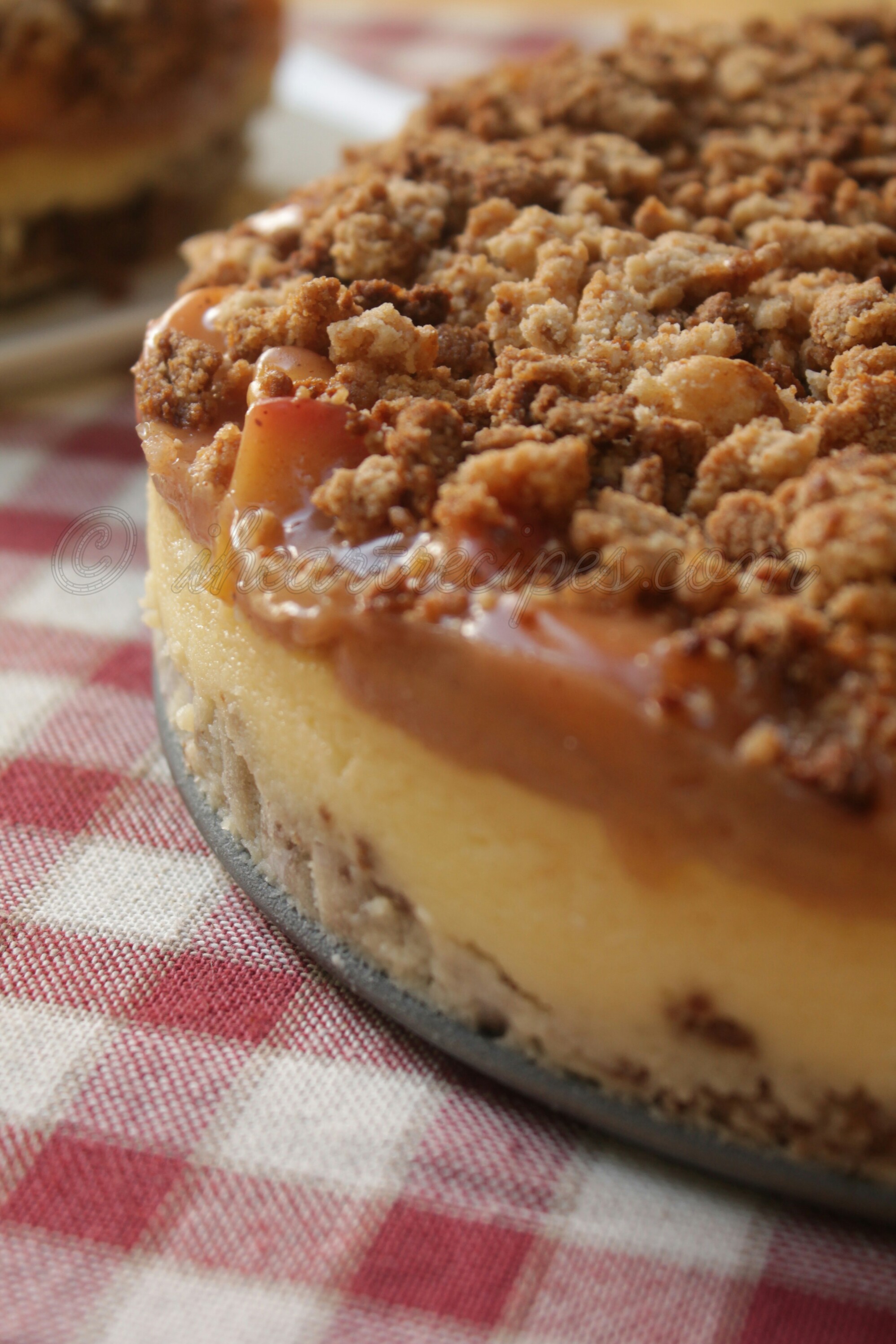 I use my simple cheesecake recipe for the filling, but I jazz up the crust by using Golden Grahams cereal instead of plain ol' graham crackers. If you truly want to use a graham cracker crust you can, but I must say, that you will be skipping out on a darn good cheesecake crust.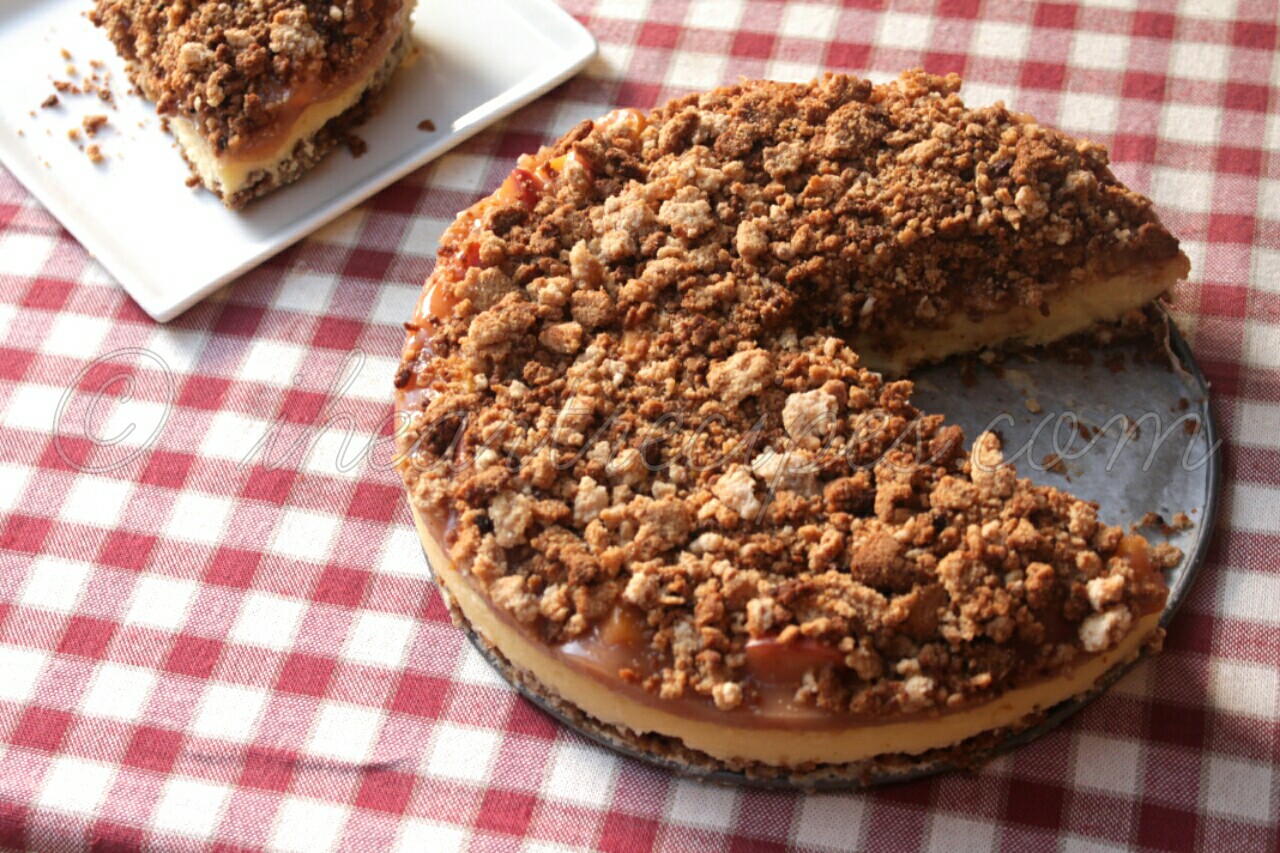 I used fresh peaches for the cobbler part of this recipe, but you can use frozen or canned peaches. If you used canned peaches, you may use the syrup in the can, and cut the sugar for the cobbler in half. Also,  if you do use the syrup from the can, don't add water to the cobbler filling.
Check out how I made this homemade peach cobbler cheesecake!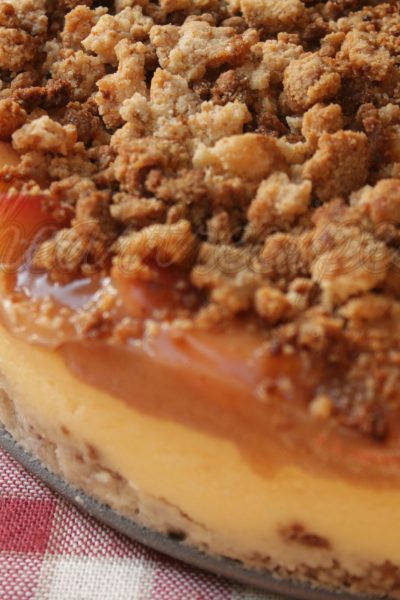 Peach Cobbler Cheesecake
This Peach Cobbler Cheesecake is a delightful combination of two classic desserts: Creamy cheesecake and sweet peach cobbler. The crumb topping adds the perfect crunch!
Watch Video
Print Recipe
Pin Recipe
Ingredients
Cheesecake Filling

16

oz

cream cheese

1½

cup

sugar

1

tbsp

vanilla extract

¼

cup

cornstarch

3

large eggs

½

cup

heavy whipping cream

Crust

4 1/2

cups

Golden Grahams

2

tbsp

Butter

1

tbsp

Ice water

1

cup

White cake mix

Peach Topping

2 -3

large peaches

1

cup

sugar

1

tsp

Ground cinnamon

1/4

tsp

Ground nutmeg

1 1/2

cup

Water

1

tbsp

Butter

1

tsp

Vanilla extract

2 1/2

tbsp

Cornstarch
Instructions
In a large bowl, mix the cream cheese until it's nice and fluffy.

Add the eggs, 1 1/2 cup sugar, and 1 tsp vanilla then mix.

Next pour in 1/2 cup heavy cream, and sprinkle in 1/4 cup cornstarch.

Mix until everything is well combined then set to the side.

Add the Golden Grahams, 2 tbsp butter, and 1 tbsp ice water in the food processor and pulse until they're small crumbs.

Place parchment paper at the bottom of your springform pan, then add in 3/4 of the Golden Grahams mixture.

Press down with your fingertips.

Bake for 5-10 minutes on 350 F.

Remove from the oven, and let cool.

Surround the springform pan with foil, then place into a roaster or large pot.

Pour the cheesecake filling into the springform pan, and smooth out.

Pour about 1 inch of hot water into the roaster, surrounding the cheesecake.

Bake in the oven on 350 F, for 30-35 minutes.

Combine the remaining crumbled Golden Grahams with white cake mix, 1 tbsp ice water, and 2 tbsp butter.

Mix well.

Sprinkle the mixture on a parchment paper lined cookie sheet.

Bake for 5-10 minutes, then crumble, and set to the side.

Next add the diced peaches, 1 cup sugar, 1 tbsp butter, 1 tsp cinnamon, 1/4 tsp nutmeg, and water into a saucepan.

Scoop out about a half cup of the water, then sprinkle in 2 1/2 tbsp cornstarch, and mix until lump free.

Bring the peaches and etc to a boil over medium heat.

Pour in the liquid & cornstarch mixture, stir, and turn off the heat. Let cool.

Add a small amount of vegetable oil to your fingertips and oil the inner top part of the cheesecake pan (this will prevent the cobbler filling from sticking to the pan).

Pour the peach topping on top of the cheesecake.

Next sprinkle the crumb topping on top.

Cover and refrigerate for at least 2 hours.

Serve and enjoy.
Video
If you loved this recipe,
leave me a review below
. This helps future recipe makers and ensures continued high-quality recipes for years to come!
© 2023 I Heart Recipes