This homemade peach cobbler cheesecake is the ultimate decadent dessert! A creamy cheesecake topped with caramelized peaches and a buttery crumble topping.
Hey Cousins! Today, I am sharing one of my favorite desserts with you—a decadent, sweet, Southern-style peach cobbler cheesecake recipe!
I mentioned that I would make more cheesecake recipes since they are so highly requested. I've shared recipes for strawberry shortcake cheesecake recipe, red velvet cake cheesecake, cinnamon roll cheesecake, and even carrot cake cheesecake (just to name a few!). Needless to say, I have many cheesecake recipes, and they're all darn delicious!
Southern Peach Cobbler Meets Creamy Cheesecake
If you've never heard of a peach cobbler cheesecake before, that's okay—neither had I before I made it for the first time! Imagine a creamy, classic New York cheesecake topped with a spiced peach cobbler filling and cinnamon crumble. It's almost like peaches and cream, but better! Sounds good, right?!
Peach cobbler cheesecake tastes like summer in one decadent dessert. The layers of flavor can't be beat! I use fresh, juicy peaches for the cobbler part of this recipe, and I suggest you do the same! Peach season runs from about May to October, depending on where you live. Here in the PNW, California peaches are in their prime towards the end of summer, so it's the perfect time to make this summery peach cobbler cheesecake recipe.
Peach cobbler is a classic Southern recipe, with the first known recipe published as early as 1881! As a Southern Soul Food blogger with deep family roots in the South, it's only fitting that I know a thing or two about peach cobbler. I've made a classic Southern peach cobbler, peach cobbler bread pudding, and even peach cobbler cupcakes. Over the years, I've created my own tricks for making the perfect peach dessert, and I'm sharing them all with you in this peach cheesecake recipe!
Ingredients for Peach Cobbler Cheesecake
First things first, let's talk about what y'all need to make the perfect cheesecake. It may seem like there are a lot of ingredients on this list, but I promise it's worth it! They're all simple ingredients you can easily find at the grocery store (or might already have on hand if you're a seasoned baker). Be sure to check out the recipe card for the complete list and ingredient measurements. Here's what you need:
Peaches: fresh peaches are best, but you can use canned peaches or frozen in a pinch.
Cream Cheese: use full-fat cream cheese for the best flavor.
Granulated White Sugar: to sweeten the cheesecake.
Vanilla Extract: y'all better know I only allow real vanilla into my kitchen—don't let me catch you with that imitation crap! (I promise—the flavor is so worth it.)
Eggs: binds the cheesecake batter together.
Cornstarch: used as a thickener in the cheesecake batter and peach mixture.
Heavy Cream: makes the cheesecake extra creamy (you could sub this out for sour cream).
Golden Grahams Cereal: my own little hack for an extra-tasty graham cracker crust.
White Cake Mix: for the crumble topping.
Cinnamon and Nutmeg: warm spices for the peach cobbler filling.
We also use butter (unsalted) and water throughout this recipe, so make sure you have both on hand! Keep reading for recipe ingredient substitutions and tips to make this recipe even more flavorful.
Best Peaches for Peach Cobbler Cheesecake: Fresh, Canned, or Pie Filling?
Many of y'all ask me, "Cousin Rosie, can I use canned or frozen peaches in this recipe?" So, what do I think are the best peaches to use in this peachy recipe? Fresh is always preferred—you can't beat the flavor of fresh, juicy peaches. But if peaches aren't in season where you live, or you simply can't get your hands on good peaches, you have plenty of options:
You can use canned peaches, and I recommend cutting the sugar for the peach topping in half (from one cup to ½ cup). The syrup from canned peaches is plenty sweet!
You could use frozen peaches. You should fully or partially thaw them before making the peach compote. If you try to caramelize frozen peaches, they'll take too long and might end up burning.
Peach pie filling is a last resort, in my opinion. It's often far too sweet and lacks the flavor and texture we want for this cheesecake recipe.
Equipment Needed for Peach Cobbler Cheesecake
While you don't need any extra special equipment for this recipe, I recommend using a few specific things for the best results.
9-inch round spring form pan: this is the easiest pan to use for a layered cheesecake—and you can use it for so many other recipes as well!
Roasting pan: the cheesecake is baked in a water bath, so a deep roasted pan (or deep baking sheet) is best.
Baking sheet: for baking the crumble topping.
Food processor: the easiest way to mix the cheesecake crust.
Electric mixer: the easiest way to mix the creamy cheesecake filling. If you don't have an electric mixer or a stand mixer, you can whip the cheesecake by hand.
Parchment paper: to line the cheesecake pan so the crust doesn't stick. You can also use a nonstick cooking spray (or both if you want to make sure your cheesecake comes out clean).
Aluminum foil: prevent water from the water bath from seeping into the pan when baking. If you don't wrap the pan, you'll have a soggy crust!
How to Make the Perfect Peach Cobbler Cheesecake Recipe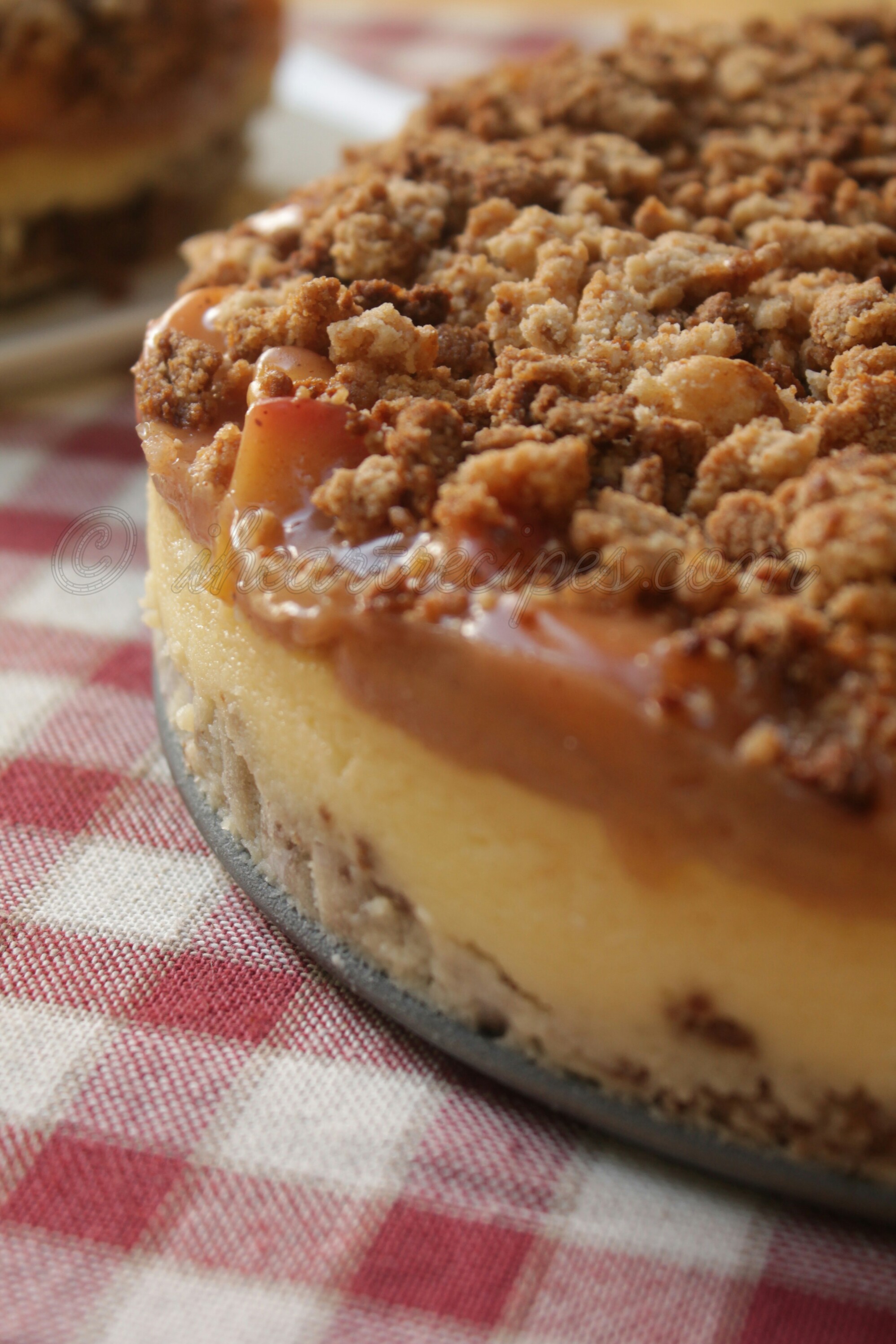 Okay, okay, enough chitter chatter—let's get down to how to make this delicious peach cobbler cheesecake recipe! It's a labor of love, but we'll break it down into three main parts: the crust, the creamy cheesecake filling, and the spiced peach cobbler topping. (Pro-Tip: follow my recipe as written in the recipe card below! These instructions are just a quick overview with some handy tips and tricks.)
First, Make a Classic Cheesecake Filling
In a large bowl, beat the cream cheese with an electric hand mixer until it's nice and creamy. Then mix in the heavy whipping cream and cornstarch until combined.
Pro-Tip: mix these ingredients on low speed to not make a mess, and don't forget to scrape down the sides of the bowl!
Second, Make the Graham Cracker Crust
This isn't your typical cheesecake crust with graham cracker crumbs. I use Golden Grahams cereal, which are essentially small, sweet honey graham cracker squares. You certainly can make a traditional graham cracker crust if you choose, but you will be skipping out on a darn good cheesecake crust!
Add the crust ingredients (cereal, butter, and ice water) into the food processor and pulse to combine. Then, spread the crust along the bottom of the springform pan and bake the crust to set it.
Pro-Tips: prep the bottom of the pan with cooking spray and parchment paper for the best results. Make sure the crust is cool before adding the cheesecake batter!
Next, Prepare to Bake the Cheesecake
First, you need to wrap the bottom of the spring form pan with foil to prevent any leaks from the water bath. Then, put the cheesecake into the roasting pan and pour the water around it—you'll need about 1 inch of water.
Pro-Tips: use hot water for the water bath. If you have a wire rack, use that to keep the cheesecake slightly elevated in the pan. You'll know the cheesecake is done when it's golden brown on top and just slightly jiggly in the center (don't worry—it will set!).
Finally, Prepare the Peach Cobbler Topping and Buttery Crumble
In a small bowl, combine the ingredients (the remainder of the crust mixture, white cake mix, melted butter, and ice water) to make the crumble. Bake the crumble on a baking sheet until crispy.
To make the peach topping, caramelize the peaches in a pan with sugar, water, butter, and cinnamon. You'll also add a cornstarch mixture to thicken up the filling.
Pro-Tips: to save time, you can cook the crumble topping with the cheesecake, but the steamy water bath might change the texture. It's best to bake the crumble afterward and avoid opening the oven door while the cheesecake cooks.
Once the baked cheesecake and the filling have both cooled down, pour the peach cobbler filling over the top of the cheesecake, then add the buttery crumble topping. Chill the finished peach cobbler cheesecake in the fridge for at least two hours before serving!
Peach Cobbler Cheesecake Video Tutorial
After all those steps, do you need a visual guide? Watch me make my homemade peach cobbler cheesecake recipe from start to finish below! If you're new to I Heart Recipes, be sure to subscribe to my YouTube channel to find a whole collection of recipe videos.
Peach Cobbler Cheesecake Recipe Variations & FAQs
Earlier, I talked about some ingredient substitutions you can make to tweak the flavors of this recipe. Every cook has their preferred recipe, and while I think this peach cobbler cheesecake is literally the perfect dessert, here are some variations to make it your own.
If you don't have heavy cream on hand, some good substitutes are sour cream or half and half. I don't recommend leaving the cream out because it's crucial in making the cheesecake extra creamy and luscious!
Use brown sugar instead of white sugar when caramelizing the peaches for a deeper flavor.
Cinnamon and nutmeg are my go-to spices for the peach mixture, and I don't recommend leaving them out. You could also add clove, ginger, or even pumpkin pie spice if you want to kick up the flavor.
If you use canned peaches instead of fresh, you'll need one 16-ounce can to equal the same amount of fresh peaches. When making the peach mixture, omit the water and only use ½ cup of sugar to make up for the syrup from the canned peaches.
What does a water bath do for cheesecake?
Baking the peach cobbler cheesecake (or any classic cheesecake recipe, for that matter) with a water bath creates steam in the oven, which wafts around the cheesecake and keeps it perfectly moist. Without it, your cheesecake might crack, cook unevenly, or be overly dry when done cooking. It's a small step that makes a huge difference in the flavor and texture of the cheesecake.
Always use room-temperature ingredients!
Bringing all the ingredients—the cream cheese, eggs, butter, etc.—to room temperature helps everything mix easily and without lumps. It also prevents overmixing, which could lead to a dense and dry cheesecake… ain't no one got time for that!
Can I make peach cobbler cheesecake ahead of time?
Yes! You need to chill this cheesecake for at least two hours for the best results, but it will be even better if made a day ahead. To store any leftovers, wrap them with plastic wrap or tin foil or store them in an airtight container in the fridge for 3-5 days. This peach cheesecake also freezes well and can be thawed on the countertop or in the fridge before enjoying.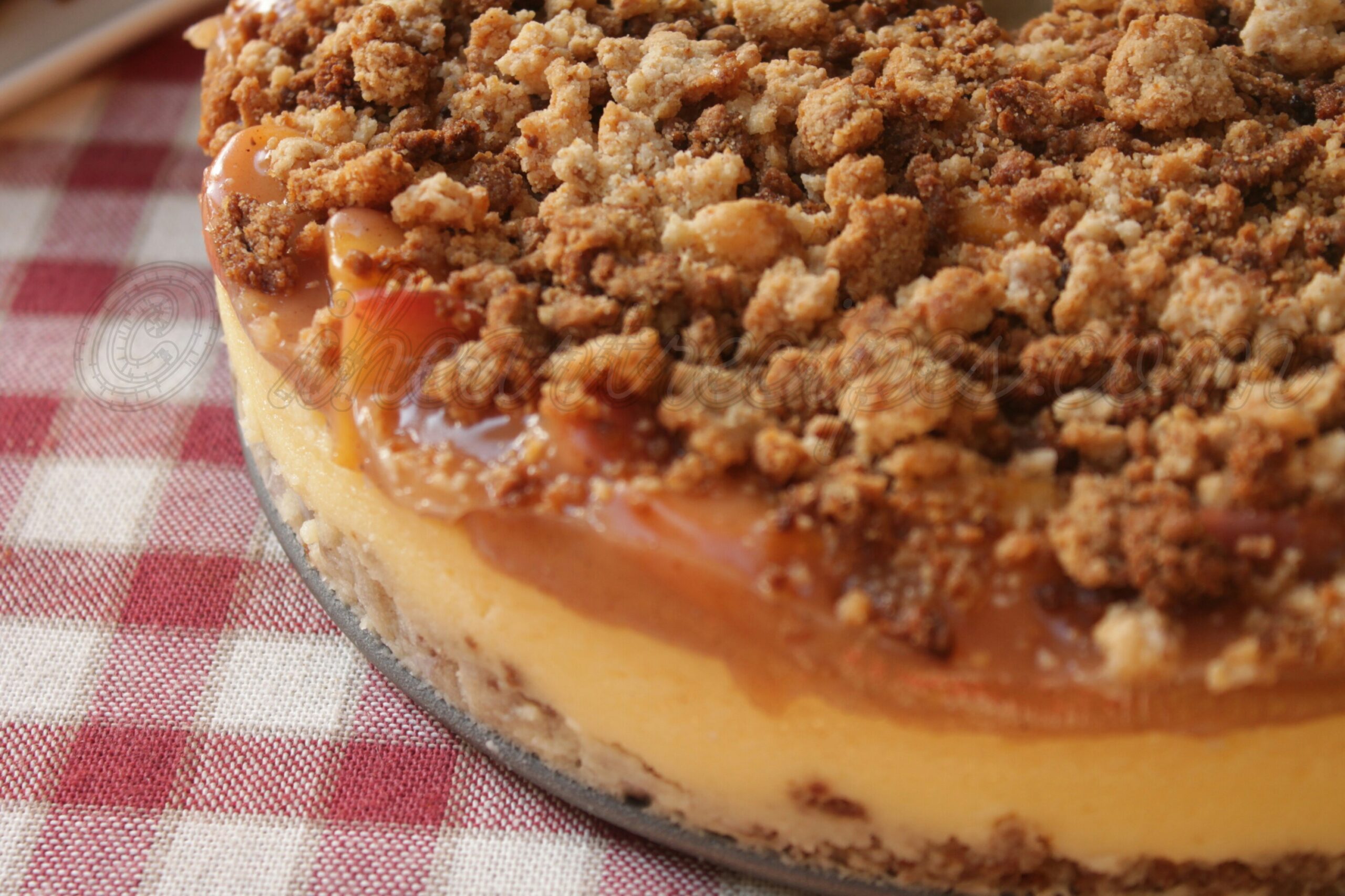 My peach cobbler cheesecake is one of my favorite desserts, so I hope you try this recipe and love it as much as I do! Drop a comment down below and let me know what you think.
Loved this recipe? Don't forget to share + save on Pinterest! You can follow along with everything Rosie and I Heart Recipes on social media—you can find me on Facebook, Instagram, and Pinterest, and you can pre-order my next upcoming cookbook, A Cousin Rosie Holiday now!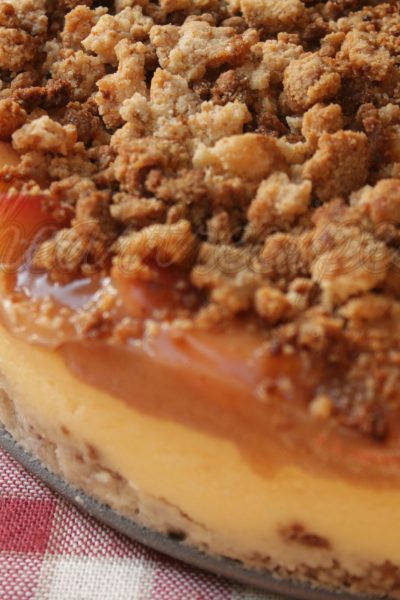 Peach Cobbler Cheesecake Recipe
This homemade peach cobbler cheesecake combines two favorite desserts. Its decadent and sweet with layers of creamy cheesecake, a buttery crumble, and fresh caramelized peaches.
Watch Video
Print Recipe
Pin Recipe
Ingredients
Instructions
Make the Cheesecake Filling:
In a large bowl, mix the cream cheese until it's nice and fluffy.

Add the eggs, sugar, and vanilla, then mix.

1½ cup sugar,

1 tbsp vanilla extract,

3 large eggs

Next, pour in the heavy cream and sprinkle in the cornstarch.

½ cup heavy whipping cream,

¼ cup cornstarch

Mix until everything is well combined, then set to the side.
Make the Golden Grahams Crust:
Add the Golden Grahams, melted butter, and ice water in the food processor and pulse until they're small crumbs.

4 1/2 cups Golden Grahams,

2 tbsp Butter,

1 tbsp Ice water

Place parchment paper at the bottom of your springform pan, then add in 3/4 of the Golden Grahams mixture. Press down with your fingertips to make a smooth layer.

Bake for 5-10 minutes on 350 F.

Remove from the oven, and let cool.
Baking the Cheesecake:
Pour the cheesecake filling into the springform pan over the cooled crust, then smooth it out.

Surround the springform pan with foil, then place into a roaster or large pot.

Pour about 1 inch of hot water into the roaster surrounding the cheesecake.

Bake in the oven at 350 F for 30-35 minutes.
Make the Cobbler Crumble Topping:
Combine the remaining crumbled Golden Grahams with white cake mix, 1 tbsp ice water, and 2 tbsp butter. Mix well.

1 cup White cake mix,

1 tbsp Ice water,

2 tbsp Butter

Sprinkle the mixture on a parchment paper lined cookie sheet.

Bake for 5-10 minutes, then crumble and set to the side.
Make the Peach Topping:
Next, add the diced peaches, sugar, butter, vanilla, cinnamon, nutmeg, and water into a saucepan.

2 -3 large peaches,

1 cup sugar,

1 tsp Ground cinnamon,

1/4 tsp Ground nutmeg,

1 1/2 cup Water,

1 tbsp Butter,

1 tsp Vanilla extract

Scoop out about a half cup of the water, then sprinkle in 2 1/2 tbsp cornstarch, and mix until lump-free.

Bring the peaches to a boil over medium heat, stirring frequently to avoid burning.

Pour in the cornstarch mixture, stir until the mixture thickens, and turn off the heat. Let cool.

Add a small amount of vegetable oil to your fingertips and oil the top-inner part of the cheesecake pan (this will prevent the cobbler filling from sticking to the pan).

Pour the peach topping on top of the cheesecake, then smooth it out.

Sprinkle the crumb topping on top.

Cover and refrigerate for at least 2 hours.
Video
If you loved this recipe,
leave me a review below
. This helps future recipe makers and ensures continued high-quality recipes for years to come!
© 2023 I Heart Recipes