How to make homemade Jamaican Jerk Chicken Completely from scratch!
Hey friends!! It's been a while since I have uploaded a Caribbean or Soul Food Recipe. I thought that I'd hit you all with some island flavor, and share my revised Jamaican Jerk Chicken Recipe. Now if you've been watching me for a while, you make have remembered that I shared a recipe for a homemade jerk marinate a few months ago. However, the video was not the best & I revised the recipe so here I am with a better video & tastier recipe for Jamaican Jerk Chicken.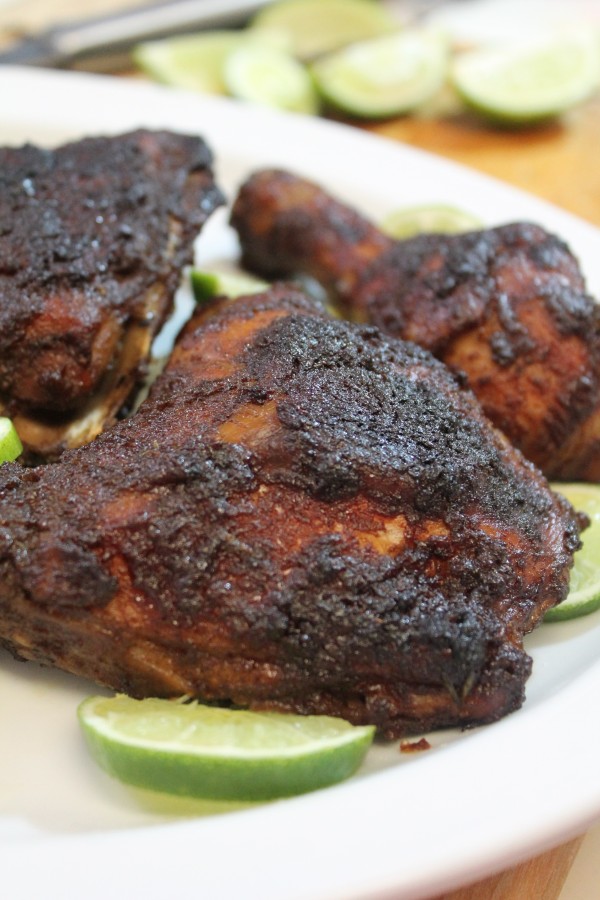 Jamaican Jerk Chicken, the REAL DEAL stuff, is usually really spicy. The spice usually comes from a scotch bonnet pepper. I personally can't tolerate extreme heat so I don't make my Jerk Chicken spicy, I make my jamaican jerk chicken on the mild side.
Also, scotch bonnet peppers are super hard to find in my area.. I use Habanero Peppers. If habanero peppers are too hot for you, use something more mild… Perhaps jalapenos..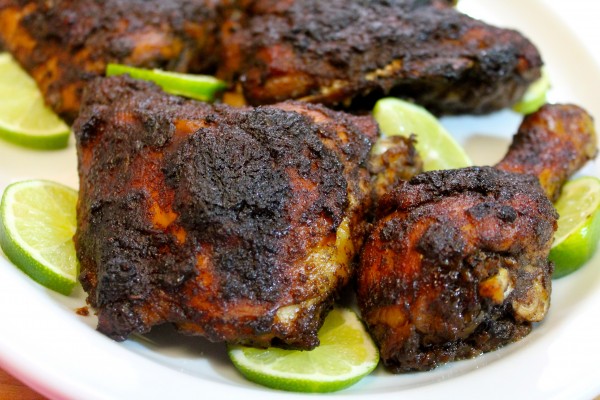 Like many of my recipes this Jamaican Jerk Chicken has a twist. I love adding a little sweetness to my Jerk, so I add a bit of Mango and Pineapple Juice Concentrate. The outcome is unbelievable! It is the perfect combination of sweet & spicy.
In the video, posted below, I baked the chicken. You CAN use this marinate and grill the chicken if you choose. Also, I used chicken thighs and legs. Of course you can use any other chicken pieces ( whether it be boneless or skinless), you just have to keep in mind that the cooking time will change.
 Ingredients
2 lbs chicken – I used legs and thighs
1 tbsp ground all spice
1 tsp ground cinnamon
1 tsp onion powder
1 tsp garlic powder
1/4 tsp ground nutmeg
1/2 tsp ground ginger
2 tbsp extra virgin olive oil
2 tsp salt
1 tsp ground black pepper
3 green onions, chopped
1 small onion, chopped
2 tbsp fresh lime juice
2-3 habanero peppers
1/2 cup Hawaiian Own Mango Pineapple frozen juice concentrate
4 -6 sprigs of fresh thyme
Video Instructions