This is the best holiday ham recipe! A baked ham coated with sweet pineapple and brown sugar glaze decorated with pineapples and cherries. This ham will be the star of your holiday table.
Hey Cousins! Today, I am sharing a new-and-improved recipe for baked holiday ham: a sweet pineapple and brown sugar glazed ham! In my house, no holiday is complete if I don't have pineapple ham on the table. I seriously believe everyone should have at least one baked ham recipe in their collection. So today, I'm sharing my pineapple and brown sugar ham recipe!
If you've been around for a while, you know I've shared a few different brown sugar ham recipes before (my first was a pineapple glazed ham, and my second was this brown sugar baked ham). Well, this one is the best of the best! I literally combined all my ham recipes into one and made the perfect homemade pineapple glaze/sauce. This pineapple ham recipe is now my go-to during the holidays. The best part? It's so freaking easy to make. The "hardest" part is garnishing the ham with pineapples and cherries. The sweet glaze has all your favorite ingredients, like honey, pineapple juice, brown sugar, and the perfect combination of holiday spices.
Are you drooling yet?! Now that I've talked this pineapple brown sugar ham up a bit, let me show you how to make it!
Baked Pineapple Glazed Ham Video Tutorial
Visual learner? I got you, boo boo! Below, you can watch a quick 3-minute video tutorial showing exactly how I make my pineapple and brown sugar glazed holiday ham. Keep reading for a breakdown of ingredients, directions, and tips to perfect this already crazy simple recipe.
Ingredients for Baked Ham with Pineapple and Brown Sugar
Y'all know Cousin Rosie is all about the simple ingredients here at I Heart Recipes. This pineapple ham recipe is no exception! Cooking for the holidays is challenging enough. Here's a quick overview of everything you need to make a baked pineapple and brown sugar ham.
Pro-tip: Remember to check the recipe card below for exact ingredient measurements!
Whole Ham: I use fully cooked, smoked spiral-cut ham.
Pineapple Rings and Maraschino Cherries: we'll use the pineapple rings and cherries to decorate the ham and the juices to create the brown sugar glaze.
Brown Sugar: the base of the brown sugar glaze. Either light or dark brown sugar will work!
Honey & Yellow Mustard: these two ingredients give sweet and tangy notes to the brown sugar pineapple glaze.
Spices for Glaze: where the real holiday flavors come in! For my brown sugar glaze, I use ground nutmeg, ground cinnamon, ground clove, and ground ginger. You can adjust according to your preferences, but I think this is the winning combo!
Cornstarch: helps to thicken the pineapple brown sugar glaze into a sweet sauce.
What's the best kind of ham to use for baked pineapple ham?
Picking the perfect holiday ham can be stressful. You have to consider oven space, cooking time, how much ham you need for each guest… and so many other thoughts! Don't stress about it! This baked pineapple and brown sugar ham recipe works with any kind of holiday ham you choose.
Typically, you'll see three main types of hams in grocery stores around the holidays:
City hams are sold fully cooked, sometimes smoked, and cured. There are many different types and a very popular holiday ham option!
Fresh hams are exactly what they sound like—fresh, uncooked hams. You'd likely have to go to a specialty butcher for this kind of ham.
Country hams are cured, aged, and sold uncooked. You'll mostly find these in more Southern recipes.
You'll most likely buy a city ham—that's what I used for this recipe! A smoked, fully cooked spiral ham. You can buy city hams whole (uncut) as well. There are pros and cons for each. Whole hams retain moisture better than a spiral cut but must be cooked/reheated longer. Spiral-cut hams can be moist and juicy when you cook them with a glaze like we're doing in this recipe.
How much ham do you need per person?
If you go with a bone-in ham, plan on serving 1/3rd to 1/2 of a pound of ham per person. For boneless ham, plan on a little less—1/4th to 1/3rd of a pound per person.
Overall, the type of holiday ham you buy is completely up to you! However, remember that different hams will require different cooking times based on the size and if they're pre-cooked or uncooked. So, carefully select a ham, read the package directions, and plan your holiday cooking schedule accordingly!
How to Make a Pineapple and Brown Sugar Baked Holiday Ham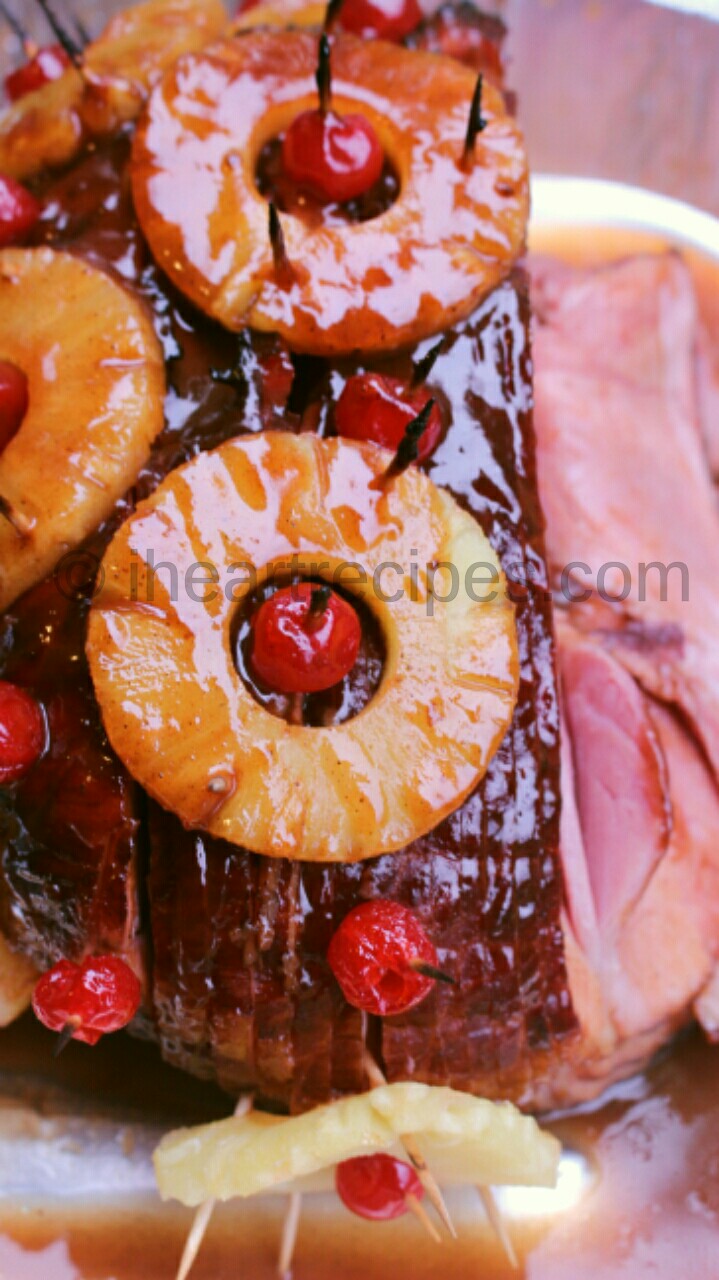 We're going to break this recipe down into three easy sections: garnishing the ham, making the pineapple and brown sugar glaze, and baking the ham. It really is that simple!
Step 1: Decorate the Ham with Pineapple and Cherries
Now, this might seem a little extra, but honey… Cousin Rosie ain't nothin' if not extra! Honestly, covering the ham with pineapple rings and maraschino cherries infuses even more flavor into the ham and makes it looks extra pretty when you serve it up.
First, drain the juice from the pineapple slices and cherries. You can use canned pineapple slices or fresh pineapple slices, but either way, you need pineapple juice! Then place the pineapple rings all over the surface of the ham, securing using toothpicks. Finally, pin a cherry into the center of each pineapple ring and around the open spaces on the surface of the ham, and then you've got a perfectly garnished, ready-to-glaze ham!
Step 2: Make the Pineapple Brown Sugar Ham Glaze
The next step is to make the glaze. In a large bowl or measuring cup, combine the pineapple juice, cherry juice, brown sugar, mustard, honey, and spices, then mix well. Next, add the cornstarch and stir until combined.
Transfer the sauce to a medium saucepan and bring the sauce to a boil over medium-high heat, whisking constantly. As the sauce comes to a boil, it will begin to thicken into a perfect glaze. This will take about 3-5 minutes, and then it's done!
Step 3: Glaze and Bake the Ham
Your ham should be prepped and ready to go in a large roaster pan (I use these large aluminum pans). The last step is to pour the hot pineapple and brown sugar ham glaze over the ham, pineapples, and cherries, making sure the surface of the ham is nicely covered.
Put the ham into a preheated oven at 325 degrees for 30 minutes (or half the baking time—depending on the size of your ham). Once that time is up, take the ham out of the oven and baste it with the glaze and juices at the bottom of the roaster pan. You want to make sure all that delicious flavor is infused directly into the ham.
Return the ham to the oven for the remainder of the cooking time, about 20-30 minutes. Let the finished ham rest for 15 minutes before serving.
Baked Pineapple and Brown Sugar Ham Recipe Tips & FAQs
What I love about this recipe, aside from how easy it is to make, is how you can adjust it to your tastes! Y'all know I always say follow the written recipe, but even the best home cooks have their own recipe secrets they love to share. So, here are some pro tips and FAQs to make the most delicious holiday pineapple glazed ham possible.
Substitute Ingredients to Fit Your Tastes
You may not love every ingredient on my list, and that's okay! Substitutions are okay in some cases. Here are some subs you can make without altering the recipe too much:
Sub out honey for maple syrup.
Use Dijon mustard or another kind of mustard you love instead of yellow mustard in the glaze.
Adjust the spices. Allspice is a popular seasonal spice to include. Add some heat with a little bit of red pepper flake to counterbalance the sweetness.
Add bourbon to the sauce to make it a bourbon brown sugar glaze.
Skip the pineapple and cherry garnish all together if that's not your thing (or if you're short on time).
Need to conserve oven space? Try my similar slow cooker brown sugar glazed ham recipe!
Keep Spiral Cut Ham from Drying Out
To keep the spiral-cut ham from drying out, cover the ham during the second half of baking time. Starting the ham off UNCOVERED allows the glaze to caramelize and seep into the spiral cuts, infusing the ham with sweet and tangy flavors. To avoid burning and loss of moisture, use aluminum foil loosely tented over the ham to finish baking.
Additionally, basting the ham in the middle of the baking time helps to keep the ham perfectly moist. Use a large spoon or baster to drizzle the pan juices over the top of the ham. Finally, let the ham rest before slicing and serving.
How Long Should You Bake Ham?
Again, baking time will depend on the size of your chosen ham, and if it's pre-cooked or uncooked. However, ham should be cooked to a minimum internal temperature of 140 degrees Fahrenheit for safety. Baking time can range from 10 minutes per pound up to 40 minutes per pound. Store-bought ham should always come with cooking or reheating instructions, so make sure to carefully read any package directions before starting!
What to Do with Leftover Holiday Ham
The possibilities are endless when it comes to leftovers! While you may think this pineapple and brown sugar glazed ham is too sweet for any leftover dishes, let me prove you wrong. Some delicious leftover ham recipe options include:
What to Serve with Pineapple and Brown Sugar Glazed Ham
Serve this ham recipe with your favorite holiday side dishes. Anything from cornbread and stuffing to green bean casserole, mashed potatoes, mac and cheese, candied yams, or coleslaw would pair well with baked ham. Don't forget homemade dinner rolls, of course!
Ready to make the most delicious holiday ham recipe? Print out the recipe card below, watch my video tutorial, and get cookin'! This baked pineapple glazed ham is perfect for any holiday, from Thanksgiving and Christmas to Easter, New Year's, you name it! I swear, it'll be the best holiday ham recipe you've ever tried.
If you make this recipe, let me know in the comments below! Don't forget; you can also follow along with all things Rosie and I Heart Recipes by following me on Facebook, Instagram, and Pinterest, and check out all my cookbooks! I just released a brand new cookbook, Super Soul Food with Cousin Rosie, with many recipes you can't find anywhere else.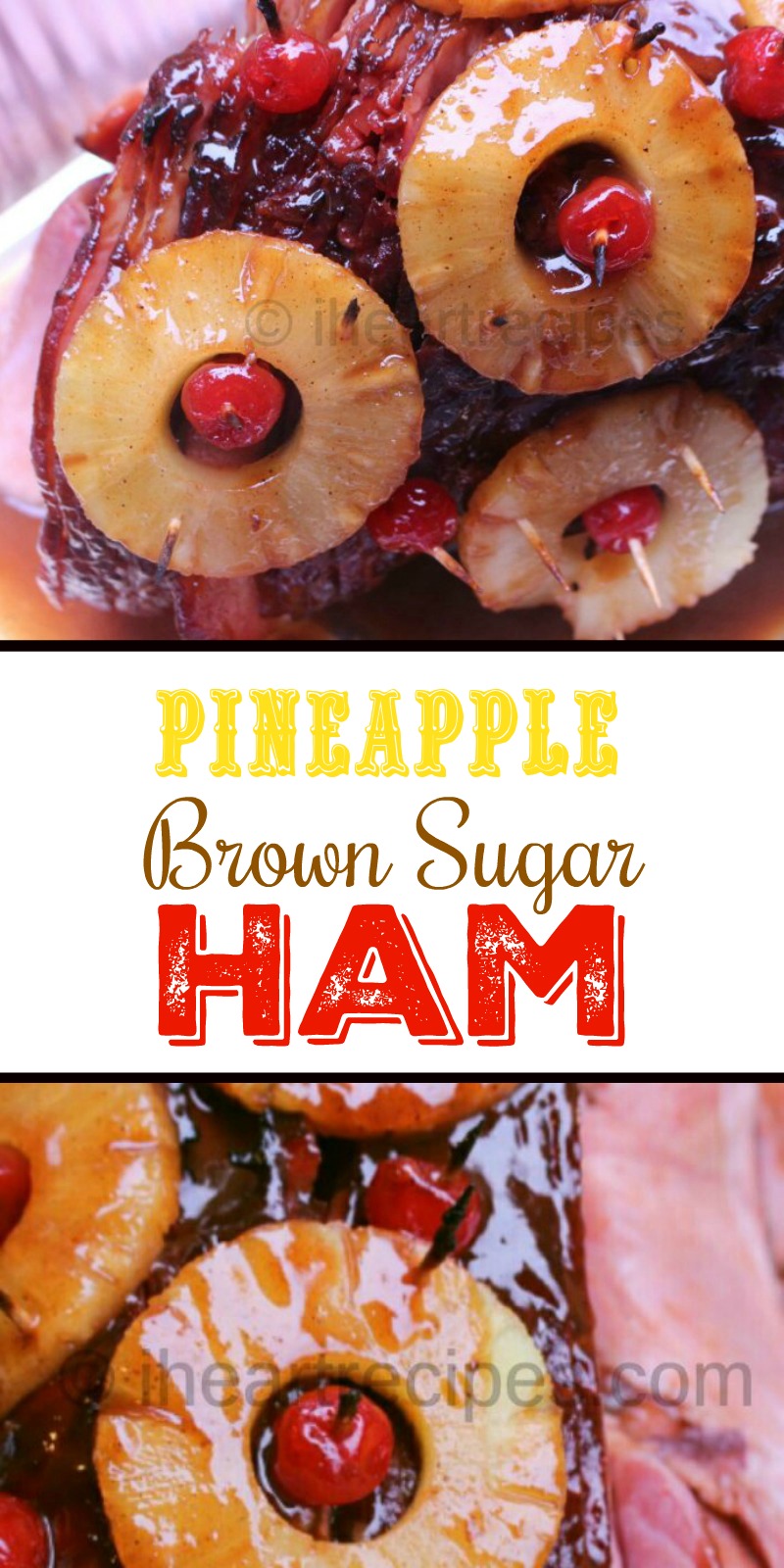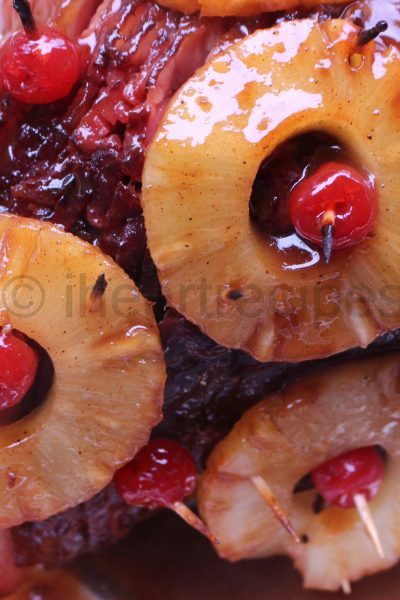 Baked Ham with Pineapple and Brown Sugar Glaze
This holiday ham is a showstopper, glazed with sweet brown sugar and from the added sugars from the fruit. This ham is as good to eat as it is to look at. Try this recipe today!
Watch Video
Print Recipe
Pin Recipe
Ingredients
For the Ham:
8-10

lb

smoked ham

fully cooked

20

oz. can

pineapple rings

save juice

6

oz. jar

maraschino cherries

save juice
Pineapple Brown Sugar Glaze:
Instructions
Preheat oven to 325 F.

Make sure that the ham is completely thawed.

Decorate the ham with pineapples & cherries, using the toothpicks to hold everything in place.

In a large measuring cup or bowl, combine the pineapple juice, cherry juice, brown sugar, mustard, honey, ginger, clove, nutmeg, and cinnamon.

Stir everything, then sprinkle in the cornstarch.

Whisk everything until lump free, then transfer the sauce/glaze to a saucepan.

Bring the sauce to a boil over medium-high heat and whisk constantly.

Let boil for about 3-5 minutes, then turn the heat off.

Pour the glaze all over the ham.

Bake the ham, uncovered, for 30 minutes.

Remove the ham from the oven and baste and extra glaze and pan juices.

Place back in the oven for 20-30 minutes (still uncovered).

Remove from the oven and let the ham sit for about 15 minutes.
Video
If you loved this recipe,
leave me a review below
. This helps future recipe makers and ensures continued high-quality recipes for years to come!
© 2023 I Heart Recipes