This easy pot roast recipe is definitely a crowd pleaser! I make this oven baked roast in my dutch oven, but you can also make it in the CrockPot as well!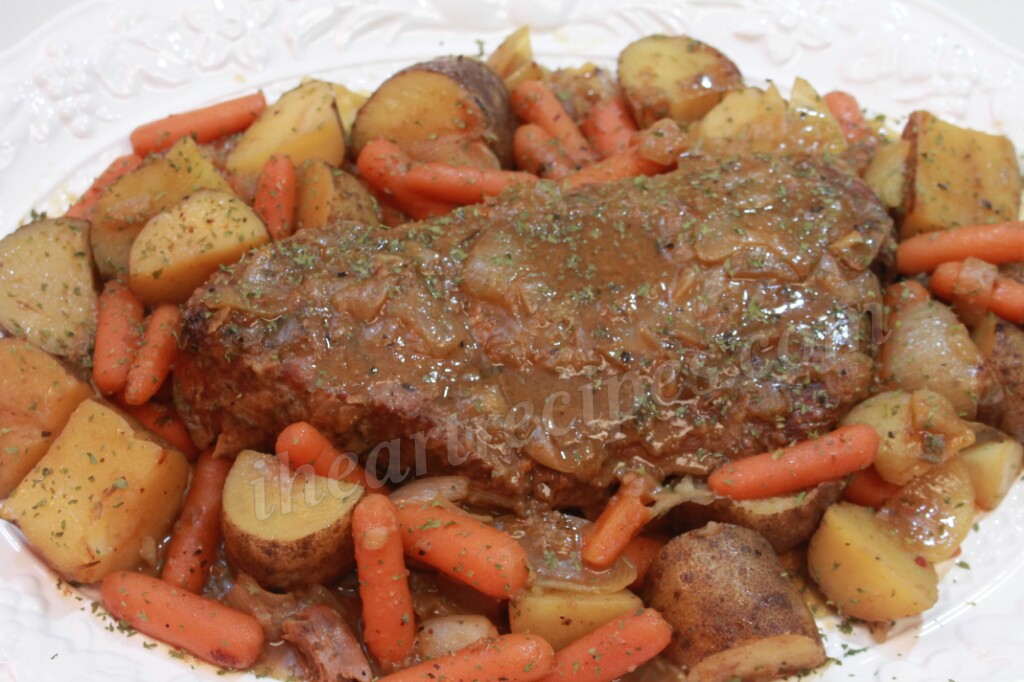 During the holidays I do a lot of entertaining. So many family and friends come over, and I make it my duty to have a nice comforting meal made! I'm sure that you know how much it costs to entertain the during the holidays . However, I actually don't spend that much! I have a ton of recipes that are my go to dishes when I entertain. Pot Roast is one of them! Usually around Thanksgiving and Christmas, people automatically think you have to have Hams, Turkeys, and expensive cuts of meat. Not me! Not at all darling. I choose to go the less expensive route when host holiday parties these days( on the day of the holiday is another story!)! Pot Roast, is actually a pretty cheap main dish that I find that most people really love! If done right, a cheap bottom roast can be extremely delicious, and holiday worthy.
In this post, I'm going to show you how I make tender juicy pot roast that will be perfect to serve during the holiday season, and any other time that you want some good ol' comforting food!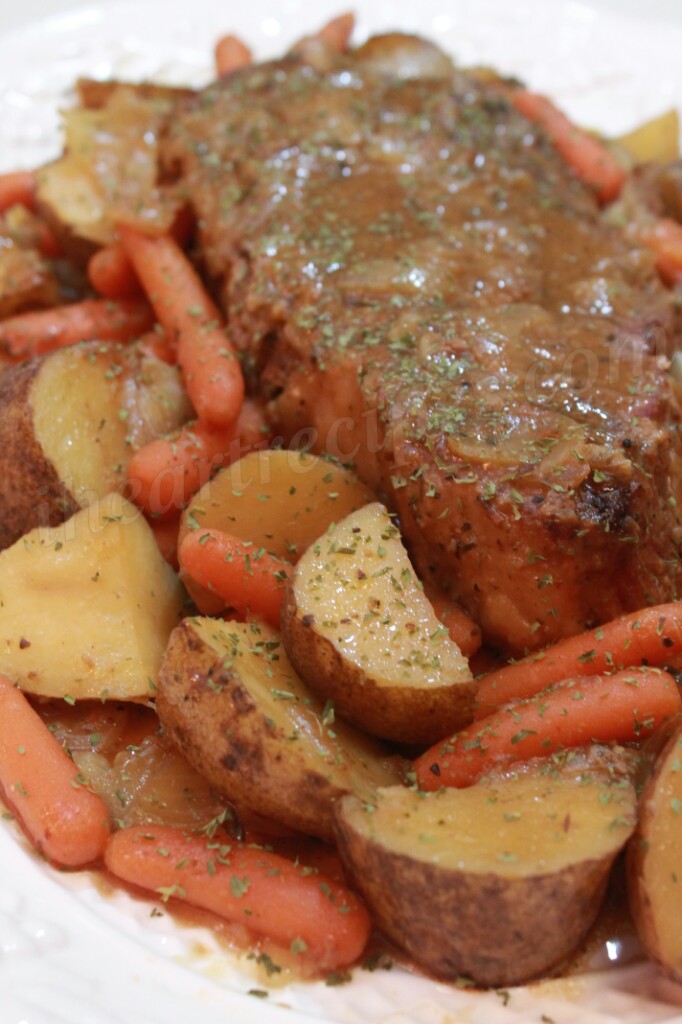 The cut of meat that I use is a cheap one. I use bottom roast. I managed to buy  a 4 lb  roast for under $11, which should feed about 8-12 people ( depending on how greedy they are! LOL). Keep in mind that the roast that I am using is my preference. If you can find a different cut that fits your budget- feel free to use it!
The key to turning cheap roast into a holiday worthy dish, is the how you cook it! You have to cook the roast low and slow. Don't try to rush it. Otherwise, you will be at the table eating roast as dry and tough as leather! Another important thing is to make sure that the roast has some fat on it. I always make sure that my roast has a nice layer of fat on it, because the fat keeps in moist! Once you're done cooking the roast, you can trim the fat off – BUT leave the fat on while cooking!
I make a simple gravy for my roasts. It's really easy to make! It's a mixture of the juice from the meat, the broth & spice used, and flour. During the last hour of cooking the roast cooks in the gravy, and the outcome is amazing!
Also, I add a few vegetables in the pot as well. I keep it really simple, and add potatoes, carrots, and onions. Feel free to add more veggies if that's your thing.
Again, this is a really simple and inexpensive alternative to the hams & turkey, but is perfect any other time of the year as well. This whole platter cost me under $18 to make, and again it can feed anywhere between 8-12 people.
*I cook my roast in my dutch oven, but if you don't have one- brown then meat and onions in a pan, then transfer them to a roaster.*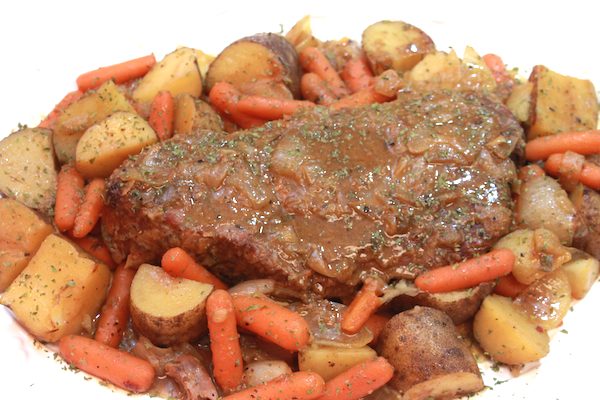 Pot Roast
This slow-cooked, tender beef roast can be made in the oven or a crockpot for an easy, delicious dinner.
Watch Video
Print Recipe
Pin Recipe
Ingredients
4

lbs

beef bottom roast

1/4

cup

all purpose flour

PLUS 2 tbsp

1

tsp

salt

1/2

tsp

ground black pepper

2

tsp

garlic powder

1

tsp

crush basil

1

tsp

rosemary leaves

1

tsp

onion powder

2

tsp

celery flakes

32

oz

chicken or beef broth

whatever is your preference

2

tbsp

vegetable oil

4

medium russet potatoes

washed and chopped

1

cup

baby carrots

washed & peeled

2

medium sized onion

chopped
Instructions
Preheat the oven to 300 F.

Pat dry the roast, then set is to the side.

Combine all of the seasonings, and mix it with 1/4 cup of all purpose flour.

Once the flour and seasonings are combined, coat the roast with seasoned flour.

Pour 2 tbsp of vegetable oil into a dutch oven, then place the dutch oven over medium heat.

Once the oil is hot, put the roast into the dutch oven.

Brown all surfaces and sides of the roast, then remove the roast from the dutch oven.

Add one of the onions ( chopped of course) into the dutch oven, and fry until it's translucent.

Place the roast back into the dutch oven, but make sure it is on top of the onions.

Pour in the chicken or beef broth, then cover the pot with the lid.

Place the roast in the oven, and let cook for 2 1/2 hours ( CROCKPIT DIRECTIONS BELOW)

Remove the meat from the oven, and baste. Cover and place back into the oven for 1 hour.

Remove the roast from the oven.

Scoop up about 1 cup of the broth from the pot, and place it into a cup or bowl.

Sprinkle in 2 tbsp of all purpose flour into the cup of broth, and mix until well incorporated.

Pour the broth, and flour mixture into the pot.

Add in the carrots, potatoes, and remaining onions.

Cover the dutch oven, and put the roast bake in the oven for another hour.

Remove for the oven, and let sit for 5 minutes.

Serve, and enjoy!
Video
Notes
To make this roast in the CrockPot, follow up to step #10, then instead of putting everything in the dutch oven, place it in the CrockPot. Set the slow cooker on high and let cook for 4 hours.
If you loved this recipe,
leave me a review below
. This helps future recipe makers and ensures continued high-quality recipes for years to come!
© 2023 I Heart Recipes