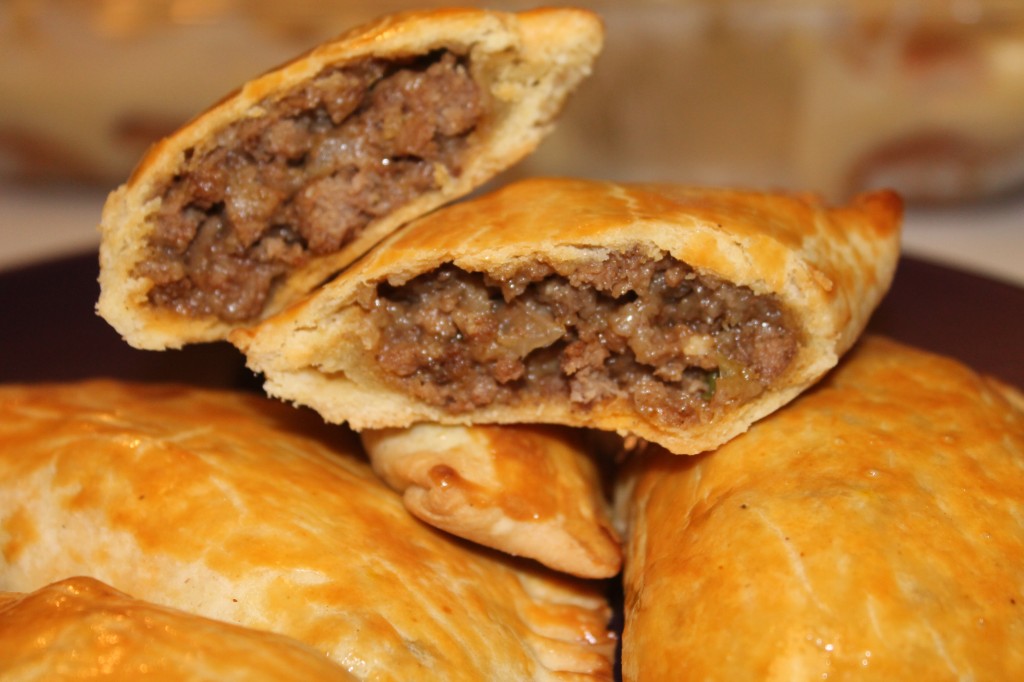 Flaky pastries filled with curry beef, onions, and peppers.
A week or two ago, my hubby decided to randomly check out my blog and YouTUBE channel. He loved what he saw ( he better had!) however, he was surprised. Why? Because his Jamaican/ Trinidadian decent wife, had only ONE recipe that was caribbean inspired. I have to be honest. I never thought much about it, until he brought it to my attention. I wanted to break my " lack of caribbean recipe" spell by sharing this amazing Jamaican Beef Patty recipe.
These easy Jamaican Beef Patties, are probably the easiest patties you will make. Jamaican beef patties to Jamaicans, are like hamburgers to Americans. EVERYONE has their own recipes, therefore there are thousands of Jamaican beef patty recipes.
I live in an area that hardly has and caribbean peoples. Therefore, there aren't any caribbean spices, peppers, popular ingredients sold around these parts. I've learned to improvise, and use whatever I can. I use a simple curry seasoning that is packed with tumeric, chili powder, and cumin. As common as these spices are, they actually do the job!
Give this recipe a try and leave your comments down below!
Easy Jamaican Beef Patties
This versatile recipe is delicious no matter how you make it. This version is my favorite!
Ingredients
1

lb

ground beef

1

tbsp

curry powder

1

tsp

garlic powder

1

tsp

onion powder

1

medium onion

chopped

1/3

cup

green onions

1

large bell pepper chopped

2

tbsp

soy sauce

1/2

tsp

ground black pepper

1

tbsp

all purpose flour

1 1/2

cup

panko bread crumbs

1

egg yolk

pastry

2

cups

all purpose flour

1

tbsp

curry powder

1/2

cup

cold butter

cubed

3

tbsp

ice water
Instructions
Combine 2 cups flour, 1 tbsp curry powder, 1/2 cup cold butter, and 3 tbsp ice water. Mix the ingredients well. Empty the ingredients onto a floured flat surface, and knead.

Once the dough is formed, cover it and place it in the refrigerator for 45 minutes.

In a large pan add the ground beef, and all the seasonings. Once the meat is browned add in the onions, and peppers.

Drain the fat from the pan, then add in the flour, soy sauce, and panko.

Turn the heat off and remove the pan from the burner.

Flatten out the pastry, and cut into sections big enough for patties.

Place meat filling in the middle of a pastry, fold over, and seal the edges with a fork. ( watch my video tutorial).

Place all of the patties on a cookie sheet. Brush the egg yolk on to the patties.

Bake the Patties on 400 F for 20 minutes.

Serve!
Video